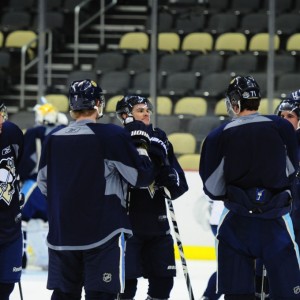 I think Sidney Crosby has a future in coaching.
Lost in Crosby's dramatic return was the fact the Penguins also got their captain back.  Leadership isn't captured on the scoresheet but after every shift Crosby talks with teammates about strategy for the next time they hit the ice.
As the media wandered out of the locker room Friday night, Crosby was in deep conversation with James Neal discussing where Neal should position his body and stick to receive passes.  Crosby is never content with the status quo and his work ethic drives those around him to be better.
I think Neal will develop better chemistry with Crosby than Malkin.
It's probably not a coincidence Neal's locker is next to Crosby. The Steve Sullivan-Evgeni Malkin-James Neal line has had a ton of success so far but I think Neal will ultimately end up with the game's premier playmaker in Crosby.
Malkin plays the game with an artistic creativity which works well with a player like Sullivan.  Crosby is a tactician that finds chemistry with hardworking, straightforward linemates like Neal.
It took Marian Hossa a few weeks to simplify his game alongside Crosby before the goals started coming in bunches.  Once Crosby learns Neal's scoring zones at the top of the left circle and bottom of the right circle, look out.
I think Ken Hitchcock took advantage of his time off.
When Hitchcock was hired by the St. Louis Blues three weeks ago he said the key to winning in the NHL is breaking a team down or breaking their will to win.  He also explained that during his two years of unemployment he spent a lot of time analyzing all 30 teams in the league.  It showed on Wednesday in the Blues' 3-2 overtime win over Pittsburgh.
Hitchcock is regarded by players as a X's and O's genius and he was the first coach to implement a gameplan to stop the Penguins quick-transition style this season.  The Blues took away the passing lanes up the boards and forced the Penguins defensemen to skate the puck into turnovers.
St. Louis is a talented team that's 6-1-2 under Hitchcock, but once the honeymoon period is over and opposing coaches can adapt, the Blues will finish on the playoff bubble.
I think Deryk Engelland is becoming an offensive threat.
Last year, the Professional Hockey Writers Association quietly nominated Engelland for the Masterton Memorial Trophy, awarded to the player who best exemplifies the qualities of perseverance, sportsmanship, and dedication to hockey.  Engelland battled his way through seven seasons in the ECHL and AHL before finally securing an NHL deal last season.
He worked tirelessly on improving his footwork and speed to a level where he could survive in Bylsma's up-tempo system.  This season he's looked even quicker and over the last few games he's led a number of offensive rushes that have resulted in scoring chances and goals.
His heavyweight fighting abilities allow Bylsma to keep nuclear option Steve MacIntyre out of the lineup, but his improved play on the offensive end of the ice might secure him a spot on the Penguins' defense long-term.
I think Crosby should compete in the Fastest Skater Competition.
I've been asked a few times this week what Crosby has improved on since we last saw him play in January.
A few summers ago Crosby went from a liability in the faceoff circle to one of the game's best.  Next he went from a pass-first player to a 51-goal-scoring Rocket Richard Trophy winner.  Maybe it's just fresh legs, but his acceleration is on a level right now that I've never seen.
In the Penguins defensive system, the center is often responsible for defending below the goal line.  Crosby has been a demon in the defensive zone and also ends up leading most offensive rushes at the other end of the ice.  The only player I've seen this year with that kind of blinding speed through the neutral zone is Taylor Hall.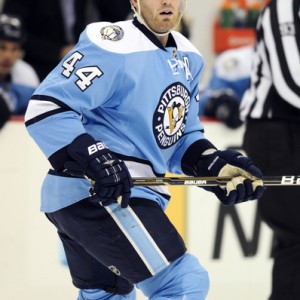 I think a teammate should slash Brooks Orpik before going on the ice. 
Orpik was in noticeable pain on the bench early in Wednesday's game against St. Louis.  Instead of shying away from contact the rest of the night, Orpik became a one-man wrecking crew.  He finished with 9 hits and 8 blocked shots and those numbers were low. On a few occasions he took out multiple players with a single hit and the Blues wisely started dumping the puck into the corner of his defensive partner Kris Letang.
This isn't the first time Orpik has seen red after getting checked hard or injured.  Unfortunately, it's also a style of play that's tough to maintain throughout the long regular season.
I think the Minnesota Wild are the most underrated success story of the season so far. 
The Penguins sit atop the Eastern Conference while the Wild, led by former Penguins staff Chuck Fletcher and Mike Yeo, lead the West.
He doesn't talk about it much, but Pens GM Ray Shero takes as much pride in developing successful coaches and executives as he does in developing prospects.
I think Evgeni Malkin nicknamed his own line.
Bylsma juggled his lines continuously throughout Friday night's game.  On one shift he put Malkin, Crosby, and Jordan Staal together to create a $21.4 million superline.
  ____________________________________________
Mike Colligan is the Pittsburgh Penguins correspondent at TheHockeyWriters.com and an NHL analyst at Forbes SportsMoney.