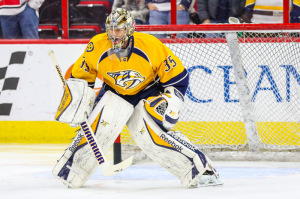 Predators to win the Stanley Cup! That's right. On December 1st I predicted that the Nashville Predators will hoist the Cup in June. Haters hated and doubters doubted, and I was glossed as "out of my mind" by a few naysayers. But, I am standing by my prediction.
Jumping off
The Predators have been in a huge slump. The bandwagon folks have begun to jump off. It is easy to begin to feel uneasy about their chances in light of the past few weeks. It's been tough, no doubt.
The slump just fuels my hopes for the Predators to make a solid run for the Stanley Cup. Teams often go through down periods, and I'm glad theirs is happening now as opposed to in May. That being said, the last eleven games have been a cause for concern for many.
Predators Sliding through March
The month of March has been ugly for Nashville. They have one win in regulation and one in overtime, with six regulation losses and one loss in overtime. Yuck. They have gone from having the best record in the NHL to being two points behind the St. Louis Blues and only two ahead of the Chicago Blackhawks. With only ten games left in the season this trend does not bode well for the Predators.
On @Tennessean, the Predators, 2-8-1 in their past 11, are staggering toward the end of the regular season. http://t.co/gFpIBI3Szi

— Adam Vingan (@AdamVingan) March 18, 2015
I'm still not overly concerned. This is a good team with a good coach, and I still believe that when the smoke clears, it's Nashville all the way. There are a few reasons I am not wavering.
Between the pipes
Pekka Rinne is a beast. He is still sporting a 2.12 GAA and a save percentage of .926. He is fourth in the league at this moment, mixed in with his also-excellent peers. I like him a lot and while his team has struggled lately, he is still playing at a high level. This speaks for itself about Pekka Rinne:
Sure, every goalie has a highlight reel, but Rinne can be insane when he is "in the zone." I believe that come playoff time, he will be on his game, and that will be tough for opponents of the Predators to overcome.
That upper-body thing
James Neal has been out for three consecutive games with an upper-body injury. He is a goal-scoring threat that the Predators have missed a great deal. Neither he or Colin Wilson were on the ice for the Saturday morning skate in preparation for the game against the Buffalo Sabres, and look questionable for that tilt.
Nashville C Colin Wilson (lower body) & LW James Neal (upper body) are questionable tonight versus Buffalo.

— freeplays (@freeplays) March 21, 2015
But, Neal's injury is not deemed to be season-ending, as Predators Head Coach Peter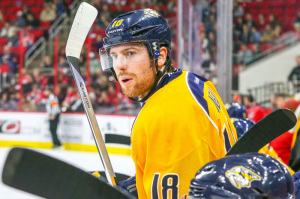 Laviolette has said he is "day-to-day." Neal is currently tied with Craig Smith for the team lead in goals at 22.  Colin Wilson is right there with 20, and both will be missed against the Sabres. But, as they heal and return to the lineup, it should make a big difference.
The Tennessean pointed out that the Preds are one of two teams with four 20-goal scorers on their roster. That is a stout statistic, shared only by the Blues and the Tampa Bay Lightning as of last Tuesday.
The point is that as they get healthy at the right time, the Predators will be a team will multiple scoring threats in front of an elite goalie. I like their Stanley Cup chances.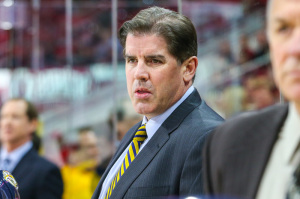 Been there
In 2006, Peter Laviolette took an unlikely team all the way to winning the Stanley Cup Finals. Who would have given the Carolina Hurricanes even a small chance of winning it all that season? Yet win they did, with Laviolette behind the bench.
Such an unlikely story as the Hurricanes can unfold in 2015 for the Predators, as well. Laviolette certainly has his armada of haters, but I am not dismissing him outright as are some.
https://twitter.com/sizzurpbey/status/578940528575807488
He has led teams to the playoffs everywhere he has coached. I like him at the helm of this Nashville team that would certainly be a winner that few expect, much like the Hurricanes in 2006.
Is he the best coach in the NHL? I'd agree with most who would say "no." But, he has been there, and I think that counts for a great deal, especially for the Predators and their chances this year to win the Stanley Cup.
A little extra
My strong favorable thoughts regarding the chances of the Nashville Predators of winning the Stanley Cup are heightened by Shea Weber. He is the "extra" that is "Smashville."
He is big and tough and should be seriously considered for the Norris Trophy. I wrote on January 1st how he has been overlooked for the Norris in recent seasons, and hope that he will at least be seriously considered this season.
Yes, there are other great defensemen having really good seasons. But, I think Shea Weber is elite among few others, and will be a huge part of the Predators' playoff run and success.
Out of my mind?
The playoff picture is much clearer than when I made my Predators prediction in December. There are some seriously good teams at the top. Any one of them could make a run for the Cup.
https://twitter.com/HowlingsToday/status/578311275454685184
Rangers vs Blackhawks could happen. As could any number of combinations of great teams facing off for the Cup.
The bottom line for me is that I believe the Nashville Predators have as good a chance as any other team in the NHL playoff picture to win it all. I'm sure many will disagree. I could be completely wrong and they get bounced in the first round. Or, I could be right, and that would be very cool.
Mark Shiver is a staff writer for The Hockey Writers  credentialed with the Carolina Hurricanes. You can follow him on Twitter @markshiver