We have our first official roster announcement for next month's IIHF World Junior Championship and a rather big name was not included. Bad news out of the ECHL as it appears that an entire division will skip the upcoming season. Also, a top 2021 draft prospect who looked to be headed to Sweden yesterday has his loan nixed. Finally, the Nashville Predators have loaned one of their top defensive prospects to Austria's top league.
Germany Announces WJC Squad
We are about five weeks away from the start of the IIHF World Junior Championship, which will take place exclusively in Edmonton. Germany is the first country to announce its full roster on Wednesday.
One big name that is missing from the list is Detroit Red Wings defensive prospect Moritz Seider. The 2019 first-round draft pick is currently playing for Rögle BK in Sweden and, according to the team's release, will not get permission from the Red Wings to participate in the tournament.
Seider's inclusion on the German blue line could have made this a much more competitive team. He has performed very well with Rögle BK. In eight Swedish Hockey League (SHL) games so far, he has two goals and seven points. He has 13 hits, 60 takeaways and a plus-57 Corsi rating while averaging 19:58 per game.
Germany will have some pretty good talent up front, starting with Tim Stützle, who was selected third overall by the Ottawa Senators at the 2020 NHL Entry Draft. He has yet to play for Manheim of the Deutsche Eishockey Liga due to a broken arm he suffered back in mid-October. His recovery time was estimated to be 6-8 weeks, so he should be good to go for the WJC.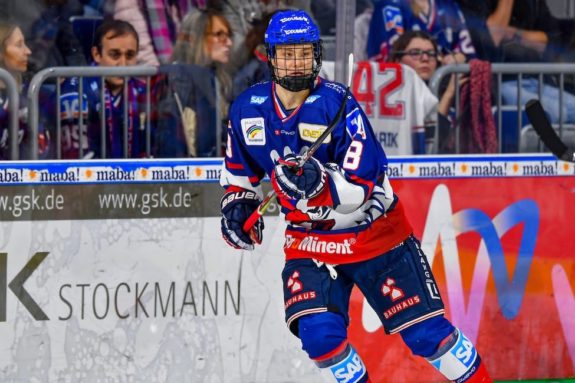 The forward corps also two other high-end picks from the most recent draft. Lukas Reichel, who was selected 17th overall by the Chicago Blackhawks, and John-Jason Peterka, who was taken with the 34th overall pick by the Buffalo Sabres, are both on the roster.
Report: ECHL's North Division Opts Out
As first reported by Jeff Marek of Sportsnet, and later confirmed by Greg Wyshynski of ESPN, it appears that the entire North Division of the ECHL will opt out of the 2020-21 season. The six teams that plan on sitting out bring the total of teams not playing this season up to eight.
The six teams that make up the North Division are the Adirondack Thunder (New Jersey Devils), the Brampton Beast (Ottawa Senators), the Maine Mariners (New York Rangers), the Newfoundland Growlers, (Toronto Maple Leafs), Reading Royals (Philadelphia Flyers) and Worcester Railers (New York Islanders). The Atlanta Gladiators (Boston Bruins) and Norfolk Admirals (independent) have already suspended operations.
This leaves 18 teams left to take part in the 2020-21 season. The ECHL has planned a "two-tier" schedule with 13 teams starting a 72-game season on Dec. 13 with the rest of the league playing 62 games beginning on Jan. 15. An official announcement from the league is expected later this afternoon.
Clarke's Loan Stopped
On Wednesday, it was reported that Barrie Colts defenseman Brandt Clarke was loaned to Väsby HK of Sweden's Hockeyallsvenskan. Today, we learned that is not going to happen after all.
According to Uffe Bodin of hockeysverige.se, the loan was stopped this morning. League rules state that Hockeyallsvenskan teams can only accept loans of North American players made by NHL teams. Clarke is not under NHL contract, in fact, he isn't even draft eligible until 2021. Since he is already under contract with Barrie, he cannot sign a deal with Väsby for the rest of this season.
Clarke is one of the top-rated defensemen heading into the 2021 NHL Entry Draft. He had six goals and 38 points in 57 games during his OHL rookie season. The league is expecting to begin their season on Feb. 4, so it will be interesting to see of Clarke finds another place to play before then.
Allard Heads to Austria
The Predators announced today that they have loaned defenseman Frederic Allard to Villacher SV of the ICE Hockey League, Austria's top professional league. He will return to North American for the start of Nashville's training camp, whenever that might be.
Allard, 22, was originally drafted by the Predators in the third round (78th overall) of the 2016 NHL Entry Draft. He has spent the last three seasons with the Milwaukee Admirals in the American Hockey League (AHL).
He has been developing into a solid two-way defenseman. In 181 AHL games, he has 14 goals and 74 points for the Admirals. In 2019-20, he finished the season as a plus-26 with two goals and 22 points while averaging nearly 18 minutes per game. He generated 25 scoring chances while getting 94 shots on goal. He forced 94 takeaways and finished the season with a minus-53 Corsi rating while spending roughly 58% of his time on ice in the defensive zone.
All stats provided by InStat Hockey.
---