The New Jersey Devils already had a stable of young  of defensemen before they signed 24-year-old John Moore, but when he unexpectedly became available after the Arizona Coyotes informed him that they wouldn't be bringing him back to the desert, GM Ray Shero swooped in and inked Moore to a three-year deal on the first day of free agency. Moore was a former first round pick of Columbus (2009 NHL Draft) and brought over 200 games of NHL experience with him — including a run to the Stanley Cup Final with the Rangers in 2014 — and has been a nice addition on New Jersey's blue line alongside Andy Greene, Adam Larsson, Damon Severson, Jon Merrill, David Schlemko and Eric Gelinas.
The Devils are hoping he continues to be a nice, under-the-radar addition like Lee Stempniak and Jiri Tlusty have been upfront; he has been able to solidify the second pairing with Severson behind Greene/Larsson and play in all game situations. If he can duplicate his 2013-14 season with the rival Rangers in New Jersey, Shero and the team's fans would be thrilled.
Following his team's overtime win against the Coyotes The Hockey Writers spoke with John Moore about a myriad of topics including if it was weird playing against his former teammates, why he chose to sign with the Devils and who his favorite player was as a young hockey player growing up in Winnetka, Illinois.
The Hockey Writers: Tonight was the team's second win in a row, can you tell us how you all are starting to gel together now after a rocky start?
John Moore: Yeah it seems like things are finally starting to click; it was a different feel tonight, having the lead and playing with that. It's kind of unfamiliar territory for our group. But I think day-in and day-out we're definitely putting in the work and we are starting to see the results, which is promising.
THW: Was it weird for you at all playing against Arizona tonight because you played for them last season?
JM: A little bit, yeah; it's just another game (though), that's how I look at it. You can get carried away with thinking about certain things, but it's just another game (to me). I'm just glad we got the two points.
THW: When you had been traded to the New York Rangers from the Columbus Blue Jackets you scored in your first game. Was that time period a big whirlwind or was it a special moment for you?
JM: Yeah (smiles) well that was probably one of the luckiest goals I'll ever score in my career; it was just a heavily screened point shot that somehow found its way (into the net). I couldn't be happier here (with the Devils) now, I feel like I'm getting better every game and it's a long season. I'm excited to be here.
John Moore netted his first goal with New York against Pittsburgh:
https://www.youtube.com/watch?v=N3CouCmRNr4
THW: You signed with New Jersey on July 1, and the other times you changed teams it was midseason; has it been a nice benefit to you to take care of the off-ice stuff and get acclimated to the area before you came to camp?
JM: Yeah, for sure it is an easier dynamic when it's during the offseason; that being said there is still a learning curve (here) for me. I think everyone here, with a new coaching staff, is under the same kind of deal. I'm definitely not using anything as an excuse, but I have been happy with how I've been playing so far.
THW: The first day you were able to sign with a team you did; were there the teams that showed interest or that you had your eye on?
JM: I talked to a bunch of teams, so yeah there was (some interest); but once I talked to Ray and John (Hynes) here I was really comfortable and knew that this was where I wanted to be.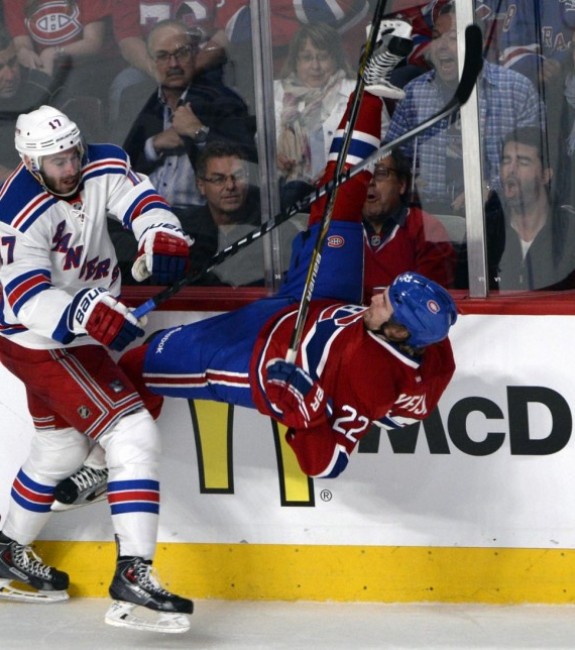 THW: Did you know coach Hynes before you came here?
JM: No, I just knew his reputation and played against his teams in the American League. I did know Ray a little bit before.
THW: As a kid that grew up in Illinois did you have a favorite defenseman or player when you were younger?
JM: I would say Chris Chelios probably, a Chicago guy that was one of the faces of USA Hockey and I definitely looked up to him. It was a little bit challenging when he made the transition to Detroit (grins), but definitely a role model of mine growing up.
THW: Having said all that we're assuming that you're a big Chicago Cubs fan, and we should probably let you go watch the end of Game 3 of the NLCS, right?
JM: Yeah, exactly; thank you.
(unfortunately for John, by the time he got to a television, his beloved Cubbies were trailing the New York Mets and eventually lost).
Dan Rice can be reached via Twitter: @DRdiabloTHW or via Email: drdiablo321@yahoo.com.