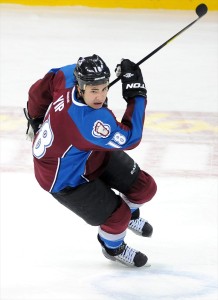 When the Norfolk Admirals affiliate the Anaheim Ducks signed Brandon Yip to an AHL contract this summer, they got a package of grit, heart, and a blue-collar work ethic that will rub off on his younger teammates.  At 29-years-old the Maple Ridge, BC born forward has 174 games served in the NHL with Colorado, Nashville, and Arizona.
THW's Ted Warren caught up with Yip after his Norfolk Admirals debut on October 10, 2014 and asked the right-handed shot the following questions.
THW: You have an interesting heritage. You're half Chinese and half Irish. What can you tell readers about your heritage?
B.Y.: I'm from Vancouver.  I'm fourth generation and my Dad's Mother is full Irish and my Mother is full Chinese
THW: How did you get into hockey?
B.Y.: Growing up outside Vancouver hockey is huge, there it's number one. My Dad played a little bit nothing competitive, but he was always playing a couple times a week. He actually brought me out on roller skates for the first time in the cul de sac growing up and that's when it first started.
THW: Growing up In Vancouver was your favorite team the Canucks?
B.Y.: Definitely, growing up my favorite team was the Canucks. You watch those guys and your dream of playing there one day, but obviously playing against them I'm not to fond of them anymore.
THW: Who was your favorite Canucks player growing up?
B.Y.: Cliff Ronning was my favorite player from the Canucks. He was a small guy, but he was gritty and played with a lot of heart and he could put the puck in the net so he was fun to watch.
THW: What made you choose to play and study at Boston University?
B.Y.: I had a nice visit down there. They were building that new rink and it was a huge facility. It's unbelievable. It's top notch and Coach Parker has a great reputation for being a good coach. He helped a lot of guys move on to the NHL so I definitely wanted to go somewhere that would help me down the line in my pro career.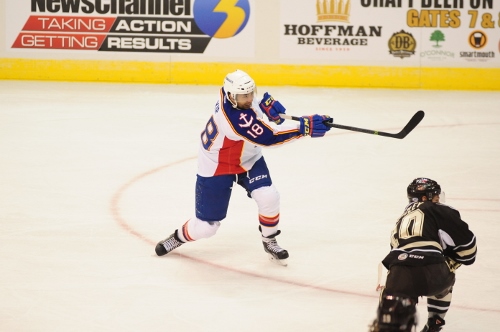 THW: How did Coach Parker help further your game during your stint at Boston University?
B.Y.: He was awesome, he's a great guy. He helped me not only on the ice, but also off the ice in becoming a man and getting ready for pro hockey and responsibilities. He taught us a lot on the ice and you can't say enough about him. He's a great coach.
THW: Taking you way back to your draft day in 2004, what do you remember about that day?
B.Y.: I didn't expect much coming out of the BCHL (before college.) There were not too many guys getting drafted out of there and my main focus was getting a scholarship to further my education and when I got drafted (Colorado Avalanche) I thought it was pretty cool. It was something as a kid you dream about and I was fortunate enough to get picked up in a late round there.
THW: On December 21, 2010, you scored your first goal against Jonas Hiller and the Ducks. Where is that puck now?
B.Y.: I think it's back home with my Dad. I give everything to my Dad. He has a little collection back home in Maple Ridge and whatever I get if it's a team award or an individual award I always send it back home.
THW: November 6, 2010 you registered a Gordie Howe Hat Trick against the Dallas Stars. What do you remember about that game?
B.Y.: I got in a scrum towards the end of the game and I wasn't much of a fighter, but I got credit for that so that was pretty cool.
Yip Vs. Sutherby (November 6,2010)

THW: How do you describe your playing style? Like tonight against Hershey, you were blocking shots you seem like a heart and soul type of player.
B.Y.: Yeah definitely, I have a lot of pride in working hard and putting the team first. I just try and fit into any situation where they need me on the Power Play or the Penalty Kill and just getting into those hard areas to play and try and lead by example.
THW: What are your first impressions of your new team for this year?
B.Y: It's a fun mix. You have really young guys and some really old guys like myself. Those young guys have a lot of talent and there is a lot of great leadership from the older guys. I think it's going to be a good year.