Size & Speed
A 6'3" defensive defenseman who is also a strong skater. That is Sharks rookie Mirco Mueller. Few defenseman feature his size and skating ability. Fluid skating defensemen like teammate Marc-Edouard Vlasic, Chicago's Duncan Keith, Ottawa's Erik Karlsson and others are generally around 6'0″. Taller, more physical defensemen, like Shea Weber and Zdeno Chara, while Norris caliber defenders, don't have the elite skating ability.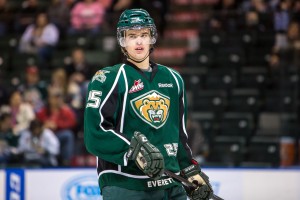 Size and speed are two of the most popular terms used in hockey. Few players possess both size and speed, fewer at the defense position. While Mueller doesn't project to have the offensive flare of the top defenseman in hockey, his size and skating ability project him to be a phenomenal defenseman if developed properly. Considering he has one of the best NHL defensemen of all time as his coach (associate coach Larry Robinson), chances are he will develop into a top defenseman.
According to offseason reports, Mueller put on 30 pounds in the past calendar year, and at just 19, is still naturally growing. When he finally reaches his finished product, the potential is through the roof. Stylistically he has already been compared to Vlasic, but with coaching and experience, he could become a 6'3" 220 pound version of his 6'1", 205 pound teammate. Good luck to opposing forwards getting around that type of specimen on the blue-line.
Shuts Down Tavares
While it is very early into his career, just three games, (he was a healthy scratch in one of San Jose's first four games), the potential shut down capability is quite evident. No more evident in the four-on-four overtime Thursday night on Long Island. New York Islanders star forward, captain, and Team Canada member John Tavares looked to have speed and a lane to the net. He tried to make a power move around Mueller but the rookie defenseman used his strong stride and strength to prevent Tavares from reaching the crease. He finished him off by launching him into the end boards.
Check the highlight video below, Mueller had a key block that literally saved a goal at the 1:50 mark. You can see goaltender Alex Stalock give him a tap on the pads in appreciation for the block. Unfortunately these highlights don't include the Tavares play. It's quite a shame because it was the play that stood out the most in overtime, just two good players not giving an inch. Mueller was able to shut down Tavares cutting in at full speed and denied him access to the prime scoring area. If you have access to the center ice vault or recorded the game, it came with 2:30 remaining in overtime. Again, this is a 19-year-old defenseman who went stride for stride with Tavares and physically out-muscled him into the end boards. That's just fantastic defense, fantastic hockey.
While Vlasic and Justin Braun are capable of making that type of defensive play, Scott Hannan, Matt Irwin, and Jason Demers simply don't have the required skill set. Maybe even Brent Burns would struggle in that one- on-one scenario with his d-zone inconsistencies. While Mueller has at times struggled with the puck (19-year-old rookie defensemen will have their fair share of gaffs), his positional play away without it has been nothing short of superb.
When the Sharks lost to the Kings this past postseason, many in the hockey world agreed that the Vlasic injury cost them the series. They were without a strong second pair left side defenseman who could primarily take over those vacated minutes. Their defense without Vlasic the last two games of the series was Braun, Demers, Irwin, Hannan, Brad Stuart, and Dan Boyle. The Sharks didn't have nearly enough quality defensemen behind Vlasic last season. Stuart and Boyle, top-4 defenders in 2012-13, were playing more like third pair defenders most of last year. When Vlasic went down, it left Braun as the only really good Sharks defenseman away from the puck. With Burns back to defense and Mueller arriving, the depth issues have been considerably improved. And while it is still far too early to pencil Mueller into that vacant top-4 spot long term, he looks pretty damn good so far.
Andrew has been credentialed to cover the Sharks since 2010 and the 49ers since 2012. He graduated with his BA in Broadcast Electronic Communication Arts in 2013 from San Francisco State University.