What we've learned thus far during the 2020-21 campaign is that the New York Rangers are still in rebuild mode. There is a ton of young talent in the system, and a few core building blocks already in place on the main roster. While the season is still relatively young, it's always fun to look ahead to the trade deadline and think about the potential moves your favorite teams will make.
While I never am a fan of forcing deadline trades just for the sake of making deals, the Rangers seem to be in an interesting spot this season. With a flat cap, players that are cheap and productive are more valuable than ever before. There are a few Rangers that fit that criteria, and because of this, we could be in for a wild deadline day.
Ryan Strome
Ryan Strome has had a successful start to this season. While it will be hard for him to match his production from last season, anywhere from 40 to 50 points should be considered a win. Skating primarily with Artemi Panarin, it should be expected that points will come his way. However, in light of the recent Panarin controversy, it will be interesting to see if Strome can continue to produce without one of the world's best wingers to his left.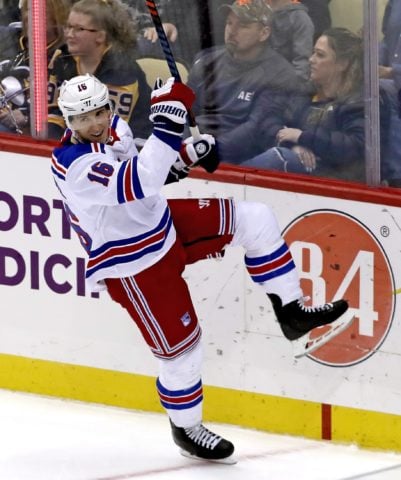 Last offseason, Strome signed a two-year extension worth a total of $9 million. With that cap hit, any team interested in acquiring him would need to send significant salary back to New York. A surprise playoff team that also has some breathing room under the cap is the Florida Panthers. While they are currently one of the hottest teams in the league, their center depth is questionable. The addition of Strome could relieve some of the pressure on Aleksander Barkov. Going from playing with Panarin to Jonathan Huberdeau is not too bad of a change either.
For the Rangers, a Strome departure would mean that Filip Chytil would most likely take the second-line center reins. With Panarin next to him, Chytil would be set up beautifully for a successful post-deadline stretch.
Pavel Buchnevich
Pavel Buchnevich has had an interesting career in New York thus far. Since his rookie season, he has been part of the familiar KZB line along with Chris Kreider and Mika Zibanejad. Finding moderate success on Zibanejad's wing, Buch has also been seen sliding down to Panarin's second line, and occasionally dipping down onto the third line.
While he's mainly been a finesse player, he has added a sporadic element of grit to his game ever since the play-in series against the Carolina Hurricanes during the shortened 2019-20 season. Buchnevich's mean-streak also arises whenever he feels fellow Russian Panarin is being messed with.
Buchnevich can score and still has a little time to develop other parts of his game. He would be ideal for a rebuilding team with young center prospects, but might be lacking on the wing. The Los Angeles Kings immediately come to mind when I think of a possible suitor. Arguably the Kings' top three forward prospects are Quinton Byfield, Alex Turcotte, and Rasmus Kupari, all of whom are natural centers.
I like the idea of receiving Rasmus Kupari, or more likely Tyler Madden, from the Kings in exchange for Buchnevich. The Rangers have a surplus of quality wing prospects while the Kings don't have many to speak of. The Rangers have a severe lack of center prospect depth while the Kings have numerous options to turn to. A one-for-one deal could benefit both teams, and lead to future success for both organizations.
Alexandar Georgiev
There was a lot of trade talk regarding Alexandar Georgiev last season. Most of those who figured that he would be dealt had the Toronto Maple Leafs as the favorite landing spot. But with the Maple Leafs' goaltending set for the remainder of the season, the new question is which other teams are in need of a fringe starting goalie.
Georgiev has two seasons left on his current contract with a cap hit of slightly under $2.5 million. With the cap not growing for the next few seasons, some teams will have a hard time paying that much for a backup goalie. However, there is one team in particular that seems like a great fit.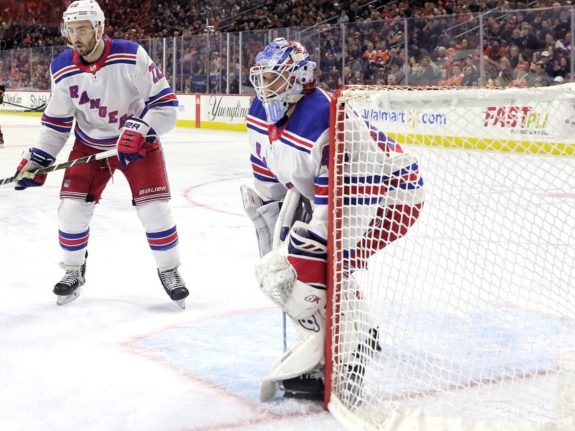 The Nashville Predators look like a team that could use Georgiev for the next few seasons. Both Pekka Rinne and Juuse Saros are on the last years of their current contracts, and with Rinne's career coming to an end, Nashville will be considering outside options. Yaroslav Askarov is still a few years away from his debut, so it is completely reasonable to envision Saros and Georgiev splitting starts until the young Russian netminder arrives.
While the backup goalie situation is important for every team, it should not be the determining factor in whether or not that team is a contender. Igor Shesterkin is the Rangers' goaltender for the foreseeable future, meaning that in a regular season, we should expect around 60 starts for the Russian-native. As for the backup situation, Keith Kinkaid will be around for one more season after this one. Or, why not see what Adam Huska or Tyler Wall bring to the table? Point being, the Rangers will have plenty of options to replace Georgiev.
There is a very real possibility that the Rangers have a quiet trade deadline day. And management also needs to take into consideration the looming Seattle Expansion Draft. Keeping all that in mind, if the Rangers were to deal at the deadline, I think it should be no surprise if one of Strome, Buchnevich, or Georgiev is moved.
---
---