Wherever Alain Vigneault goes, a goaltending controversy is sure to follow.
Don't look now, but Cam Talbot is making a solid case to be the New York Rangers' starter for their playoff opener, regardless of Henrik Lundqvist's health over the next month.
As crazy as it sounds, it's true. And given Vigneault's track record with goalies, it wouldn't be surprising to see him stick with Talbot and ride the hot hand rather than turn back to a potentially rusty superstar in Lundqvist, who backstopped the Rangers all the way to the Stanley Cup final last spring.
Lundqvist has been sidelined since Jan. 31 with a blood-vessel injury and hasn't received medical clearance to return. Indications are that should come soon enough, but the all-world netminder may have his work cut out in regaining the No. 1 role.
Talbot has been sensational in his absence, winning 13 of 18 starts — and getting to overtime in 3 others — since Lundqvist went down. Talbot is the main reason the Rangers have won 4 in a row and are topping the Eastern Conference standings. He's only lost twice in a month and a half as starter, earning the NHL's second-star honours for his heroics last week when he was undefeated (3-0-0-0) with a 1.00 goals-against average and .969 save percentage.
From NHL.com: Talbot made 29 saves in a 2-1 victory over the New York Islanders March 10, followed by 28 stops in a 3-1 triumph over the Washington Capitals March 11. He then matched a career high with 38 saves in a 2-1 win over the Florida Panthers on March 15, his sixth consecutive decision with at least one point (5-0-1). The 27-year-old Caledonia, Ont., native has earned at least one point in 15 of his last 16 appearances (12-1-3), yielding one goal or fewer through regulation in six straight games.
So, you can see how this becomes a difficult decision for Vigneault, especially if Lundqvist struggles following this lengthy layoff. The coach is saying all the right things in regards to Lundqvist — "When he gets clearance, I don't expect it to be too long before he's in goal." — but if the Presidents' Trophy is of importance to the Rangers, then it won't be easy to bench Talbot again. He's proving to be more than a backup and showing the consistency to carry a team over longer stretches. This hasn't been a small sample size, and Talbot only appears to be getting better with time.
"I'm just enjoying it while it lasts." — Cam Talbot.
Remember Montreal?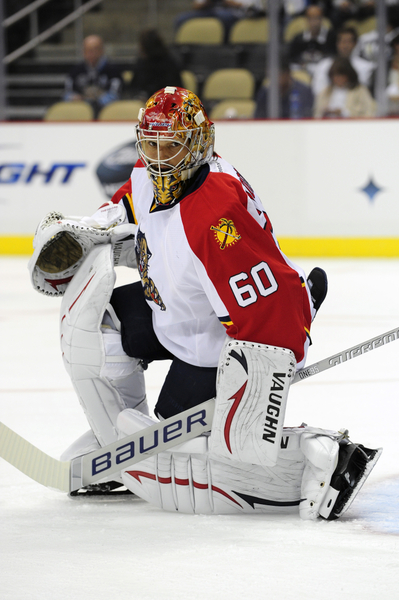 Vigneault's stint in Montreal was marked by a revolving door between the pipes. He couldn't make up his mind between Jocelyn Thibault, a former first-round pick who was acquired in the Patrick Roy deal and later became an all-star, Jeff Hackett, a veteran journeyman whose nephew, Matt, is now in the Buffalo Sabres' organization, and Jose Theodore, another stud prospect who went on to win the Hart and Vezina trophies shortly after Vigneault's departure.
That goaltending uncertainty, among other things, cost Vigneault his job during the 2000-01 campaign. Michel Therrien took over mid-season, handed the reins to Theodore and looked like a genius as the young francophone led Le-Bleau-Blanc-Rouge back to the playoffs the very next year, winning those aforementioned prestigious awards in the process. Theodore remains the last goaltender to win the Hart Trophy as the league's most valuable player in 2002, but Therrien has another strong candidate this season in Carey Price.
Who Could Forget Vancouver?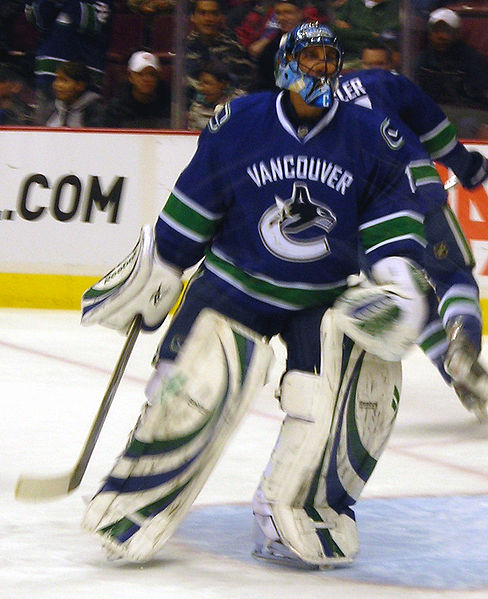 This is how it all started in Vancouver, when Cory Schneider slowly but surely began to overtake Roberto Luongo, an all-star, Vezina finalist and gold-medal winner in the prime of his career.
Opportunity knocked for Schneider when Luongo was hurt during the 2011-12 season, and he took full advantage much like Talbot is currently doing in New York. Schneider went on a similar run, opening eyes around the league to his potential upside and putting Vigneault in a tough spot when Luongo was recovered and ready to go again. Schneider's numbers — 1.96 GAA and .937 save percentage over 33 games — and the confidence he earned from his teammates and the coaching staff came to a head in the 2012 playoffs. After Vancouver lost the first two games against the eighth-seeded Los Angeles Kings in the opening round, Vigneault started Schneider. Despite losing Game 3, Schneider started for the remainder of the series, which Los Angeles won four-games-to-one. In three games, Schneider recorded a 1.31 GAA and .960 save percentage.
Of course, that supplanting turned into an even bigger gong-show the following season when the Canucks were unable to trade Luongo and ultimately wound up dealing Schneider to the New Jersey Devils at the 2013 draft in one of the strangest moves in recent memory. That trade went down on June 30, just over a month after Vigneault was fired on May 22 following a first-round playoff sweep at the hands of the San Jose Sharks.
Now In New York?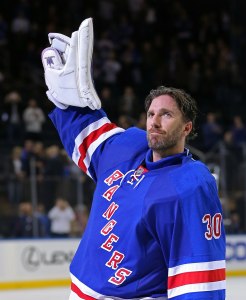 There is no doubt that Vigneault is a competent coach, as further evidenced by his ability to get the Rangers on the right track after a sluggish start last season. He has them firing on all cylinders again right now, thanks in large part to Talbot's efforts.
Time will tell how this situation plays out, but who would have thought that Lundqvist could be an elephant in the room? Talbot is downplaying his impact — "I'm just enjoying it while it lasts." — but there is reason to believe his emergence could last into the playoffs.
Larry Fisher is a sports reporter for The Daily Courier in Kelowna, British Columbia, Canada. Follow him on Twitter: @LarryFisher_KDC.
Larry Fisher is a senior writer and head scout for The Hockey Writers, having been an at-large contributor for THW since August 2014. Fisher covers both the NHL and the WHL, specializing in prospects and NHL draft content, including his annual mock drafts that date back to 2012. Fisher has also been a beat writer for the WHL's Kelowna Rockets since 2008, formerly working as a sports reporter/editor for The Daily Courier in Kelowna, British Columbia, Canada from 2008-2019. Follow him on Twitter: @LarryFisher_KDC.