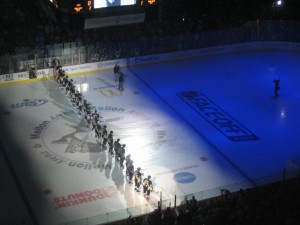 Anything can happen in Game 7. The Washington Capitals found that out a couple of weeks ago, and the Penguins failed to avoid the same fate last night, losing to the Montreal Canadiens 5-2.  Naturally, feelings ranging from anger to disappointment to finger-pointing blanketed the Penguins fanbase this morning.  Let's take a look at a few of the wild reactions from around the World Wide Web:
Here's an idea a couple of us came up with. I repeat, an idea we came up with. Not a rumor. Malkin and a fifth round pick to Edmonton for the first overall selection, Magnus Paajarvi-Svensson and Sheldon Souray.
-John Grigg, The Hockey News "Penguins must trade Malkin"
Ahh, the panic-and-trade-everyone chatter.  Now I'm not totally against the idea of trading Malkin, but that's assuming a team is willing to exchange a King's ransom for the reigning Conn Smythe Trophy winner.  Not two players who have yet to play an NHL game and an oft-injured fading defenseman.
Malkin had an underwhelming season, that can't be argued.  There were shifts, periods, games, even weeks where he disappeared and looked almost disinterested.  It's a lot easier for the media to grill Crosby when he's struggling as opposed to the broken English speaking Malkin, but outside of unknown circumstances, Malkin was simply exhausted.
On any other team without Sidney Crosby, everyone would understand that.  Every year the Devils playoff disappointments are usually linked to burning out Martin Brodeur in the regular season.  But Malkin, when compared side-by-side with Crosby whose commitment to conditioning is second to none, looked "lazy".  After bringing this team to the playoffs on his back two seasons ago and tearing through the playoffs last year, I'm willing to chalk it up to fatigue.
When the year is over, we may be looking back and calling it the year of the flop, a sports scene dominated by the mighty who did not just fall, but actually swan-dived from great heights. The Pittsburgh Penguins became the latest to take the plunge.
-Lynn Zinser  The New York Times "The Penguins' Plummet"
Yes, the Penguins are the defending Stanley Cup champions, but swan dive from great heights?  Let's remember they were the #4 seed in the Eastern Conference and an embarrassing 0-15 against teams with more points than them in the NHL not named Buffalo.  After a hot start, they were hardly above .500 for much of the regular season.  They were far from the overwhelming favorite in this year's playoffs.  No team has won back-to-back Cups since Detroit in 1997-98 and it won't happen this year for good reason.
This was supposed to be the year [Fleury] took another major step forward in his development, and when all was said and done, [he] ended up taking a major step backward.
-Adam Gretz, Fanhouse "What Went Wrong in Pittsburgh"
Gretz was pretty hard on Fleury, even questioning whether he should still be part of the "core" in Pittsburgh.  Fleury didn't win games by himself in this year's playoffs, but he wasn't THAT bad.  What really hurt the Penguins were the early goals.  Last night it only took 32 seconds for Brian Gionta to find the back of the net.  The previous game it was 73 seconds.  In the Game 4 loss, it took just over two minutes.  Allowing that early goal silences the crowd when you're at home and buries your squad when you can't weather the initial storm on the road.  The Penguins were able to recover after it happened multiple times last series, but getting down early against a hot goalie like Halak is a death sentence.
*********************************
So what happened?  Why are we chatting about the Penguins failures instead of looking ahead to who they may face in the Eastern Conference Finals?
To me, Sergei Gonchar's slow glide effort on Travis Moen's shorthanded goal to put the Canadiens up 4-0 was this season in a nutshell:
A star defenseman who knows he's the last man back on the powerplay down 3-0 in Game 7….and that's all he can muster?  Contrast that play with Gonchar's desperation fall and crash into the boards in a triple-overtime game against Detroit two years ago:
When the chips were on the table, very few of the Penguins were hungry enough to do what it takes to win.  Gonchar was in a fog for much of the season, and for the life of me I really couldn't figure out why.  Seth Rorabaugh over at Empty Netters nailed it:
With Gill and Scuderi gone, the Penguins farmed out their time on the penalty kill to various sources. Sergei Gonchar was someone who saw a big jump in his shorthanded time. In 2008-09 he saw 2:27 of penalty kill time per game. In 2009-10, that number jumped to 2:54.
Gonchar's play was amazing in the few games he was able to keep his minutes at a more reasonable level this season.  With some gaping holes on defense, he was forced to play more in all situations in addition to his typical double-duty on the powerplay.  In the end, it really exposed his age.
"Everything doesn't always work out perfectly or the way you want it to" Crosby said after the game.  In hockey it even sometimes just comes down to luck and getting the right bounces at the right time.
Give Montreal credit.  Although their offensive chances have been few and far between in the first two rounds, they've capitalized on many and gotten goaltending reminiscent of Dwayne Roloson's magic run with the #8 seed Edmonton Oilers in 2006.  A knee injury to Roloson in the Finals may have been all that kept the Oilers from doing the unthinkable that year.  The way Halak has been playing, that may be the only way he and the Canadiens can be beat.