What's The Grind Line? Apart from the once-famous line of Kris Draper, Kirk Maltby, and either Joe Kocur or Darren McCarty, The Grind Line is also The Hockey Writers' weekly column about the Detroit Red Wings. This week, Tony Wolak, Devin Little, Logan Horn and Matthew Zator are the muckers who make up THW's forechecking unit and sound off on Red Wings topics.

We are days away from the night one of the 2023 NHL Draft. The Detroit Red Wings, armed with two picks in the first round, are set to add a pair of key pieces to their future. They hold the ninth and 17th selections, and there will be a wide variety of options available to them at both picks.
Related: Red Wings 2023 Draft Coverage
Because of that variety, you'll find that many different people have many different opinions on the topic of who the Red Wings should select with those picks. Our panel of writers here at THW is no exception. Without further ado, here are our picks for the Red Wings' first round selections.
9th Overall
Tony Wolak: Dalibor Dvorský
Checking in with a short and sweet one while I'm on vacation. Dalibor Dvorský is one of the youngest prospects eligible for the 2023 draft and already embodies the drive and attitude that the Red Wings covet in their players. He's the complete package – goal-scoring, vision, commitment to a two-way game. He would be a slam-dunk pick at No. 9 if he's available.
---
Latest News & Highlight
---
Devin Little: Zach Benson/Oliver Moore
I'm hedging my bets here because I think there's a decent chance my preferred guy isn't on the board. Zach Benson is widely ranked as the second-best winger in this year's draft class, and plenty of people, myself included, will tell you he's the sixth-best prospect in this class. He's a player that makes things happen, but he's small, so there's a chance he'll fall down the draft board. If Benson isn't available, I love Oliver Moore's fit with the Red Wings. He has a ready-made mentor in Dylan Larkin, and it wouldn't hurt to add the best skater in the draft.
Logan Horn: Nate Danielson
My preference for Detroit is to come out of the first round with one high-end wing prospect and either a high-end right-shot defender or centerman. With that in mind, my pick for Detroit at 9 would be Nate Danielson, a center prospect with a mature two-way game and plenty of potential for offensive growth. I think Danielson has a great chance to be a top-six center in the NHL, with first line minutes available to him if he shows enough offense. He'll kill penalties, terrorize defenses on the rush, and be a reliable, competitive center. Obviously, if Matvei Michkov is available here somehow, he's the pick. I do think Tom Willander will be in consideration here for Detroit as a long-term solution behind Moritz Seider as well.
Matthew Zator: Oliver Moore
If Moore is still available when the Red Wings select at ninth overall, Steve Yzerman should run, not walk up to the podium to select him. Speed is the name of the game when it comes to Moore, as he's one of, if not the fastest skater in this draft class. Couple that with his smooth edges, elite shot and two-way game; you get a dangerous and exciting prospect that will have fans on their feet more often than not.
17th Overall
TW: Colby Barlow
The Red Wings need more goals – plain and simple. Colby Barlow is one of the best goal-scorers in this year's draft class and plays with an edge. And like Dvorsky, he's also a high-character individual. 
DL: Tom Willander
Like Logan, I think the Red Wings need to come out of this draft with at least one quality prospect on the right side of the blue line. To be honest, there aren't a ton of defensemen that excite me in this draft, and even fewer of them have a legitimate shot at developing into a steady top-four presence. Willander is a prospect that does have that potential, and I think there's a chance he's drafted before this pick because of it. But if he is available, selecting him may very well be the final piece of what looks to be a rock solid Red Wings blue line of the future.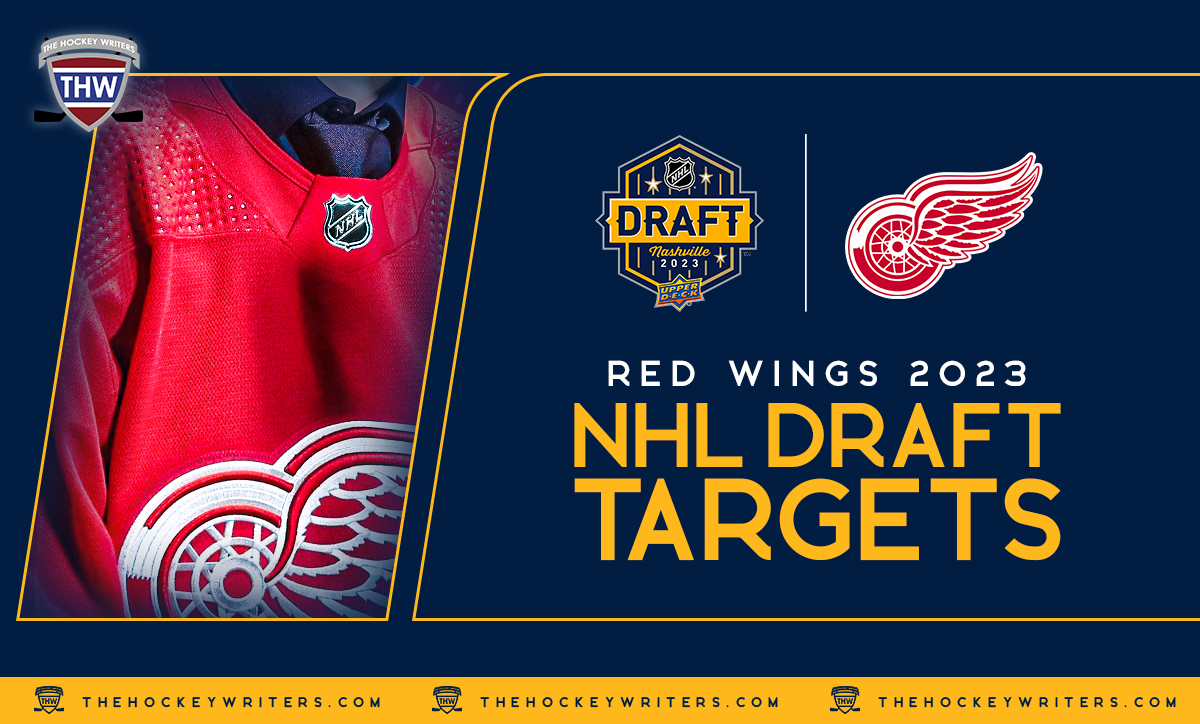 LH: Gabe Perreault
I think it makes the most sense for Detroit to wait on taking a winger (unless Michkov is available at 9) since many teams in the top-16 will likely reach on centers and defenseman, leaving plenty of talented wingers for the Red Wings at 17. Someone like Barlow (or even Benson if Detroit's lucky) will likely be in play at 17 but Gabe Perreault's playmaking and his hockey sense are off the charts so he would be my pick assuming he's available. If he continues to pack on muscle in the NCAA next year and improves his skating a bit, then he could realistically be a first-line winger.
MZ: Andrew Cristall
Based on skill, Andrew Cristall should be nowhere near the 17th overall pick, but his lack of size will inevitably drop him into the top-20 instead of the top-15 where he belongs. If that does happen, the Red Wings should jump at the chance to select him. Yes, he's 5-foot-10 and needs to work on his skating, but his playmaking and hockey IQ are off the charts. He impressed at the scouting combine and should be one of the biggest steals of this draft – if he falls into the second half of the first round that is.
Now it's your turn! Who would you like to see the Red Wings pick at ninth and 17th overall? Let us know in the comments section down below!
---