Later this week, the Detroit Red Wings will host the 24th-annual NHL Prospects Tournament in Traverse City. There, a collection of Red Wings prospects will take on their peers from the Columbus Blue Jackets, Dallas Stars, and Toronto Maple Leafs.
With the tournament on the horizon and training camp following soon after, it's a good time to re-evaluate Detroit's prospect depth. The last time we did so was prior to the 2023 NHL Draft, which saw the Red Wings add five top-60 prospects.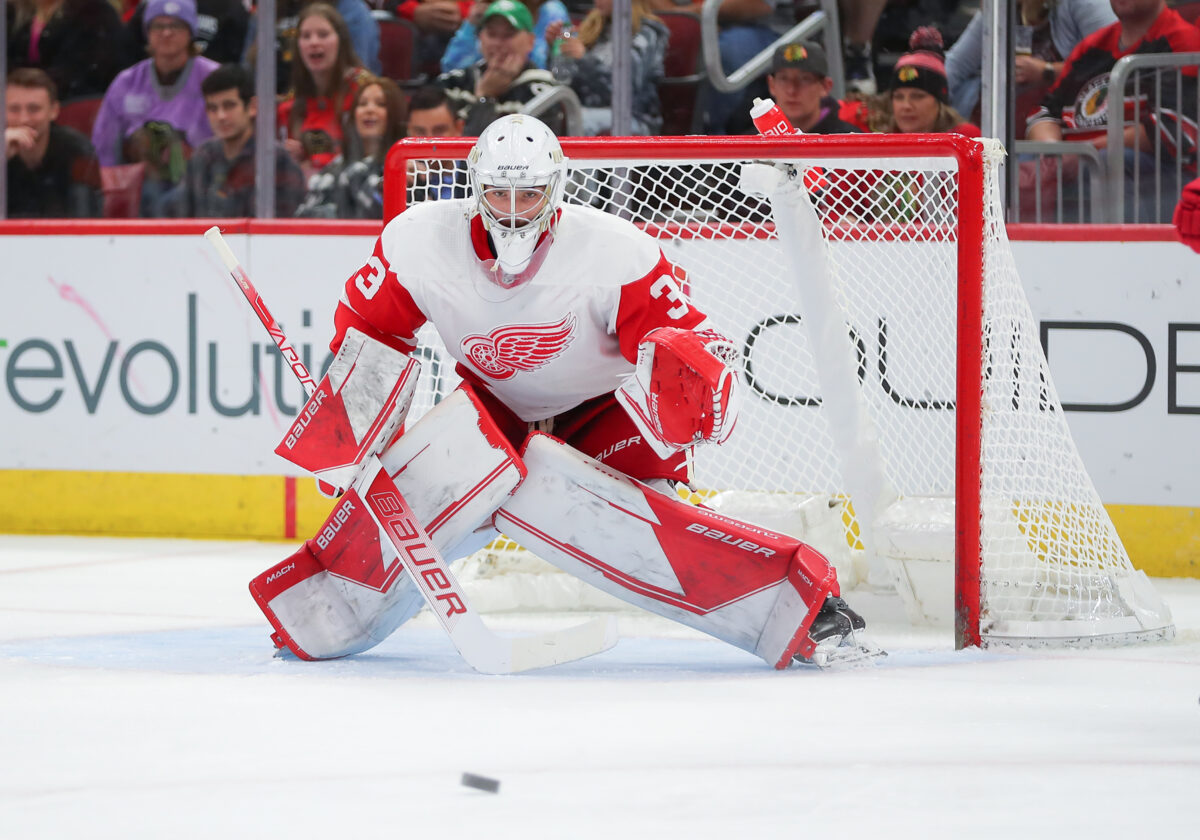 Why are we doing this? It's helpful to know Detroit's strengths and weaknesses – which positions have a surplus of talent and which are in dire need of depth. Surplus talent could be dealt to address deficits, both in the prospect pipeline and at the NHL level. In addition, this exercise can highlight areas in need of development, plus the prospects who will have the opportunity to step up and fill the void at those positions.
Related: Ranking the Red Wings' Top 25 Prospects
---
Latest News & Highlights
---
With that being said, let's dive into Detroit's prospect depth and examine what to watch for in 2023-24.
Red Wings' Prospect Pipeline Overview & Analysis
Like I did earlier this summer, this depth chart will include all players and prospects who are 22 and under. That includes those in both the professional and amateur ranks. The thinking is that if you're 22 or younger, then it's likely that your overall trajectory is still ascending.
Note that wings and defensemen are sorted by handedness, not which side they'll ultimately end up on.
| | | |
| --- | --- | --- |
| LW | C | RW |
| Elmer Soderblom | Nate Danielson | Lucas Raymond |
| Cross Hanas | Marco Kasper | Carter Mazur |
| Dmitri Buchelnikov | Amadeus Lombardi | Sam Stange |
| Dylan James | Alexandre Doucet | Kienan Draper |
| Noah Dower Nilsson | Theodor Niederbach |   |
| Kevin Bicker | Liam Dower Nilsson |   |
| Max Kilpinen | Red Savage |   |
| Emmitt Finnie | Owen Mehlenbacher |   |
| Chase Bradley | Brennan Ali |   |
| | | |
| --- | --- | --- |
| LD | RD | G |
| Simon Edvinsson | Moritz Seider | Sebastian Cossa |
| Albert Johansson | Axel Sandin Pellikka | Trey Augustine |
| William Wallinder | Andrew Gibson | Carter Gylander |
| Jared McIsaac | Anton Johansson | Jan Bednar |
| Shai Buium | Antti Tuomisto | Rudy Guimond |
| Brady Cleveland | Jack Phelan |   |
| Eemil Viro |   |   |
| Larry Keenan |   |   |
| Cooper Moore |   |   |
| Tnias Mathurin |   |   |
| Kyle Aucoin |   |   |
When I'm considering prospect pipeline depth, I sort players into three categories. Primary prospects have a strong chance to be top-six forwards or top-pair defensemen. Secondary prospects are likely to be bottom-six or complementary forwards or bottom-four defensemen. And tertiary prospects are those on the bubble of attaining consistent NHL ice time.
Up front, the Red Wings have solid depth, with Lucas Raymond, Marco Kasper, and Nate Danielson leading the way. However, none of the three are elite or game-breakers.
Primary – Lucas Raymond, Marco Kasper & Nate Danielson
Secondary – Carter Mazur, Elmer Soderblom & Amadeus Lombardi
Tertiary – Dmitri Buchelnikov, Cross Hanas, Dylan James, Alexandre Doucet, Noah Dower Nilsson, Liam Dower Nilsson, Theodor Niederbach & Red Savage

On defense, there's more talent at the top. Moritz Seider is an elite player, and Simon Edvinsson has a good chance to be as well. Similarly, there's a ton of upside in the next tier down.
Primary – Moritz Seider & Simon Edvinsson
Secondary – William Wallinder, Axel Sandin Pellikka & Albert Johansson
Tertiary – Jared McIsaac, Shai Buium, Andrew Gibson, Anton Johansson, Brady Cleveland, Antti Tuomisto, Eemil Viro & Larry Keenan
Goaltending is a strong position as well. Both Sebastian Cossa and Trey Augustine have NHL futures if they continue along their trajectory.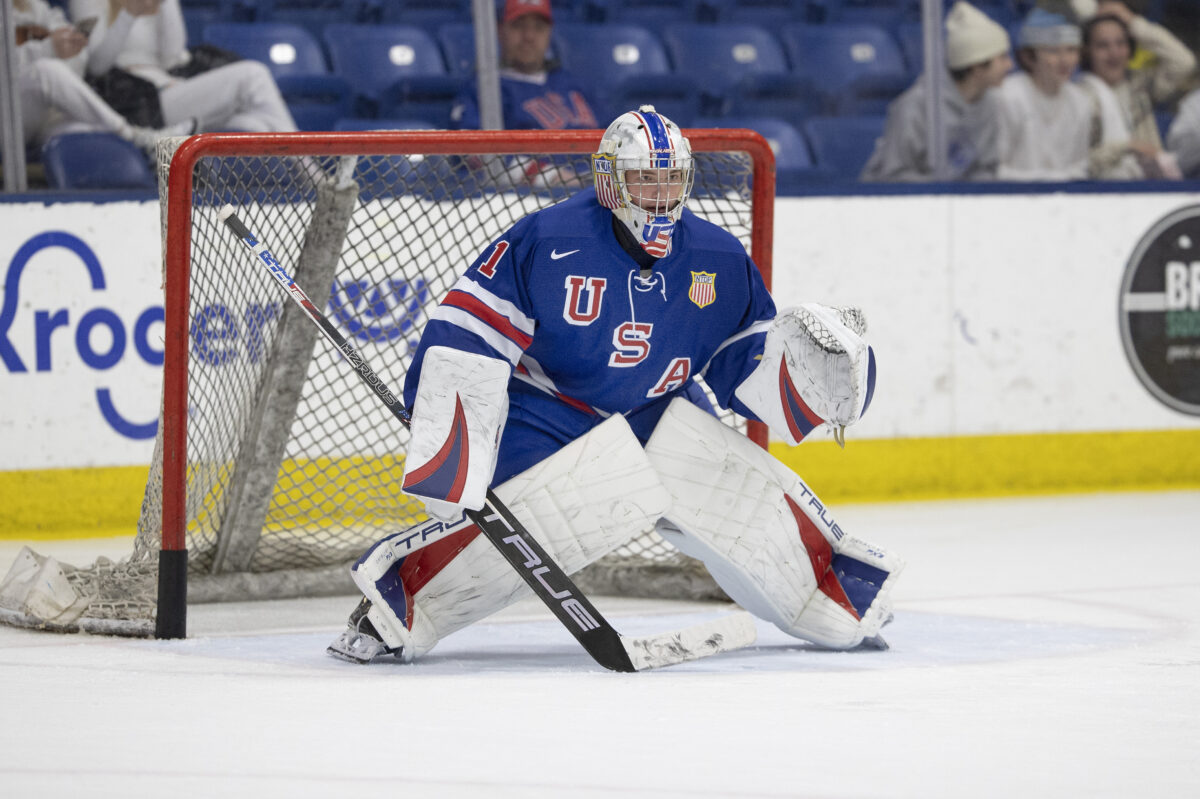 So where does this leave the Red Wings in terms of surpluses and deficits? For the former, they have an abundance of tertiary forwards and defensemen. These prospects can and should be considered trade chips – the Red Wings have a surplus of similarly skilled players and several more above them on the depth chart. Teams with paltry prospect pipelines looking for players with untapped potential could be interested in tertiary forwards and defensemen.
Related: Red Wings Lineup Projection for 2023-24
From a deficit standpoint, Detroit still needs more forward talent. They don't have any elite forward prospects, even after seven years of top-10 picks. They could also stand to bolster their secondary forward prospects, who pale in comparison to their secondary defense prospects.
Final Word
Overall, the Red Wings boast solid forward depth, but lack game-changing talent, even with the recent additions of Kasper and Danielson. Left defense remains strong, and is now more in balance with the right side after Yzerman effectively addressed the latter at the 2023 draft.
At this point, Detroit needs more elite talent up front and for prospects to exceed expectations with their development, much like Lombardi did in 2022-23. They have a great base and are close to emerging from their rebuild.