When considering what the Detroit Red Wings should do with Tyler Bertuzzi, there's a simple question that can help identify the answer:
If Bertuzzi was out for the season, should the Red Wings trade a late first-round pick (No. 26 to No. 32 range) and a mid-level prospect (think Albert Johansson or Shai Buium) for a top-six rental forward similar to Bertuzzi?
Why do I ask this? Well, that's the opportunity cost of not moving Bertuzzi at this year's trade deadline. If Detroit keeps the 28-year-old forward, they are passing up the opportunity to acquire a return comparable to a late first rounder plus a solid prospect in exchange for his services.
So, would you make that trade? Before you answer, let's go over a few variables at play here.
Bertuzzi's Contract Status & Trade Market
The first question you need to ask yourself—or ask Steve Yzerman, for that matter—is can Bertuzzi be re-signed to a reasonable contract?
Now, what is reasonable? My model projects a five-year deal with an AAV in the range of $5.32 million to $5.95 million, with $5.75 million as the most likely outcome. It also suggests Teuvo Teravainen and Conor Garland as the best comparables for Bertuzzi.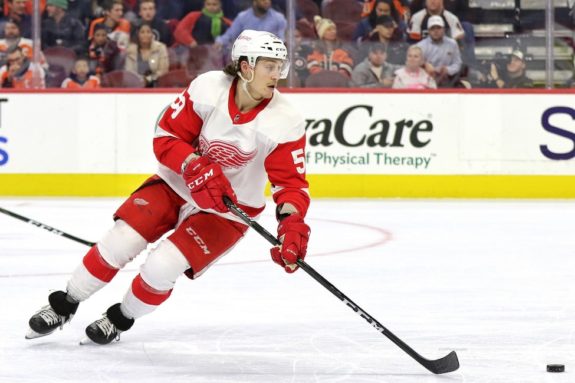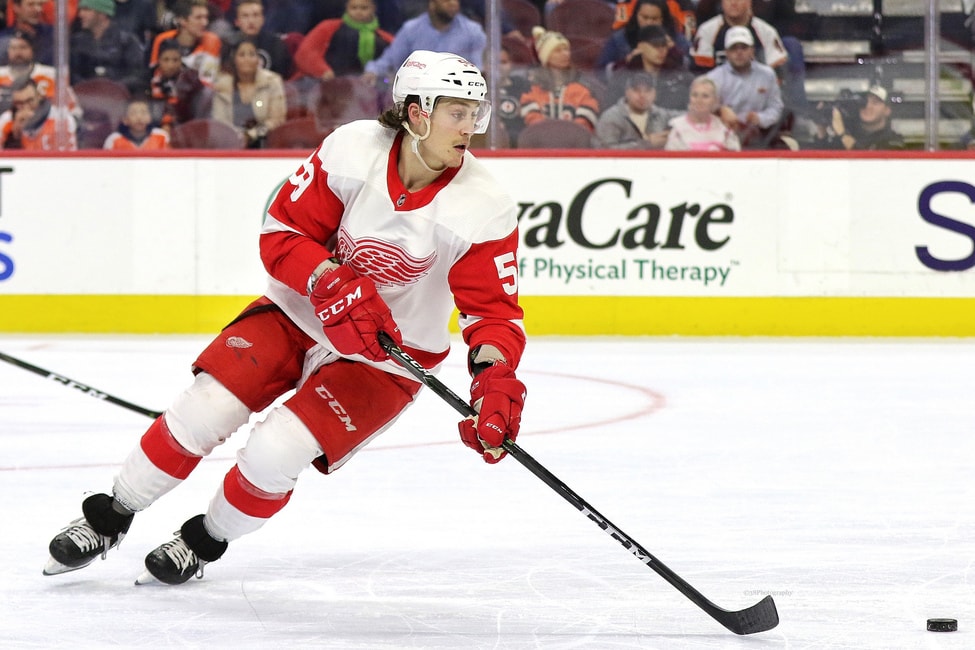 In my opinion, that is reasonable – a three-to-five-year contract with an AAV around $5.75 million. Anything longer than five years won't age well. Six years from now, Bertuzzi will be in his mid-30s and likely on the downside of his career.
So if Bertuzzi can re-signed to a reasonable contract, then it's worth keeping him around. He has outstanding chemistry with Dylan Larkin—more on that later—and has a few good years left as an impactful top-six forward.
But if he's asking for a longer contract or a higher AAV (or both), then you might want to consider the value a trade would bring the Red Wings. And speaking of a trade, there are plenty of teams out there who would be interested.
The Dallas Stars, Carolina Hurricanes, Pittsburgh Penguins, Edmonton Oilers, and Minnesota Wild are all looking for help up front and have yet to acquire a forward. In addition, the Vegas Golden Knights might not be done yet after trading for Ivan Barbashev.
Related: Red Wings Mock Trade Deadline: 4 Players On the Move
---
Latest News & Highlights
---
The supply of top-six forwards is quickly dwindling. Within the last two weeks, Ryan O'Reilly, Nino Neiderreiter, Patrick Kane, and Timo Meier have all been dealt, leaving Bertuzzi as the best available forward. Clearly, it's a seller's market and the Red Wings are in the driver's seat.
Impact on the Red Wings
After considering Bertuzzi's contract status and trade market, it's also worth evaluating how dealing the forward will impact the team, even if that analysis is more subjective in nature.
Bertuzzi is a huge part of this team. He's a leader in the locker room and one of their best players. Trading him would tell the rest of the team that, while they're close to a playoff berth, they're not good enough yet. And that's not the kind of message you want to send a group that has accomplished so much this season.
In addition, you have to consider Bertuzzi's chemistry with Larkin:
| | | | |
| --- | --- | --- | --- |
| With or Without | CF% | xGF% | HDCF% |
| Larkin with Bertuzzi | 50.66% | 53.17% | 53.68% |
| Larkin without Bertuzzi | 47.68% | 49.29% | 45.77% |
Clearly, Bertuzzi helps Larkin reach another level, and that's what the Red Wings need moving out of their rebuild. They're also close friends off the ice.
Related: Red Wings & Larkin: Dissecting the Complex Contract Negotiation
I say this because the Red Wings are in the middle of negotiating a long-term contract extension with Larkin. If they choose to deal Bertuzzi, it could have an adverse effect on contract talks. Losing Larkin and Bertuzzi would set the rebuild back years, no matter what the return is for the latter.
Final Word
As you can see, the question of whether to trade Bertuzzi isn't a simple yes or no answer. Here's my thought process on the matter: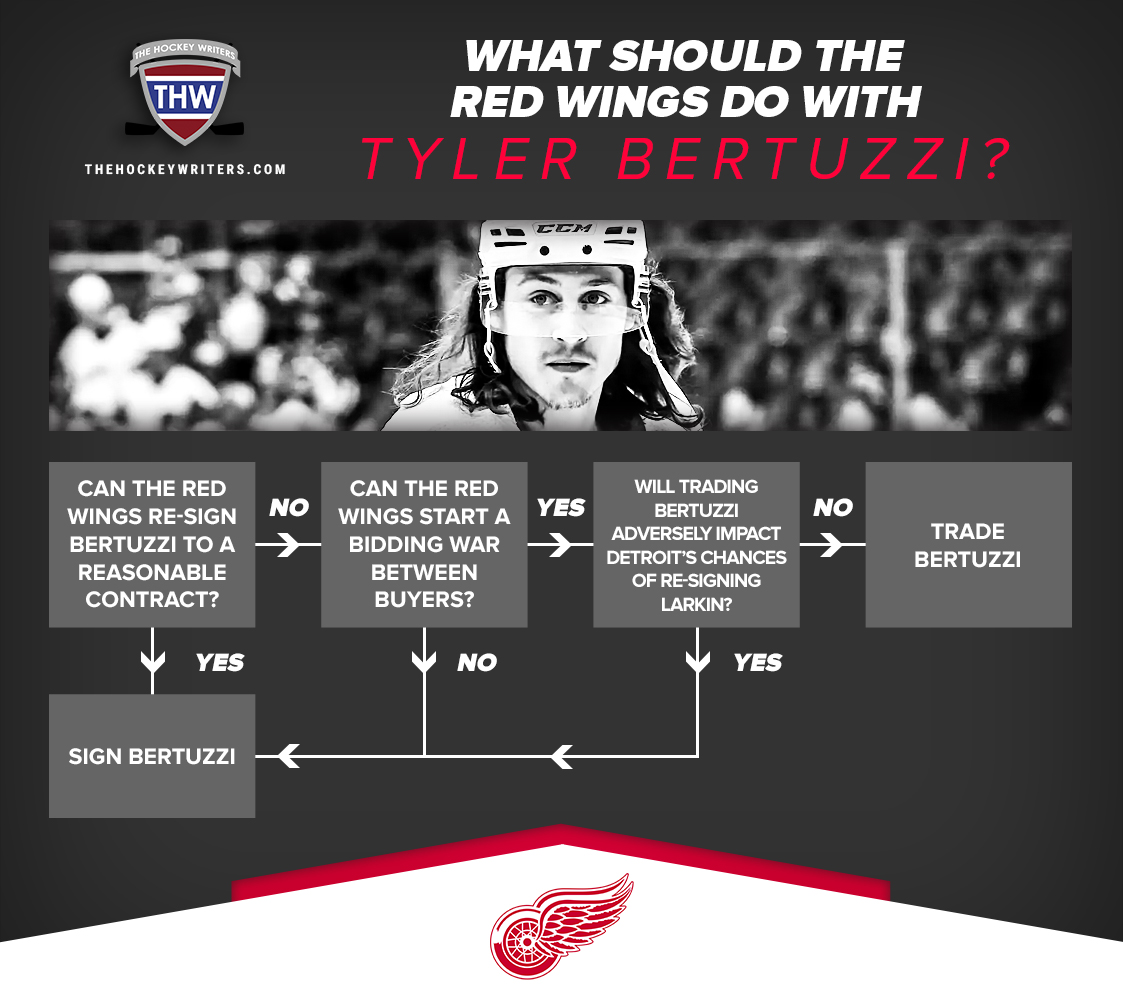 Overall, I can see a path that leads to a Bertuzzi trade. There may be short-term pain, but it will have a positive impact on the organization in the long term. Besides, the Red Wings shouldn't be in the market for rental players—which Bertuzzi essentially is—at this point in time.
The hypothetical trade I shared at the beginning – I would pass on that. Picks and prospects are the better choice in that circumstance.
That said, what would you do?
Stats courtesy of Natural Stat Trick.