It's been a little over a week since Toronto Maple Leafs general manager Kyle Dubas made an all-in move to acquire Ryan O'Reilly and Noel Acciari from the St. Louis Blues. Given the team's recent struggles in the post season, they needed to find players that have the experience, compete and energy to make that happen.
Five games into their tenure with the Maple Leafs, both O'Reilly and Acciari have been nothing but exceptional with their overall play, displaying a strong work ethic and mentality every shift. The Maple Leafs have lacked that kind of play. As they get ready for a potential deep playoff run, both players are already showcasing why they were acquired as it's already starting to pay off.
O'Reilly's Added Boost of Offense
The Maple Leafs have always been in the market for a top-six forward. While they were looking for a player as a winger, the Maple Leafs landed O'Reilly and shifted captain John Tavares to the left wing. While the decision was met with some apprehension as head coach Sheldon Keefe went to the blender with his roster, it was a move that has shown to be working out. 
With five points in five games as a Maple Leaf, O'Reilly has gone above and beyond with his ability to get in on the forecheck, net front presence and display a strong work ethic. At five-on-five, he has already put up impressive underlying numbers.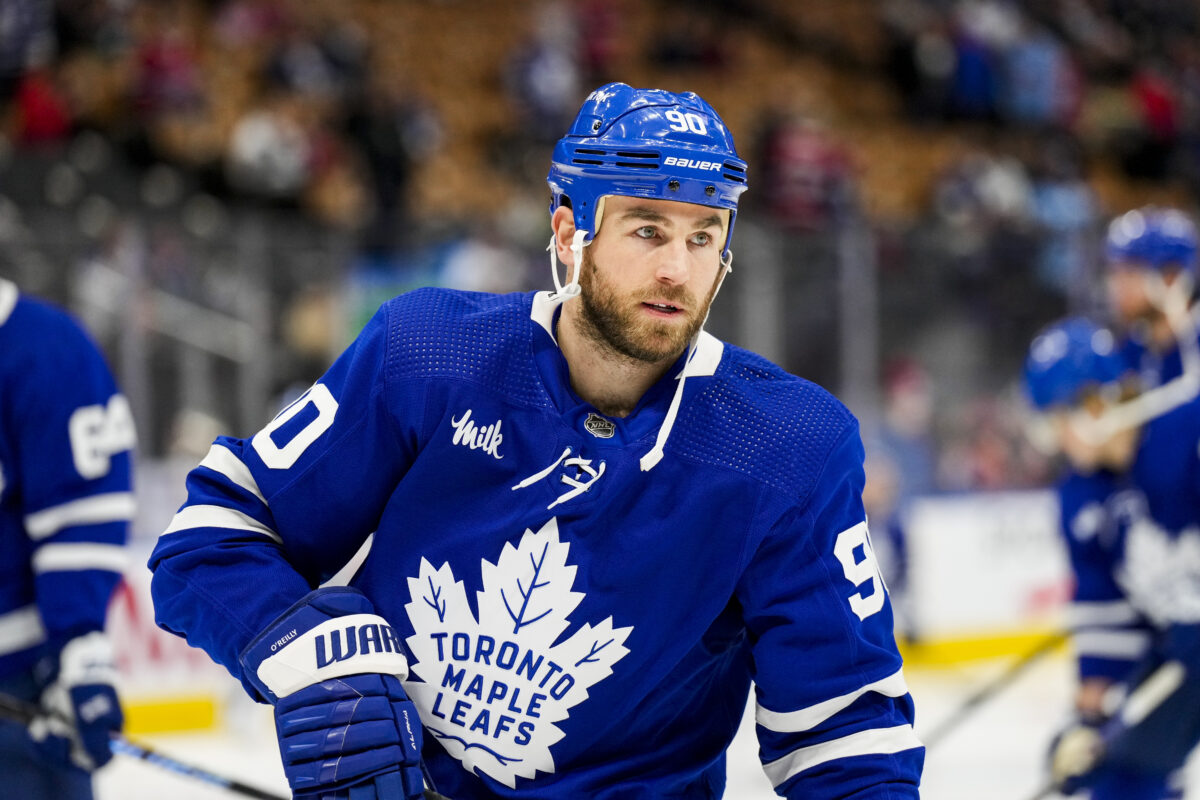 He has a 63.64 goals for percentage, a 56.41 scoring chances for percentage and a 58.82 high danger chances for percentage. In addition, he has a been on for four high danger goals for, which is very telling for the style of play and mindset that he brings when he is on the ice. The boost that he has brought to this team is just what they need when it comes to playoff hockey. 
This season the Maple Leafs have shown great strings of momentum where they drive the middle of the ice and attack the net. However, there have been some times where they appear to be too passive with their play, keep to the outside and have a hard time breaking through the opponent's defensive structure. Especially early on in the season, where they weren't attacking the middle as often.
Related: Maple Leafs Continue to Load Up With McCabe, Lafferty Trade
Since O'Reilly has come in, even if the Maple Leafs didn't get a shot on net, they have been more persistent in driving hard to the high danger area and making their presence felt and putting the opposition on their heels. They're patient with the puck, but when they spot their chance to attack, they're doing that with quick passing plays, deflections and being first to get those second or third scoring opportunities. 
Instead of curling back, they're attacking with intent and that's the mentality that has been instilled not just with the second line, but with the team overall. O'Reilly's hard-nosed drive is making life miserable for opponents in the middle of the ice and for goaltenders in front of the net. In their recent 5-1 victory against the Seattle Kraken, their first three goals were a result of them crashing the net and creating havoc in front. 
---
Latest News & Highlights
---
O'Reilly has showcased his smart and aggressive style, but let's not forget about his ability to win faceoffs. He already owns a 73.9 winning percentage at even strength, is 69.2% in the offensive zone and 73.9% within his own end. To have that presence alone will be critical in key situations. 
O'Reilly really has made a smooth transition with the team and has provided that spark to push this team over the top. 
Acciari the Fourth Liner They Needed 
It's pretty much a given that your bottom-six, depth players always shine and become more of a factor during the playoffs. Previously, the Maple Leafs have lacked that competitive edge and intensity needed for the playoffs as they have always been outmatched. Last season was the perfect example as their fourth line was slow and had little to no impact compared to the Tampa Bay Lightning. 
Related: Maple Leafs Trade Sandin to Capitals
The Maple Leafs added Zach Aston-Reese to start the season, but the addition of Acciari has really helped them out in being a difficult line to contain and go up against. Having him in the fold has really energized the fourth line as of late. 
During Dubas' media availability after the trade, he stated that Acciari is a "high-end competitor, physical but can also chip in and score". It's safe to say, that we're seeing the physicality, competitive edge and underrated offensive impact that makes Acciari an important and critical piece to the Maple Leafs fourth line. If they're having success, it's a result of his intensity and determination as he's always aggressive on the forecheck and playing the body.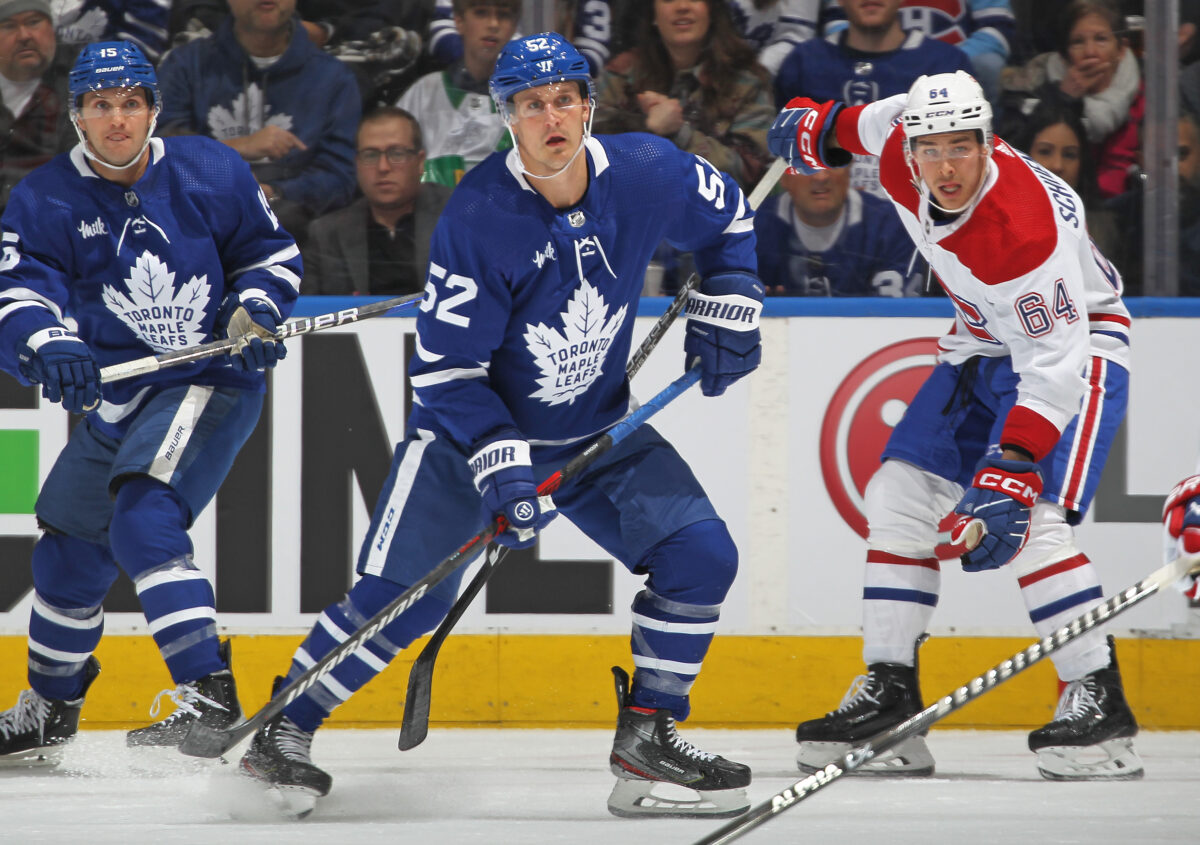 Acciari has the speed to apply that pressure to smother the opposition, force turnovers and regain possession. When the line gets the puck that's when they get the cycle game going as well as the mindset to crash the net. Acciari himself has been a tremendous boost as the numbers are staggering at 5-on-5 with his line mates Alexander Kerfoot and Aston-Reese.
| | |
| --- | --- |
| Statistic | Total |
| CF% | 54.02 |
| xGF% | 72.02 |
| SCF% | 62.22 |
| HDCF% | 81.82 |
The consistency that this line has been in generating offensive chances has been outstanding. The speed and the pace of play that they show has allowed them to hem the opposition within their zone. Previously, it was a mixed bag of results. With Acciari in the fold, he has been a breath of fresh air for a team that's looking for a physical, yet tough fourth line to play against.
Impact is Evident
Ever since O'Reilly and Acciari shined in their first game against the Montreal Canadiens, it's clearly evident that their overall play and consistency is paying off in a positive way for the Maple Leafs. For a team that's looking to take a big step in the postseason, these are the players that will make a significant impact, as they have the experience and energy to back it up.  
You may also like:
Bringing both O'Reilly and Acciari in was a sign Dubas means business. To get the players that he wanted ahead of the deadline really shows his vision for the playoffs. For a team that has struggled to make it past the first round, the smarts, energy and overall play of these players is going to be important down the stretch.
While we need to see results in the postseason, their play as of late is a great sign of what to expect.
Statistics from Natural Stat Trick and NHL.
---
Sign up for our regular 'Maple Leafs Newsletter' for all the latest.