It's official, the Detroit Red Wings have signed defenseman William Wallinder to a three-year entry-level contract (ELC), which will begin in the 2023-24 season. After Detroit selected him with the first pick in the second round of the 2020 NHL Draft, Wallinder has been one of the very best young players in Sweden, even being named the top junior player in Sweden last season after his remarkable debut in the SHL.
The Red Wings also announced that Wallinder will report to the team's AHL affiliate, the Grand Rapids Griffins for the remainder of the 2022-23 season on an amateur tryout contract, meaning it won't affect his ELC in any way.

Wallinder is the latest left-handed defenseman to join the organization, and he projects to be a very important one at that. So, who is William Wallinder and what can Red Wings fans expect from him for the rest of this season and going forward?
Who is William Wallinder?
Wallinder is a big, mobile defender who was seen as a major project in his draft year, leading to him falling into the second round where Detroit snatched him up right away. He already had the size and there were glimpses of his offensive capabilities, but many scouts questioned his compete level, skating, and decision making. It was clear Wallinder had tons of potential, it was just a matter of if he could get there or not.
Related: 2023 NHL Draft Guide
---
Latest News & Highlight
---
Ever since the draft, Wallinder got to work fitting all of the pieces together and becoming a more confident and well-rounded defender. He played most of his draft plus-1 season in the Allsvenskan before breaking out into the SHL in the 2021-22 season with Rogle where he has become one of the very best young defenders in the league.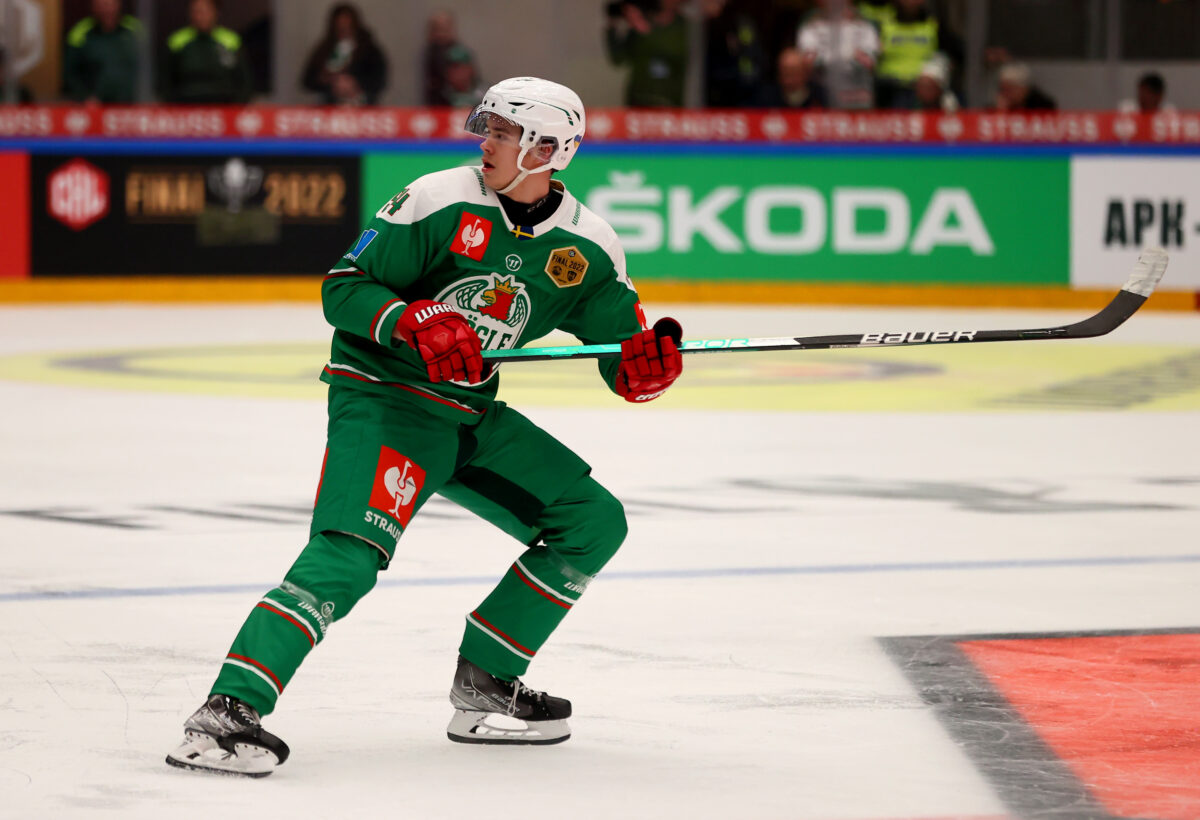 This season he led all U21 players in SHL scoring. You read that right, all U21 players, not all U21 defensemen, all U21 players. That includes his Rogle/Red Wings teammate Marco Kasper, top 2023 prospect Leo Carlsson, San Jose Sharks prospect Filip Bystedt, and more. However, he's not just an offensive talent, earning a ton of responsibility in the SHL as a two-way horse who plays a ton of high-leverage minutes in important games.
Wallinder is 6-foot-4, and the long reach that results is a tool he uses to great effect while defending the rush. His agility, size, and stick skills make him a nightmare for oncoming forwards who had a tough time getting by him in the SHL this year. He's also proficient at walking the blue line in the offensive zone, typically on power plays. Wallinder keeps his head up in order to spot passing lanes as they open and close through traffic. 
What to Expect From Wallinder This Year
I'm not entirely sure what to expect of his deployment in Grand Rapids, because they currently have six left-handed defensemen (not including Wallinder) on their roster and just two right-handed defenders. I think there's a really good chance he gets consistent minutes on the right side because he has a ton of experience playing on his off side in the SHL this season (even in the SHL playoffs), and he seems quite comfortable there. The organizational depth at LD has been well documented, but Wallinder is truly second in line in my eyes behind only Simon Edvinsson.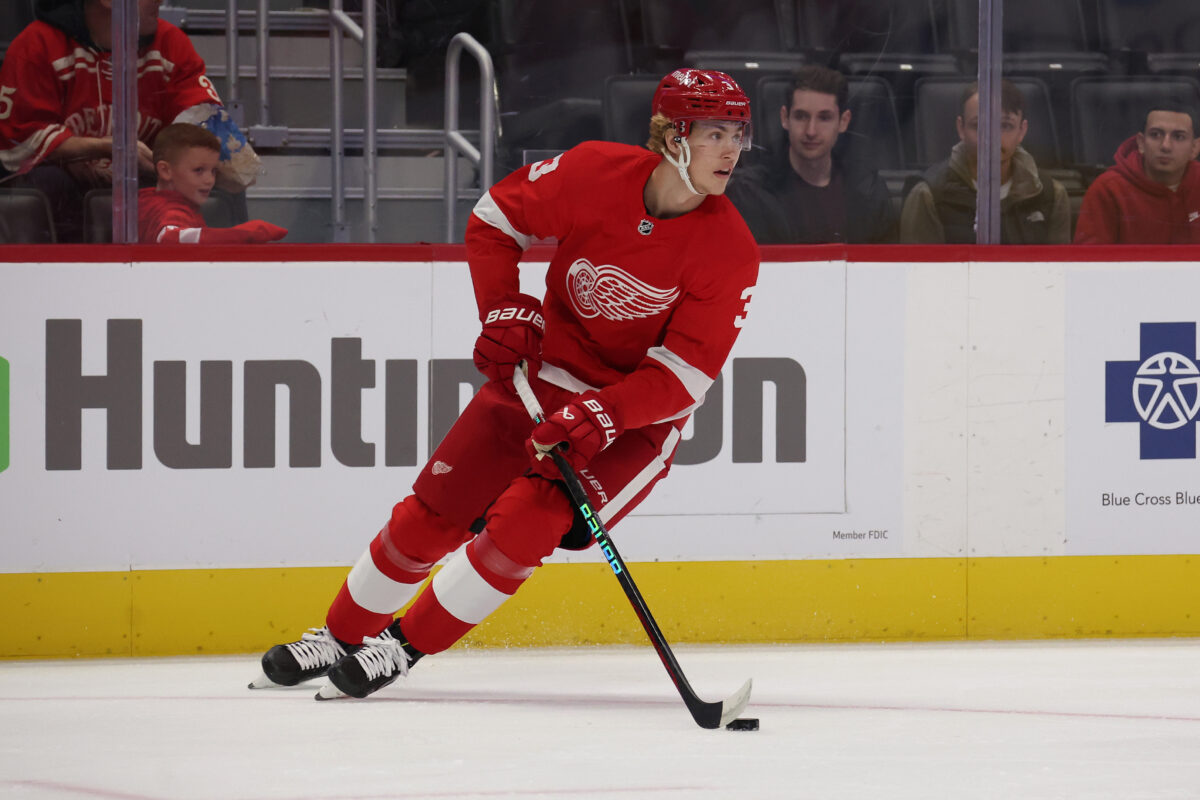 When he's playing in the AHL I'd expect Wallinder to play big minutes and to have a healthy dose of mistakes (much like Edvinsson did in the Fall) while he learns the North American game. The organization will want to get a really good look at him in a wide variety of situations so I expect he'll play special teams and will be one of the Griffins' most important defenders, especially with Edvinsson in Detroit on a call-up.
What to Expect From Wallinder Going Forward
Wallinder is an excellent NHL prospect and isn't far from being an NHL-quality defenseman in my eyes. I expect he'll slowly work his way into the Red Wings' lineup like Edvinsson has this season, gradually playing better before injuries give you a spot in the NHL. He'll probably spend the majority of the 2023-24 season in the AHL, but he could quickly become the first AHL call-up if he plays well.
It's clear that Wallinder and Edvinsson will soon pass guys like Robert Hägg and Gustav Lindstrom on the depth chart, but they will still have to compete with guys like Olli Maatta, Ben Chiarot, and Jake Walman for spots in the lineup on the left side. Matta and Chiarot have both played a bit on the left side recently, so it's possible that one of them switches to the right side to make room for the youngsters, but I also wouldn't be surprised to see Wallinder as the team's seventh defender by the end of next season, capable of filling in on either side of a defensive pairing depending on need. Here's a quick look at what Detroit's defensive group could look like in about 12 months:
Walman – Seider
Edvinsson – Maatta
Chiarot – Wallinder
What Could Wallinder Become?
Wallinder is still growing and learning, which is an exciting thought for a player who has already come so far in the last three years. My best guess for his ultimate potential is a great second pairing guy who logs big minutes in all situations, basically a Moritz Seider-lite on the left side. He doesn't have the offensive potential or other-worldly physical profile of Edvinsson, but he has the potential to be a real game changer on the back-end for Detroit with his sturdy defensive game and his ability to transition the team from defence to offence.
I, for one, cannot wait to see what Wallinder looks like in the winged wheel, and today's news brings us one big step closer to seeing that. Although he hasn't played a single game yet in North America, Wallinder is already another success story for the Red Wings' amateur scouting and player development staffs, and hopefully he can be a big piece for general manager Steve Yzerman as he looks to turn this team around and finally put an end to the rebuild.
What are your thoughts on the Wallinder signing? Do you think he'll start next season in the AHL or NHL? Which left-handed defence prospect are you the most excited about aside from Wallinder and Edvinsson? Sound off in the comment section below!