From a Gamblers Anonymous forum:
"If and when I ever get to the utopian state of truly feeling that, whatever the results, whatever the misfortunes or good fortunes that happen to me along the way, my system is prevailing irregardless, then I will have become a true pro. The act of winning will become a mere side factor, a mere by product of my edge and discipline. A mere measure of my success. There will be no thrill, just quiet satisfaction of doing something that most can't. But until then, I can but dream.  At the moment, I confess that whilst I may not hang on like death waiting to hear the final whistle of each and every game I bet on, I do not wait around too long after a game has finished to find out what happened. If I'm somewhere I can't for some reason access any and all results real time if and when they are coming in, I'm like a bear with a sore head."      
The dragon-chasing language coming from gamblers suggests how intoxicating the vice can be.
Intoxicating enough to tempt a fiancé into risking that diamond ring.  Intoxicating enough to tempt a father into risking his children's future.  Intoxicating enough for Detroit's own smiling gambler, Brendan Smith.
Smith, like many defensemen, earns his keep more by joining the attack and less by preventing it.  Offensive defensemen, like Smith, function as fourth forwards; cavalrymen; reinforcements difficult for opposing teams to anticipate.
The advantage in outnumbering opponents during play is obvious.
The trick is knowing when to attempt it.
Of course, there is risk involved in this style of play, but Smith's high-risk, high-reward behavior threatens hockey games, not lives.  Smith's on-ice gambling will get him yelled at, not shot at, and his game is akin to the skillful timing of poker, not the fragile chance of horse racing.
But addicts can take decades, even lifetimes, to kick a habit and oftentimes abandoning an old vice simply clears the way for a newer, more destructive one.  Some addicts are even "functioning": able to complete the necessary tasks before them while remaining under the influence.  So rather than throwing Smith into some kind of "defense rehab," perhaps what he needs is an enabler; someone to negate the consequences of his frightening tendency.
Perhaps the man to watch for cops while Smith shoots dice is defenseman Kyle Quincey.
While coach Mike Babcock does sound like a dope, fans shouldn't assume that he thinks like one.
"I put an offensive guy with a defensive guy," is how he summarized his Earth-shattering philosophy when choosing defense pairings.
If Babcock utilized this incredible "offensive guy-defensive guy" theorem when pairing Smith with Quincey, it's the latter player that must have been in mind for the defensive role.  This is how Detroit, from the management to the fan base, should view #27: as Brendan Smith's enabler.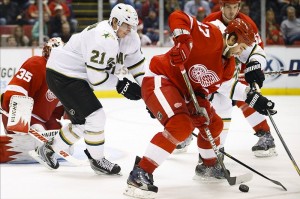 The Smith-Quincey pairing has struggled to find its identity.  While both players have spent significant time as professionals, both players are still susceptible to "rookie" mistakes, to put it mildly. With Jonathan Ericsson taking massive strides in improving his game, fans now pin the dunce cap on one of the two, or both, aforementioned defensemen.  Detroit can soften the castigation of these players, I believe, by a total adoption of the enabler model.
"Stay here.  I'll be back," was a good enough motto for an amoral putz like Arnold Schwarzenegger, so why not for an occasionally confused, but ultimately good-natured, young man like Smith?
"Go! Go! Go!" was a suitable command for every grunt in the James Cameron universe, so why not for a sleepy-eyed scapegoat like Quincey?
People, especially children, do require some degree of law and order to live under.  Anarchy is attractive to people who confuse their own competence for everyone else's.  Brendan Smith and Kyle Quincey are the ill-tempered children of the Detroit Red Wings.  This being the case, they require the most structure.
Outside the rink, enabling people is irresponsible and perilous.
Inside the rink, particularly Joe Louis Arena, enabling is healthy and harmless.
I've never understood the allure of gambling.  If I am going to spend money on a vice, I want the guarantee of a buzz, not the possibility of one.  But gamble away, Brendan, for everyone has their favorite method of going for broke…and your partner, Kyle, has the addiction hotline and police scanner at the ready.