When Terry Pegula took over the reins of the Sabres, Ted Black proclaimed "A clarion call should go out to the league that Buffalo is hockey heaven." Fans of the organization rejoiced as the team finally had an owner committed to putting forth a supreme on-ice product. However, Pegula seems to be more false prophet than Savior. Hockey Heaven seems more like Hockey Hell as the franchise just concluded arguably its worst season ever.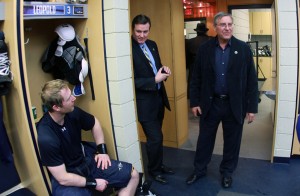 More Like Buddhism
Maybe all of the Biblical references are a bit off because the Sabres are more comparable to Buddhism than Christianity. After all, the word used most to describe the 2013-14 season has been "suffering." Those familiar with the Buddhist teachings know that the religion is centered on suffering, stating that existence is suffering. Fits the Sabres to a T.
Former Sabres GM Darcy Regier must be a follower. He's the one who made the term suffering synonymous with Buffalo hockey.  During the 2013 end of season press conference, he stated:
"Terry Pegula has been in search of creating a Stanley Cup Champion, that has not changed. In fact, that has been reinforced. That is stronger than ever. It may require some suffering."
Looking back on this last season, Regier appears to be the real prophet. It's likely the most intelligent, most accurate thing he's ever said.
While Buddhism has its Four Noble Truths and Noble Eightfold Path, the Sabres had their 9 different goalies and a league-worst 52 points. By comparison, the next worst team was the Florida Panthers who finished 13 points higher with 66 points.
Thanks, But No Thanks
Imagine getting to the pearly gates of Heaven and being deemed entry by the Big Man upstairs and saying "thanks, but no thanks."
That's essentially what happened when Rostislav Klesla elected for retirement over playing for the Sabres in Hockey Heaven. And it's not as if Klesla was coming from a secure position on a contender. He was stuck in the hockey equivalent of Purgatory, being bounced around between the NHL and AHL. If that's not rock bottom for an NHL organization, then what is?
Klesla wasn't the only one to hightail it out of Buffalo. The next anointed Savior was Pat LaFontaine. However, his term as President of hockey operations was short lived and his exit ever mysterious. That punctuated a stretch of a season and a half that included three head coaches, two GMs, and numerous trades, signings and releases, leaving us all with a feeling of Śūnyatā, or emptiness. And this is all before considering the myriad of injuries the team endured this season.
This culminated into a 2014 Sabres roster that was far from what an NHL lineup should look like. They were simply outmatched game in and game out as they limped – both figuratively and literally – to the finish line.
The Best part of the 2013-14 season for Sabres fans is that it is finally over. For the time being, the suffering has stopped. We can at least hope we've found some Enlightenment along the way.