It was a long, cold winter in 2005. There was no hockey played that year, as a lockout caused one of North America's major sports leagues to cancel its season for the first time when the NHL and players association (NHLPA) could not reach a deal. For the NHL, it was a bleak time, and the future was uncertain. And for the Pittsburgh Penguins, well, it was also bleak, but at least there was some hope, provided the league could resume operations.
Prior to the lockout the Penguins were at the bottom of the league standings, but they had secured their goalie of the future in Marc-Andre Fleury with the top pick in the 2003 entry draft. Though they did not win the 2004 draft lottery and the chance to pick young Russian star Alexander Ovechkin, they got the ultimate consolation prize and chose another Russian star, Evgeni Malkin.
Then the clouds parted, and the sun shone in for both, as first the Penguins won the 2005 lottery and then drafted that year's prize, Sidney Crosby, and the league reached an agreement with the NHLPA and play would resume that fall. The fortunes of both the Pittsburgh franchise and the NHL rested on the shoulders of the skinny kid from Cole Harbour.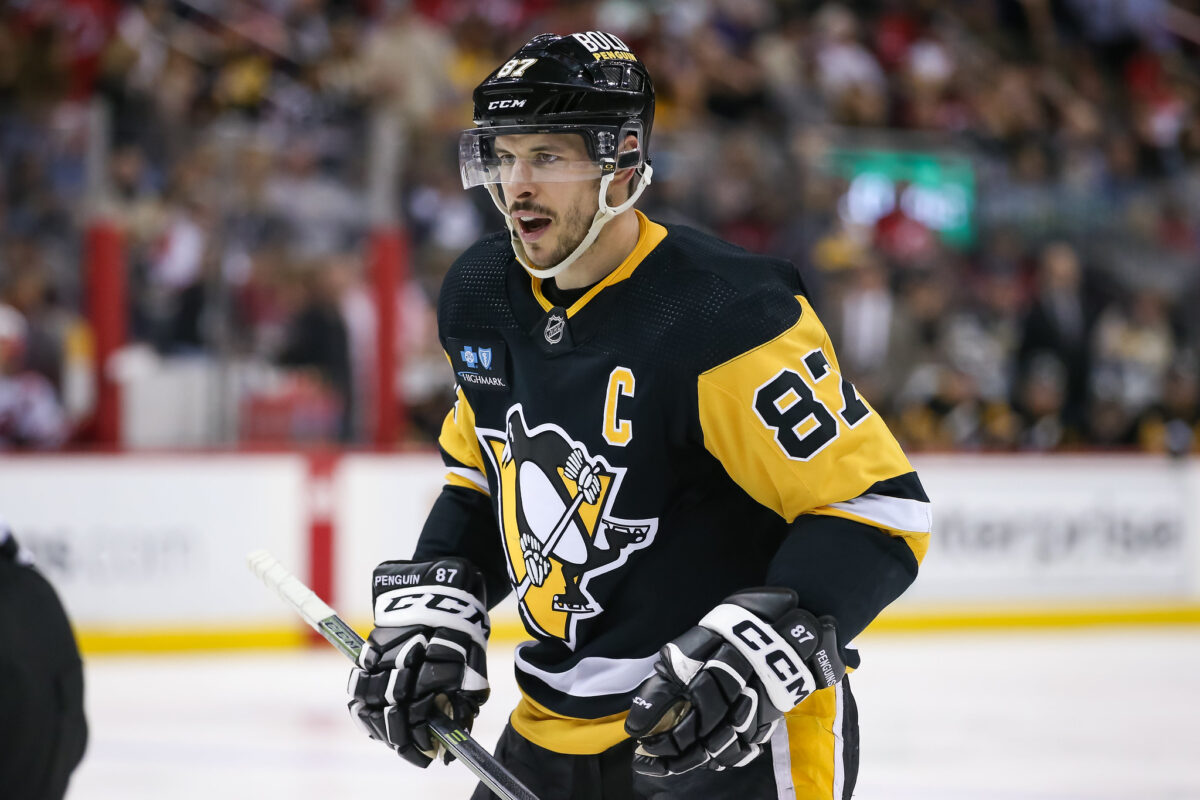 Though things have worked out well over the past 18 years, they didn't always go smoothly at first. For one, the Penguins missed the playoffs during Crosby's rookie season, the last only time he would miss until this past year. And it's worth looking back and comparing where Crosby and the team were then versus now.
A Look at the Penguins in 2005-2006
When the season kicked off, player/owner Mario Lemieux and then-coach Ed Olczyk had a plan to insulate their star rookie with veteran talent. The goal was to ease Crosby's transition to the NHL as much as they could, even with Lemieux offering Crosby a room in his home.
It started with Lemieux and Mark Recchi, who had played together on the 1991 Stanley Cup-winning Penguins. From there they brought in left wing John LeClair, a longtime member of the cross-state rival Philadelphia Flyers, and former Los Angeles King right wing Zigmund Palffy. They added defenseman Sergei Gonchar, who had played with the Boston Bruins prior to the lockout, to anchor the blueline. And veteran goaltender Jocelyn Thibault was brought in from Chicago to spell Fleury.
Related: Penguins' Mike Sullivan Needs to Adjust His Philosophy
---
Latest News & Highlights
---
These veteran additions rounded out a roster of young players like Ryan Malone and Fleury, and rookies Crosby, Ryan Whitney, Colby Armstrong, and Michel Ouellet. It was a sound enough strategy, but ultimately it did not pay off. Olczyk was fired and replaced by Michel Therrien after posting an 8-17-6 record in what would prove to be his last season as an NHL head coach.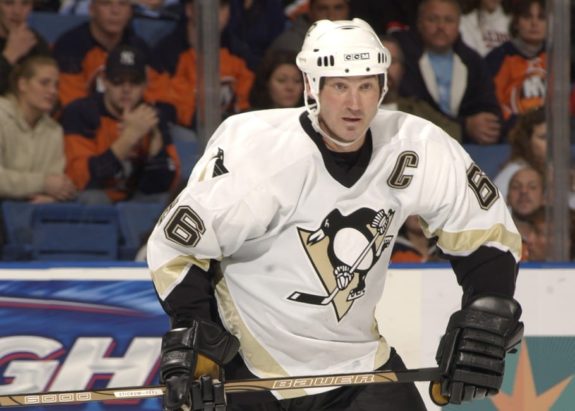 Lemieux played only 26 games, finishing his storied career with a modest 22 points. Likewise, Palffy managed 42 points in only 42 games, retiring from NHL play due to an ongoing shoulder injury. Recchi stuck around long enough to finish third in team scoring with 57 points before being shipped off at the trade deadline to the Carolina Hurricanes where he would win his second Stanley Cup ring. He would return to play with the Penguins the following season.
As a team, the Penguins ranked 19th out of 30 teams by scoring 244 goals, but they were dead last giving up 316. They finished with 22 wins, 58 points, one better than only the St Louis Blues for worst in the NHL. They also ranked second-worst in team penalty kill with 78.8% efficiency. However, it wasn't all gloom and doom. Malone and LeClair were solid, each contributing 22 goals, Gonchar was a steady hand and racked up 46 assists and 58 points, and they boasted a surprisingly strong power play that generated 94 goals and a sixth-best 18.99% efficiency.
And Crosby? He performed as advertised. By the season's halfway point, he had 21 goals and 48 points in 41 games, and he got stronger from there as he became more comfortable with each game. As he assumed the number one center role, he picked up 36 assists in the second half of the season and finished with 39 goals, 63 points, and 102 points in 81 games. He drove that power play with what would be a career best 16 goals scored with the man advantage, and he even added 110 penalty minutes, hinting at the grit he would develop over time.
No, he did not appear in the playoffs that first season, and he also did not win the Calder Trophy as top rookie, which famously went to Ovechkin. But Crosby, Gonchar, and Fleury would form the foundation of a team that would appear in the Final just two years later and win the Stanley Cup in three.
However, it is worth noting that when the 2006 playoffs began, with Crosby and the Penguins not a part of them, viewership was down from levels prior to the lockout. At the time, the NHL found itself as a lesser draw on ESPN than had been poker. Clearly, the league had work to do, but at least it had its new face.
Where the Penguins Are in 2023
In the years since Crosby was a rookie, the Penguins were a model franchise. Crosby and Malkin formed one of the greatest center tandems the NHL has ever seen, each winning the Hart Trophy and a pair of Art Ross while winning three Stanley Cups in four trips to the Final. They enjoyed a run of 16-straight playoff appearances that came to an end this season.
While they were once a franchise whose speed and skill other teams modeled themselves after, they have grown old. They now find themselves as a team full of veterans, who, though still quite good, are a step behind younger, faster teams in their conference like the New York Rangers, New Jersey Devils, and Carolina Hurricanes. The Penguins find themselves spectators now, watching a faster, more exciting game now than nearly twenty years ago. To the NHL's credit, even Charles Barkley agrees.
"I was watching hockey on TBS I'm not gonna lie. This game is boring as hell." Charles Barkley, confirmed Hockey guy pic.twitter.com/YR5IJXQfCF

— Alex Micheletti (@AlexMicheletti) April 24, 2023
This season the Penguins were remarkably mediocre in every area of the game. Their 40 wins and 91 points placed them 19th overall, and they ranked 16th in goals scored (261), 14th in goals allowed (263), 14th in power play (21.7%), and 16th in penalty kill (79.1%). They were also the oldest team in the league with an average age of 31, and sorely missed the young prospects they once had.
Moving forward the Penguins have a lot of issues to address, but on the plus side they retained their first-round pick in this summer's draft. Though it seems unlikely they will land the first overall pick and the right to draft phenom Connor Bedard, it is a deep draft. But wouldn't it be something if the Penguins overcame the odds and landed Bedard, who would take the torch from Crosby? What a rebound that could be.