Recently, my colleague Drew Weber published a series of articles on what he would like to see the Sharks do this offseason. Great minds think alike, at least to a point. You can read Drew's articles here:
Saving the Sharks: The Perfect Coach (Part 1)
Saving the Sharks Part 2: The Free Agency Market
Saving the Sharks Part 3: Fixing the Lines
Coming off a highly disappointing season, Sharks management has reset expectations. According to management, this team is rebuilding, will make the playoffs and will not be a Cup contender. The Sharks have room to spend and assets that can be traded. There will be some of that discussed in this article. I start by assuming the roster stays largely intact and go from there. How can the Sharks make the most of what they have now inside their organization?
Starting on Defense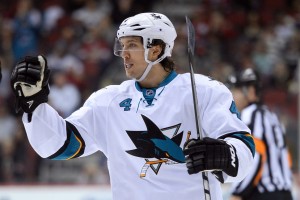 I'll start with the defense and players that struggled. They are Brenden Dillon, Brent Burns and Mirco Mueller. Of the 10 Sharks defensemen in the organization that played on the big club last year, those were the bottom three in terms of 'even-strength goals allowed per 60 minutes'. They were also the bottom three in plus/minus. Further, Dillon and Burns were both among the league's top 20 defensemen in committing minor penalties and leaving their team shorthanded. All three players deserve a new spot. For the 20-year-old Mueller, it is to the Barracuda (the Sharks top minor league team) to develop his game. For Burns, it is back to the wing where he was an elite winger. And for Dillon, he is an RFA and a very movable asset. Trade him. I'll get to the sort of trade I'd like to see a bit later.
The top defense pair is Justin Braun and Marc-Edouard Vlasic and there is every reason to ride that pair for big minutes. The Sharks used a lot of D-pair combinations this past season, Vlasic and Braun were the best by a good bit. Beyond those two players, things get trickier. Bring free agent Matt Irwin back. Irwin has been hit and miss for the Sharks over the years, but seemed to find his game late last season and the Sharks would be smart to keep him.
Bring back Taylor Fedun, also a free agent, along with Matt Tennyson. Both played well in their limited stints in San Jose. Both played hungry, which matters. The final starting D-man? Scott Hannan, the old vet. Hannan's play was vastly underappreciated, and he was particularly good paired with less experienced defensemen. Mirco Mueller is expected to overtake Hannan at some point. When he does, the Sharks can part company with Hannan. Until he does, keep Hannan — as long as he continues to play at the level of the past couple seasons. Find the best combination between the right-handers Tennyson/Fedun and the lefties Irwin/Hannan and there are your starting six with players already in the organization.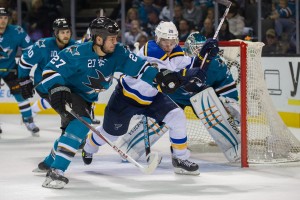 What does this add up to? Last year, the Sharks defensemen combined to be -15. Hannan was even, while Braun and Vlasic combined to be +20 on the year. This plan swaps out Dillon, Burns and Mueller, who combined for -28 in 181 games played. It swaps in Irwin, Tennyson and Fedun, who combined for a +3 in 87 total games. Replace a -28 with a +3. Big improvement.
With this starting point, I go outside the organization and tap one of two defensemen in free agency. Either Cody Franson (who Drew Weber also liked for this spot) or Christian Ehrhoff (who my colleague Andrew Bensch prefers along with Zbynek Michalek). Franson is younger and would give the Sharks the potential for a solid and stable blue line for several years, once Mueller is ready. Vlasic/Braun, Mueller/Franson and Irwin/Tennyson forecasts to be a respectable blue line. While it is highly unlikely that everyone stays put for that long, all six will still be in their prime in 2020. In 2015, Matt  Tennyson and Taylor Fedun can battle for the starting role opposite Scott Hannan, with the other filling the seventh defenseman role.
Up Front
Up front, instead of going top-heavy with the vast majority of the talent (and payroll) on the top 2 lines, go for balance and chemistry. Always have a competitive line on the ice. In that spirit, I won't even label the lines one to four.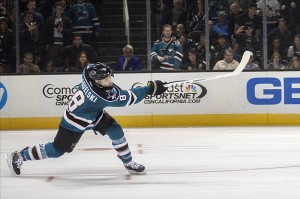 Use Joe Pavelski to center a line. Pavelski makes everyone around him better. Pair him with Ben Smith and Tomas Hertl. An elite all-around player, a scorer and a savvy energy guy. Pavelski has led terrific lines with less talent on his wings than Hertl and Smith.
For another line, have Patrick Marleau center it between Tommy Wingels and Barclay Goodrow. This line can bring the heavy hits to create the create turnovers and chaos that Marleau seems to thrive on. The trade I explore later will upgrade Barclay Goodrow's spot and possibly return Marleau to wing.
Chris Tierney is in the middle on a line with Logan Couture and Melker Karlsson on the wings. A very good set-up guy in Tierney, a very good finisher in Couture. Karlsson is a guy who likes to play in front of the net and gets gritty goals, a good player to have on a line with a sniper like Couture.
The final line includes Joe Thornton and Brent Burns, ideally adding a heavy forechecker, making that a very large, very physical line. Eriah Hayes, who has played very sparingly in San Jose and seems to relish the chance to hit someone, fits the bill. The shortest player on that line is 6'4". Barclay Goodrow could vie with Hayes for that spot. While Burns is a forward at even strength in this plan, I would have him continue to play the point on the power play, where he was outstanding last season.
Given the balance among the lines, any of these lines could be the top line on a given night, any line could be at the bottom. The coach should decide where each line rates  in the course of each game and adjust playing time accordingly. I'll go into the approach in detail in a later column, but this affords the Sharks the ability to never be caught with a weak line on the ice. Never a blatant mismatch, every line with a talent capable of being a 30-goal-scorer. It also gives younger players more minutes and at least one top-tier player as a linemate.
Mike Brown and Matt Nieto both become part-time players. Raffi Torres, should he return and resemble his form from a few years ago, would enter the line-up. That is hardly a given. There may be roles for last year's top draft pick Nikolay Goldobin and perhaps other Shark players currently in the minors, but it is not clear they are ready for the NHL at this time.
This forward line-up has five left-handed shots and seven right-handed, so there may be some concerns over right-handers playing left-wing. I'm not overly concerned, the best line the Sharks have had in recent years featured a left-handed center with two right-handed wingers.
One note before I get to the goalie. The five Sharks who finished with the lowest plus/minus on the team (-8 or lower) are all in changed roles. They were also five of the six players with the poorest 'even-strength goals against per 60 minutes.' Matt Nieto becomes a part-time player. Brent Burns changes positions. Mirco Mueller is allowed to develop in the minors. Patrick Marleau moves to center (though he could go back to wing depending on personnel changes). Brenden Dillon is traded. For all the limitations associated with the plus/minus stat, I think the plus/minus results for each of these five players reasonably represented their on-ice performance. It is their performance which dictated the change in role for each player.
And in Goal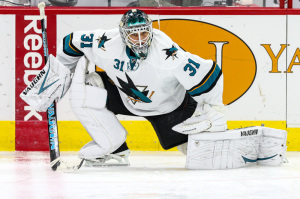 In goal, well, that is the $4 million question. There are no clear-cut answers and rolling with back-up Alex Stalock is a dicey option. Bringing back Antti Niemi would not be the worst choice, especially with the removal of the poorer defensive players in front of him. Acquiring Ottawa's Craig Anderson (Ottawa has three goalies under contract, it is likely one will be on the market) or the Rangers' Cam Talbot would make some sense; both would require the Sharks to make a trade. There have been recent rumors about both players. Neither is a risk free, but they are among the  'lowest risk' goalie options. There is no proven solution in free agency. I could live with any of the three choices. It comes down to this: if a suitable goalie is not available at a reasonable price in a trade, bring Niemi back. The improvements on the blue line should help Niemi. The bigger beneficiary of the blue line improvement might be Stalock, who has had one good season and one poor season in San Jose. He seemed to thrive with a defense that was positionally responsible, especially clearing out rebounds. Which was not the case this season.
Trading Dillon
I'd trade Brenden Dillon for whatever provides the most value. That can be draft picks, prospects or players. Dillon is coming off a rough year, but he was a legit top-four D-man for the Stars prior to the mid-season trade that brought him to San Jose. Hopefully the Sharks can find a trading partner who believe they can tap into the sort of value Dillon showed during his first two years.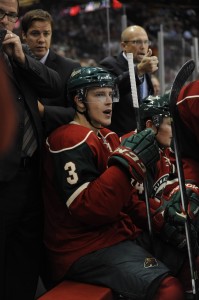 The Sharks should pursue a trade that takes advantage of teams with cap issues and gain a young, top-six quality, forward. Here is an example. Dillon plus Matt Nieto plus a draft pick to the Wild for Niklas Backstrom and Charlie Coyle. Coyle is a fit the Sharks. The deal solves multiple problems for the Wild. They are short on defensemen; Dillon helps there. The Wild are in 'cap hell' including speculation on a buyout of Backstrom. Trading him is a better solution. This trade nets Minnesota $3 million in cap space, adds a young defenseman who has played at a top-four level, gives them a speedy low-end forward for a low-end salary and gives them a draft pick. The Wild get what they need. The Sharks get what they need. While it is highly unlikely this specific trade happens, this is the sort of trade the Sharks should pursue.
Now to see what the 23 man roster looks like (actually 24 with one player on LTIR), assuming the above trade:
Forwards: Tierney, Couture, Karlsson * Marleau, Wingels, Coyle (trade)
Thornton, Burns, Hayes * Pavelski, Smith, Hertl
Defense: Vlasic, Braun * Ehrhoff (FA) or Franson (FA), Irwin * Tennyson, Hannan
Goal: Niemi
Bench: Goodrow, Brown, Fedun, Stalock. Torres on LTIR
Top prospects not on the roster yet: Goldobin, Mueller
A note on the cap space. My estimate is that the above line-up will be roughly $67 million against a salary cap forecast to be around $71 million. The scenario I proposed would  push the salary cap, mostly due to about $4 million of 'dead cap' for players who won't be on the Sharks roster (Adam Burish plays in the minors, there is a carryback on Jason Demers, and the buyout of Backstrom under this scenario). A buyout of Adam Burish, which makes sense, would open up over $1 million in cap space for this coming year, providing sufficient cap room. With expiring deals after this coming season to Brown, Burish and Torres plus the end of Demers dead cap hit, the Sharks will clear about $6 million of cap space for 2016. Spending near the cap in 2015 under this scenario will not have a long-term negative impact.
The Result
The above team is substantially more competitive than last year's team. To be a Cup contender, that would require considerable good fortune. Good news on the development of the younger players, good health, etc.
The blue line is better. In their own zone, this defense looks to be much stingier. On offense, Burns was good, but Mueller and Dillon did not contribute much. With the addition of Franson or Erhoff, the defense probably nets slightly more offense.
The goalie spot remains the same, but better defensive play should yield better results. Alex Stalock, who seems to rely heavily on chemistry with his defensemen, might benefit a bunch from the defensive changes.
The forward lines improve considerably. Adding Burns and Coyle, getting expected growth from players like Tierney, Hertl and Karlsson, plus using Marleau more effectively should all add up to a very large net positive.
Further, this fits the rebuild process that management has required. Even though several key roles are filled by players 30 and over, most ice time will go to players 28 and under.
For the Sharks, this road map makes a lot of sense. It is affordable. It helps in the rebuilding process and provides a much more competitive team. Will they do it? I'm not holding my breath.