That didn't take long. Just one day after the Detroit Red Wings announced that they had agreed to a deal "in principle" with forward Andreas Athanasiou, corresponding moves followed on Saturday that made him eligible to officially sign with Detroit.
While the Ryan Sproul-for-Matt Puempel deal with the New York Rangers saw Detroit part with a former second-round pick, the headliner was the move that followed.
PIT sends Scott Wilson and third round pick in 2018 to DET for Riley Sheahan and 2018 fifth-round pick.

— Bob McKenzie (@TSNBobMcKenzie) October 21, 2017
The Wings and Pittsburgh Penguins were connected on the subject of Riley Sheahan nearly one month ago when the original deal involved defenseman Derrick Pouliot. That deal never materialized, and he was later dealt to the Vancouver Canucks for Audrey Pedan and a 2018 fourth-round pick on Oct. 3.
The Pouliot trade gave Pittsburgh an extra $800,000 to work with, something that made them flexible enough to pull the deal with the Wings off this time around. While this was primarily looked at as a salary dump that Detroit needed in order to sign a coveted asset, both teams came out winners in the end.
Why The Penguins Won
At first glance, a third-round pick and a hardworking bottom-six forward may seem like a steep price for a player that went scoreless during the first 79 games a season ago. However, Pittsburgh is getting a reclamation project that could turn his career around with his new squad.
Let's remember that Sheahan was a first-round pick in his draft year back in 2010. He was taken in a class that included stars like Taylor Hall, Tyler Seguin, Ryan Johansen, Jeff Skinner, and Cam Fowler. Up and comers like Jaden Schwartz, Brock Nelson, Charlie Coyle, and Mikael Granlund were also chosen in the first 30. The Wings clearly saw something in the Notre Dame product.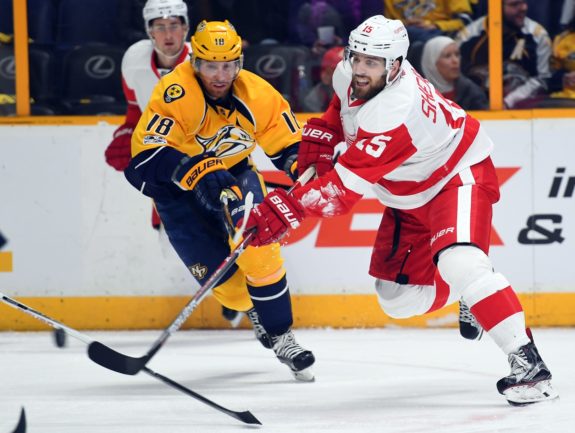 Early NHL returns were promising enough. In 2013-14 with Pavel Datsyuk and Henrik Zetterberg out of the lineup, the then-22-year-old was able to log top-six minutes. In 42 games, he produced nine goals and 24 points. Among Red Wings who logged at least 450 minutes, his 61.08 Corsi-for-per-60 rate topped the team. His plus-5.03% Corsi-relative ratio ranked second.
A reminder: these numbers were posted without the help of Zetterberg or Datsyuk. Sheahan played just under ten minutes combined with each.
For an encore in 2014-15, Sheahan totaled 36 points scoring a career-high five power play goals in 79 games played. His possession numbers still placed in the top five among Detroit forwards that logged at least 700 minutes of ice time and he was trending upward.
Buried In Detroit
While Sheahan set a career high for goals in 2015-16 with 14, his point total decreased by nine and he took just five more shots than he did the previous season. Combining for a relative ratio of plus-3.1% in 121 games from 2013-2015, that mark dropped to minus-0.2% in Jeff Blashill's first season as head coach.
The St. Catharines, Ontario native's Corsi-for percentage also dropped four percentage points. He failed to solidify a top-six spot with Gustav Nyquist and Tomas Tatar, two teammates that brought his possession rating up by 7.79% and 8.52% respectively when they were on the ice together.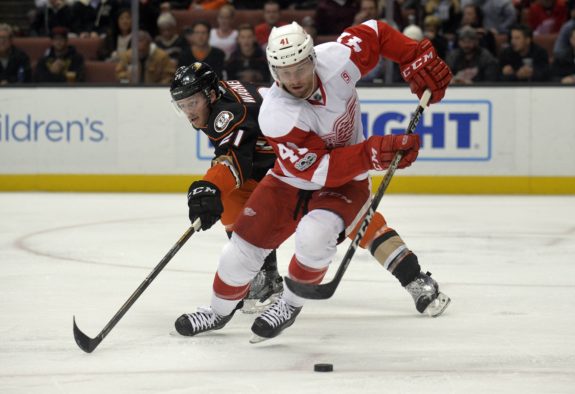 Rather than give the then-24-year-old a chance to bounce back down the middle with offensively-minded players in 2016-17, he was put on the wing and shuffled all around the lineup with grinders.
He played a combined 426 minutes with Luke Glendening, Steve Ott, and Drew Miller. Those three combined for a 43.74% Corsi-for percentage to go along with a minus-5.7% relative ratio.
It's no wonder that Sheahan couldn't score. He posted a career-worst 46.17% possession rating himself last season.
A New Beginning
While Greg McKegg held his own in the third-line center spot, the Penguins preferred an NHL player with prior success over a career AHL player. Nick Bonino potted 18 goals from that position last season. While Sheahan may not reach that level of production, he could come quite close to the 15-goal mark with better linemates.
Through eight games this season, Sheahan remains scoreless. He's played more than ten minutes in a game just twice, though, as he regularly rotates in on the fourth-line wing next to Glendening. Coming over to Pittsburgh, he'll likely slot in with offensively-minded wingers Carl Hagelin and Patric Hornqvist.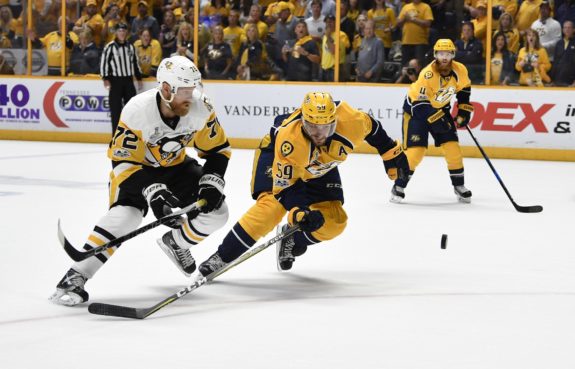 In other words, he will actually get a top-nine opportunity on a Stanley Cup caliber team playing his natural position. It'd be difficult to find a better situation to re-establish yourself in. With a potentially motivated player on their hands that could become a valuable piece in their quest for a three-peat, the Penguins came out successful on this deal.
Why the Red Wings Won
An obvious answer to this question would be that Detroit was able to clear the cap space required to sign Athanasiou. Shedding all of Sheahan's dollars and taking on Scott Wilson's $625,000 cap hit, Detroit created $1,450,000 in space. This is more than enough to cover the incoming $1.387 million cap hit.
Essentially, the 23-year-old winger adds a different dynamic to the Wings' attack in the top-nine.
Replacing the fading speed of Darren Helm who will likely be demoted to the fourth line, the former Barrie Colt will flank Frans Nielsen on the third with Martin Frk on the opposite wing. He'll be able to work on his defensive game with the former and use his speed to set up a cannonading drive possessed by the latter.
It's rare for a player selected outside the first three rounds of their draft year to have game-breaking abilities so early in their career. "Double A" showed that attribute many a time last season, scoring five breakaway goals, an end-to-end goal of the year candidate, and a shootout goal that gave Detroit its first win in Philadelphia against the Flyers since 1997.
It's not all rosy for the young forward with the coaching staff, though. His compete level was heavily scrutinized by Blashill despite his offensive success, citing defensive lapses. While Athanasiou's defensive game is a work in progress and deserves to be criticized, he more than makes up for it with his game-changing offense.
To put things in perspective, ten other forwards who played at least 45 games logged more average ice time than him last season, including Sheahan. He outscored nine of them in just 64 games played with 18 goals.
It would be nice to see a two-way game develop for "Greece Lightning." However, his speed and finishing ability are attributes Detroit should utilize as he eases his way into the lineup in the coming weeks. Like Sheahan, he too should be heavily motivated going into a contract season, looking to prove why he deserved more than what Detroit offered in the summer.
Scott Wilson Fits in Role
The main asset coming back to Detroit in the deal, Wilson will play the role Sheahan was not suited for on the fourth line. Unlike his predecessor, the 25-year-old is a winger by trade and knows his niche as a bottom-six checker.
The UMass-Lowell product scored eight goals and 26 points in 2016-17 logging just 10:57 per game. This year, he was scratched in all but three games, primarily due to the Penguins' acquisition of Ryan Reaves in the offseason. In Detroit, he'll likely hold down Sheahan's old spot on the wing next to Glendening and get back into the regular rotation.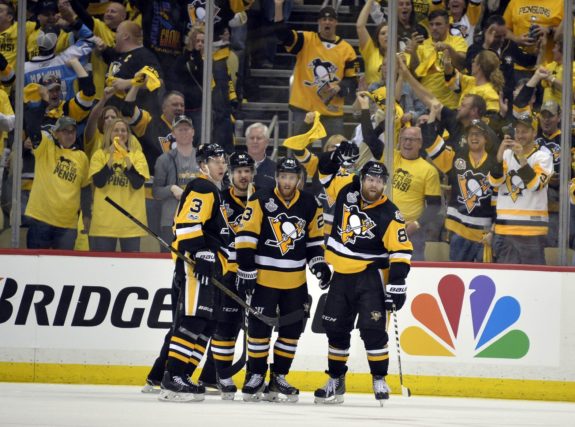 Wilson isn't an agitator per se, logging just 44 penalty minutes in 109 career NHL games. He was actually an offensive force for AHL affiliate Wilkes-Barre/Scranton before his call-up in 2015-16. He scored 22 goals and 36 points in 34 games, with nine goals and 20 points coming on the man advantage. Seven of his goals were game-winners.
The former Georgetown Raider likely won't put up as much offense next to Glendening, Helm, or Witkowski. However, he was more than capable when called upon to play a top-six role with the likes of Evgeni Malkin and Sidney Crosby in the event of injury. If his offense comes around in the bottom-six, that would be a bonus.
The main point is that he is a better fit in his natural position and Detroit can use his versatility to their advantage.
Draft Picks Stockpiled
The fact that Detroit was able to nab a third-round pick for the services of Sheahan is an additional win in itself. As it stands right now, Detroit has two picks in the second round and two in the third for this coming Entry Draft. With defenseman Mike Green's value escalating at a rampant pace ahead of February's trade deadline, Detroit could be looking at another first-round pick via trade.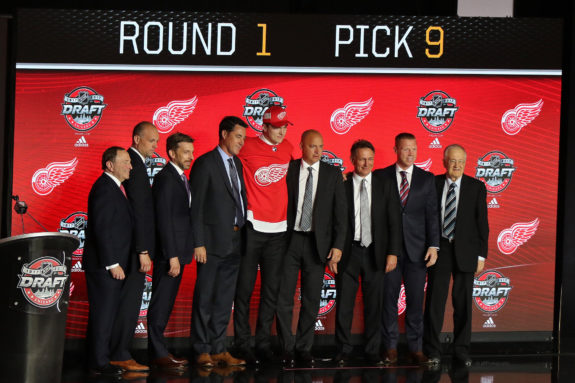 Six picks in the first three rounds with an enviable scouting staff would be a tremendous spot for Detroit to find themselves in considering an uncertain future ahead. The organization will need all the help it can get to leap out of the cap-crunched purgatory that it has put itself in over the past few years.
Mutual Beneficiaries
At the end of the day, general managers Jim Rutherford and Ken Holland did quite well for themselves.
The former bought low and nabbed a third-line center that has the potential to thrive in a new system and become a crucial piece for a Cup contender going forward. The latter opened up some cap room for the most exciting player on his roster, acquired an intriguing versatile winger that will improve the bottom-six, and snagged a third-round pick.
Athanasiou will need to get into game shape and it's unclear if he will be as sharp as he was last season. Sheahan may need some time to get acclimated to a new city, lifestyle, and system. The same goes for Wilson. There's a risk in every trade a general manager makes, and it's no different for both sides here.
However, there's always the potential for a reward.
Advanced statistics courtesy of NaturalStatTrick.com and NHL.com.
Griffin is a Junior at Northwood University in Midland, Michigan pursuing a Sports and Entertainment degree. His passion of writing began when Detroit Red Wings captain Henrik Zetterberg was out for the season in 2014 and he wanted to give his thoughts. Griffin comes from LastWordOnSports.com where he had the role of "associate editor" and wrote nearly 300 articles over three years for their hockey department.