Beginning June 1, NWHL teams can start signing players for the 2018-19 season. For players who have completed their college eligibility and want to continue their hockey careers, the free agency period provides them an opportunity to continue playing at the highest level of professional women's hockey. The fourth season of the NWHL will begin in October as the Metropolitan Riveters defend their Isobel Cup championship, and with the addition of a fifth team – the Minnesota Whitecaps – as well as the inclusion of players who participated in the 2018 Winter Olympics, this very well could be the most competitive season yet. 
My colleague Nathaniel Oliver will keep THW readers up-to-date on Boston and Buffalo's signings throughout the summer, while I post updates on Connecticut and the Riveters. Together we will collaborate to keep readers informed of all of Minnesota's signings.
Whitecaps Finalize Roster with Schlagel, Martinson Signings
Alexa the Great Re-Signs with the Riveters
Connecticut Signs Russian Goalie Sorokina
BREAKING: Alexa Aramburu (@aaramburu16) has signed for the season!

🔗 https://t.co/pekqyNjPiI pic.twitter.com/FvK0q2c9Ke

— Metropolitan Riveters (@Riveters) September 13, 2018
The Riveters added more forward depth this past week when they re-signed Erika Lawler on September 18 and they signed Alexa Aramburu on September 13. Lawler is a returning member of the 2018 Isobel Cup champions, bringing the total of defending champs to 15. In her first NWHL season, the 31-year-old Lawler put up seven points (1g-6a) in 14 regular season games followed up by a three-point (1g-2a) performance in a 5-0 semifinal win over Connecticut. Before joining the NWHL she was a star in the CWHL with the Boston Blades and at the University of Wisconsin; Lawler is also an Olympic silver medalist (2010) and she also has four medals (two gold, two silver) for the USWNT at the World Championships.
Aramburu returns to New Jersey to play for her hometown team after a season in the CWHL with the Toronto Furies. The 23-year-old from Glen Rock, NJ played four years collegiately at SUNY Oswego after coming through the New Jersey Colonials program. She is the fifth rookie to sign with the Riveters for the 2018-19 season. 
The 2018-19 Riveters will be returning 15 players from their championship roster (as of today): Katie Fitzgerald, Kimberly Sass, Sarah Bryant, Michelle Picard, Courtney Burke, Jenny Ryan, Kelsey Koelzer, Kiira Dosdall, Madison Packer, Kelly Nash, Rebecca Morse, Miye D'Oench, Alexa Gruschow, Rebecca Russo, and Erika Lawler. Players joining them with NWHL experience will be Amanda Kessel and Kristin Lewicki, along with rookies Lexi Slattery, Audra Richards, Fiona McKenna, Chelsea Ziadie, and Alexa Aramburu.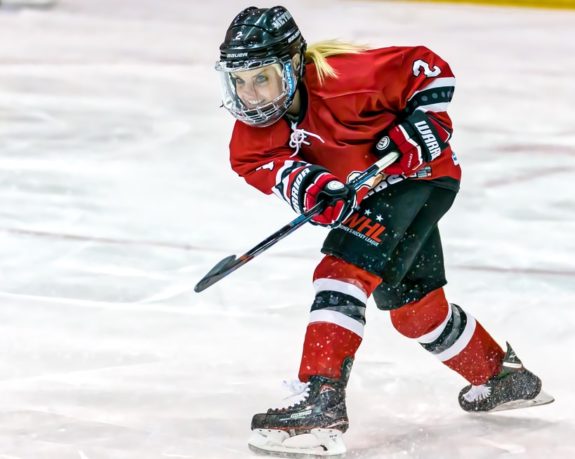 Over the last five days, Connecticut brought back four players who suited up for them last season and also signed another player that was on last season's AHCA Division III East All-American First Team. Defender Kim Tiberi signed with the Whale (on September 13) after she had 58 points in 58 games during her last two seasons at Norwich University – she joins fellow All-Americans Sarah Hughson, Melissa Sheeran, and Sam Walther as rookies this upcoming season. Currently, she's the only defender on the Connecticut roster that wasn't a part of the team last season.
The Whale also signed two veteran blueliners on September 18, bringing back two original NWHLers – Jordan Brickner and Elena Orlando. Brickner joins Shannon Doyle as the only two players currently signed that have been with the franchise in Connecticut since it's inception. Orlando played for the New York Riveters in season one before playing the last two for the Whale; in 45 career games, she has two assists. Brickner played in the 2016 NWHL All-Star Game and has 18 points (2g-16a) in 47 career games and has played in all five of the franchise's playoff games.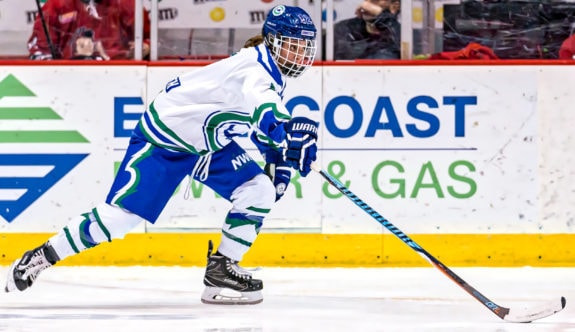 Jamie Goldsmith returns to Connecticut for a second season after putting up four points (3g-1a) as a rookie. She was a Swiss-army knife type player for the coaching staff, who utilized her talents in all phases of the game. Two of her three goals came via the power play, she was credited with 14 blocked shots, and ranked second on the team in face-offs taken (229) and face-offs won (111).
Samantha Donovan was Connecticut's first pick in the 2017 NWHL Draft (fifth overall) and joined the Whale for their final three games at the end of last season once she had finished a nice career at Brown University, where she was an alternate captain her junior and senior seasons. She played two regular season games and one playoff game, picking up her first career NWHL point (an assist) in the regular season finale against Buffalo. Her speed will be a big boost to the Whale over the course of a full season where she has more familiarity with her teammates.
The 2018-19 Whale will be returning 11 players from last season's roster (as of today): Emily Fluke, Juana Baribeau, Jamie Goldsmith, Samantha Donovan, Kaycie Anderson, Shannon Doyle, Cydney Roesler, Elena Orlando, Rachael Ade, Hanna Beattie, and Jordan Brickner. The other 11 players currently on the roster will be making their NWHL debuts – Kayla Meneghin, Kim Tiberi, Sarah Schwenzfeier, Melissa Sheeran, Nina Rodgers, Sarah Hughson, Randi Griffin, Michelle Löwenhielm, Maria Sorokina, Sam Walther, and Katerina Mrázová.
Dan Rice is in his 9th year of reporting for THW & has covered NJ Devils home games for 15+ years at various websites. He began his journey working for legendary broadcaster/writer Stan Fischler from 2002-04 & completed an internship at the ECHL; he also has been writing features for the NWHL (nwhl.zone) website since 2016.