The Edmonton Oilers have made the latest round of re-assignments on their training camp roster. To recap, the Oilers started camp with 62 players and sent Kirill Maksimov, Olivier Rodrigue, and Dmitri Samorukov back to their respective junior clubs over the weekend. With the first preseason game behind them, Edmonton has now re-assigned 15 players.
Related: Mikko Koskinen's Abysmal Oilers Preseason Debut
All 15 players have been sent to the AHL's Bakersfield Condors. One of the more surprising names on this list was 2017 third-round pick (78th overall) Stuart Skinner. The 20-year-old led the WHL's Swift Current Broncos to the Mastercard Memorial Cup tournament back in May but didn't get a whiff of ice-time in a preseason game for the Oil.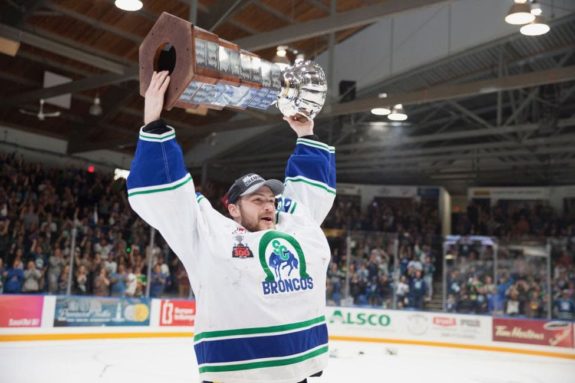 Skinner was the only goaltender re-assigned during this period leaving five others still on the camp roster; Mikko Koskinen, Al Montoya, Shane Starrett, Cam Talbot, and Dylan Wells. As the next week progresses, expect the Oilers to narrow that group down to three or four, and both Starrett and Wells being sent down in the process.
Here's the full list of players that were re-assigned to Condorstown:
Goalie (1): Stuart Skinner.
Defense (4): Marc-Olivier Crevier-Morin, Logan Day, Jake Kulevich, and Jared Wilson.
Forwards (10): Mitch Callahan, Braden Christoffer, Luke Esposito, David Gust, Cameron Hebig, Colin Larkin, John McFarland, Evan Polei, Ryan Van Stralen, and Tyler Vesel.
Thoughts on Oilers Latest Training Camp Moves
As camp progressed, the players were split into three groups A, B, and C. In no surprise, a large majority of these moves came from 'Team C'. The only players remaining from that practice squad are Joe Gambardella and Dylan Wells. Gambardella got into the first preseason game against the Calgary Flames while Wells hasn't played yet.
Here are some notes about some of the players that were re-assigned.
Marc-Olivier Crevier-Morin
Crevier-Morin played 68 games with the Wichita Thunder in the ECHL last season. The 22-year-old also has 195 games under his belt in the QMJHL from his junior days with the Gatineau Olympiques. He wasn't a prolific scorer registering just 56 points and is more of a defensive defenseman with limited upside. The 22-year-old will likely play a majority of the year in the ECHL and has been signed to a minor-league contract.
Related: Oilers Rookie Camp Roster 2018-19
Along with Jake Kulevich and Jared Wilson you have three guys that'll likely be down with Wichita and be going back and forth between the ECHL and AHL this coming season. Kulevich, 25, was the oldest player at rookie camp, and the Winnipeg Jets let him walk via free agency. Jared Wilson, 24, wrapped up four years playing college hockey for RPI. He got into ten games with the Toledo Walleye to end 2017-18.
Logan Day & Cameron Hebig
Day had an impressive showing against the Flames, and all throughout camp, he's shown to be a decent pickup by Oilers general manager Peter Chiarelli. The 23-year-old made some excellent heads up plays and had some strong offensive reads. His mobility is quite good for a player that played Division III college hockey a year ago. Day should factor into the picture down in Bakersfield after registering 38 points in 26 games with Endicott College last year.
Related: Oilers Season Preview 2018-19
Another surprise was what happened with Hebig. The 21-year-old is coming off a stellar WHL campaign that saw him finish the year with 41 goals and 90 points split between the Saskatoon Blades and Regina Pats. He ended up playing in the Memorial Cup final in a losing effort but was strong all season finishing within the WHL's Top 15 goal scorers. Didn't get much of a shake in camp, but should be a key piece for the Condors in 2018-19.
Evan Polei
One guy that got a decent look and played well in rookie camp was Polei. The former Red Deer Rebel had a great showing against the Flames in both the rookie game and the first preseason game. He's strong on the puck, battles hard down low, and has a style that's reminiscent of Patrick Maroon. He might not have the same upside, but Polei will get a chance to build upon his starting point as a bottom-six forward for Bakersfield.
He's entering his second full pro season after splitting last year between the ECHL and AHL. Foot speed is going to be something he'll need to work on if he wants to be considered for an NHL job. In the meantime, adjusting to the pro game is a work in progress. If he can hit those goals, while also showing his offensive upside isn't as limited as it's believed to be, he should be in a much better spot to earn an NHL contract next summer.
Tyler Vesel (C)
A quiet camp with his undoing after ending the 2017-18 season with an exclamation mark. The long-awaited arrival of the 24-year-old who wrapped up four years at the University of Nebraska-Omaha fizzled out in camp. Vesel had a strong college career with 108 points in 149 games and ended the season with the Condors potting six points in 11 games. Along with Hebig, the two should factor into Bakersfield's top-nine which should have much more firepower than last year.
Related: 5 Oilers Prospects to Watch in  2018-19
Edmonton's got a large number of players that will be joining the Condors in the coming week. That said, the quality in some of those isn't much to write home about. Mitch Callahan has a been a decent bottom-six forward, while Braden Christoffer has struggled in the AHL since turning pro three seasons ago. Mark Messier's nephew, Luke Esposito, was in camp on an amateur tryout, and there's no word if the organization will sign him to a minor league deal.
What's Next for Oilers as Training Camp Continues?
Edmonton has two more preseason games this week, versus the Vancouver Canucks and Winnipeg Jets. Expect to see another round of cuts after the Winnipeg game leading up to a busy week where the Oilers play four games in seven nights. We'll have a better idea of what this roster will look like in the coming weeks but expect more or less of the same and very few surprises.
Kailer Yamamoto, 19, has been impressive thus far. If he can string together a few good games, he'll give Ty Rattie a run for a spot on the top line. Evan Bouchard, 18, should continue getting a long look. He played just over 24 minutes in the first preseason game, and his offensive abilities were shining through. He's still learning the game defensively, and he's in a weird spot where he might be too good for the OHL, but maybe not right at the NHL level. The jury is still out.
Related: Edmonton Oilers Top 10 Prospects
With 15 defensemen remaining in camp, the competition for that No. 6-7 spot is still open. We've yet to see numerous candidates get into a game yet. Jakub Jerabek still has the inside track on that No. 6 job. Expect the next round of cuts to likely tone down the number of forwards at camp. This is the first big round of cuts, and we're now getting into the nitty-gritty of the roster decisions.
Edmonton Oilers regular contributor providing insight on all things Oilers including club history, prospect profiles, trade breakdowns, and everything else in between. Check back regularly for new and exciting content. Follow on Twitter @SanderTHW.