The modern dynasty in the NHL is the Chicago Blackhawks. With three cup wins in five years, they're the cream of the crop when it comes to NHL clubs.
Yet the team has seen so much turnover during those five seasons that only eight Blackhawks have been part of each of those championship teams. Unfortunately for them, but luckily for smaller market teams, the salary cap has made it nearly impossible for teams to keep a big core of players together for long periods of time.
But Chicago found a way to stay strong through the draft and by acquiring young players. While the Blackhawks said good-bye to players like Dustin Byfuglien, Andrew Ladd and Kris Versteeg, they were able to replace them with others like Viktor Stalberg, Andrew Shaw and Teuvo Teravainen.
Teravainen was a first-round draft pick, but other players typically came in the later round as Chicago sold off draft pick assets to make playoff runs, so how did management do it? By stockpiling up picks even if they were middle to late picks.
Second round picks for Byfuglien and Ladd in packages were fine. So was getting a fifth rounder the second time they traded Versteeg. The Blackhawks learned the more arrows they had, the better chance of hitting the bullseye.
In Philadelphia, Ron Hextall is doing the same for the Flyers after years of almost the polar opposite.
The Holmgren Era
Former Flyers GM Paul Holmgren was never afraid to sell off draft picks for a chance at a run for the cup – whether the team was ready for one or not. In 2008, he included a second-round pick for Vaclav Prospal to help give a young Flyers team some depth.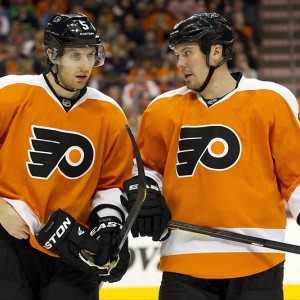 At the 2012 deadline, he threw two second-round picks, a third and a fourth out the window to acquire Nicklas Grossmann and Pavel Kubina. One of his last moves was acquiring Andrew MacDonald for a second and third round pick. There was a reason why Philly fans joked that Holmgren hated second-round picks.
Looking back, does trading a second for Prospal to help a core that included a young Mike Richards, Jeff Carter and Joffrey Lupul make sense? No, that team was not a player away from a Stanley Cup, whether they made it to the Eastern Conference finals or not, and who knows what a second-round prospect could be doing now for the team.
But to be fair, most of those Flyers teams were in a win-now phase and Holmgren was doing the job that was expected of him at the time. No one can fault him for acquiring Chris Pronger or moving a second-round pick for Andrej Meszaros when the team needed defensive depth.
However, a lot of Holmgren's deals shouldn't have been made and even at the time of those trades, it was a common opinion.
The Hextall Era
If there was one thing Holmgren did well, it was holding onto first-round picks. He traded a couple for Pronger and one for Versteeg, but he usually would also replace them in other deals.
However, that also shows a problem with Holmgren. He seemed to only value first-round picks when it came to the draft. He wasn't afraid to move a second or third, but often didn't get any back like he would with first rounders.
Hextall is the exact opposite. He'll gladly take a third-round pick for Vincent Lecavalier and Luke Schenn. The pair may have looked much better in Los Angeles than they ever did in Philly, but Hextall also knows a third-round pick could help the team more than those two could.
The Flyers actually got lucky that the Blackhawks won the cup in 2015. They gained another second rounder in the Kimmo Timonen deal. But that pick could have been as low as a fourth-rounder instead. Chances are Hextall would have been just fine with a middle-round pick.
Philadelphia went into the 2015 draft with 10 picks in seven rounds. It enters the 2016 draft with the same amount. The effects have shown already at the 2015 WJC where the Flyers tied for the most prospects with seven players participating.
The Flyers may not turn into a dynasty like the Blackhawks, in fact the odds probably aren't in their favor, but Hextall has made sure that the groundwork has been laid to build something like it.
Wes Herrmann graduated from Penn State with a bachelor's degree in journalism in 2014. He used to write hockey for Cardiac Cane and Broad Street Buzz and has loved the game since birth. Follow him on Twitter at @Wes_Herrm or contact him at wherrmann421@gmail.com