Monday's trade that sent Derek Roy to Edmonton and Mark Arcobello to Nashville saw the Internet go into a tizzy of justifications. Most of which failed.
The trade didn't, and doesn't, make any sense. Most pontificating on the subject admitted as much. But there is an important fact to be remembered here: it doesn't have to make sense.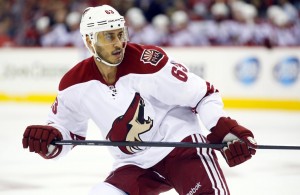 There was little money involved in the trade, and it was basically a straight-up swap of two very similar players. The ramifications of the swap are small. In other words, you can't make a mistake if you haven't actually done anything.
Here is a good shot though. The Predators have begun to possess an array of forwards who all are sort of similar. There are roughly two really good skating and scoring lines, and two solid defensive, checking-type lines. The roster overflows a little on healthy nights, which is why Taylor Beck and Gabriel Bourque don't usually get to play on the same night.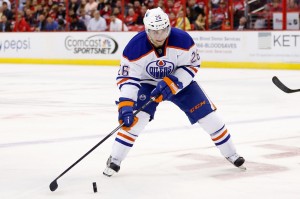 Roy had a shot at the top center spot coming into training camp—although it now seems clear that it had Mike Ribeiro's name all over it. But Roy never really made a serious campaign for it, and eventually slipped to the third line. Once there, he rarely made anyone take major notice of him, scoring one goal and 10 points in 26 games.
Roy had more potential 10 years ago, and played at a higher level, than Arcobello ever had or will, but it is true that trading Roy for a somewhat smaller version of his current-day self doesn't solve the roster problem or thin the ranks of forwards. But Arcobello is young, and all throughout the history of the Predators General Manager David Poile has preferred young players to more senior ones.
Things have not been going well in Edmonton anyway, and adding a veteran with Roy's experience is often the reaction, whether that is the right move or not. And perhaps that is all it came down to: it just felt like a time to change things up.
Further Reading
Who Is Mark Arcobello?
Paving the Way for Filip Forsberg
Alex is a native of Nashville, Tennessee. He has four years of reporting experience, both sports and news, mostly in newspapers. He holds a M.S. from the Columbia University Graduate School of Journalism, in New York City, and a B.S. in journalism from Middle Tennessee State University. He is a former news and sports editor at the MTSU student paper, Sidelines, and interned at the Tennessean. Raised in a football family, he left the reservation and found an obsession in hockey.