It's that time of year again, the regular season is in the books, a lot of the emotion from another non-playoff year has gone and what's done is done. As much as Sabres fans desperately want to see their team back in action there's still 5 long months to wait. The Sabres are on their extended summer vacation, but before any student can start really vacationing they must get their marks from their classes or in this case the season. It's time to see what aspects of the Blue and Gold flunked the test and which, if any, passed with flying colous!
This report card will not be divided up by individual players, but rather by positions and lines as well as a mention for the player with the highest and lowest mark in each category!
*Note the lines are based on the line combinations from April 8th 2012 as per Daily faceoff*
Forwards- B-
First Line- Thomas Vanek- Derek Roy- Jason Pominville B
Combined for 73 goals and 105 assists 
This is a tough line to grade, Pominville was a solid player all season long and really stepped up to the plate to show he was worthy of the captaincy. Vanek had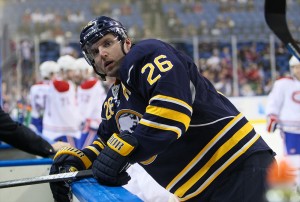 stretches of hot play but was cold more often than not this season, and was much better in the first half of the season when he was paired with Luke Adam and Pominville. Then there was Derek Roy who arguably had the most disappointing season despite being one of the few players to play 82 games. Roy was the "addition" to this line-up that everyone pointed to when the Sabres failed to get a number 1 center last offseason. A healthy Roy would make a difference was a common phrase uttered around by Sabres fans. Pominville led the first line to a solid B, but both Vanek and Roy (if he's still around) need to step their games up next season. The Sabres need to come out firing on all cylinders next season, having Roy on the top line with arguably the two best forwards was a real let down. Instead of the great play from Pominville and Vanek pulling him toward being better, he was able to drag them down near the end of the year which really cost the Sabres.
Second line- Ville Leino- Cody Hodgson- Brad Boyes C-
Combined for 19 goals and 24 assists 
It may be a little harsh but you have to look at what this line or these players did for the Sabres this season, the answer is nothing. This is a $10 million line and it accounted for 19 goals. For the majority of the season Boyes was on the 4th line, didn't really contribute much on the score board and is one of those expendable players that the Sabres can and should get rid of. Hodgson came over in a trade at the deadline and seemed to have a difficult time adjusting to his new team. He didn't really get rolling until the end of the season; in all fairness to him he was acquired with an eye to our future as the first line center. He's got a lot of developing and maturing to do before he is ready, expect him to come out firing next season to prove all his critics wrong! Leino much like Roy was a huge disappointment this season, Terry Pegula took a gamble on Leino to help with the offence and lost.
Third Line- Marcus Foligno- Tyler Ennis- Drew Stafford B+

It's fair to say that before being paired with Ennis and Foligno, Stafford was having a disappointing season. Once these three were put on a line together sparks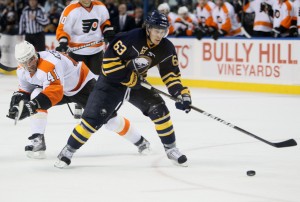 flew and it was like poetry on the ice, everything they touched turned into gold (or goals). They were a major part of why the Sabres even had the slightest chance of making the playoffs! They helped shift some of the pressure off the top line and the captain Pominville. On any other team these guys would be the second line easy, they made the most of their opportunity to play together and made each other better, in fact they made the whole team better. They were the spark that ignited the fire, led by Tyler Ennis who looked and played like he was just having a great time, it's that youthful exuberance that every team needs! The only downfall to this line was the fact they weren't paired together earlier, they only played the last 12 (roughly) games together at the end of the year.
Fourth line- Patrick Kaleta- Matt Ellis- Cody McCormick C-
combined for 9 goals and 13 assists. 
When watching the Sabres play this season you rarely heard these guys names called, so-called role players didn't play any role this season. They couldn't even stand up for Ryan Miller when he was hit by Milan Lucic! Again when giving this line a grade you have to look at what they contributed to the team, did they contribute to the success of the Sabres (or lack thereof) the answer is not really. Their main purpose was to occupy a roster spot and eat up Salary space, a successful team needs good role players that can step up when their team needs them these guys did not do that.
Defence- B-
D-Pair 1- Andrej Sekera and Robyn Regehr B
Regehr had a bad season from the statistic side of things, but lucky for him he can fall back on his defensive assests and based on defence alone he was one of the better Sabres. He is extremely valuable in his own end and is one of the more physical defeseman for the Sabres. Sekera started the year on fire and was well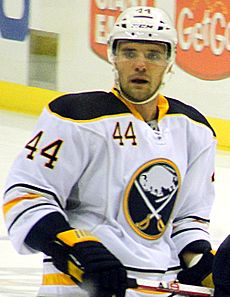 on his way to a career year, but something happened in the last 3-4 weeks of the season and he became more of a liability in his own end. Things went straight downhill for him and that's what most fans are going to remember, when a team misses the playoffs they remember what they saw last from the players. So a bad stretch of games can erase a good season in the fans memory. Sekera needs to be used more on the power play as an offencive weapon. Overall they were a fairly solid pair that worked well at clearing pucks and keeping players to the outside.
D-Pair 2- Jordan Leopold and Mike Weber B-
Leopold had another fantastic season on the Sabres blue line, he was one of the most constant and stable defenseman and perhaps the most underrated, the dark horse of the team. At times this season he was Buffalo's best defenseman and although he didn't contribute on the score board as much as he'd like to have, he stepped up in other areas and played his game. Weber had an extremely rocky season he performed better when he was given "controlled ice time" any time he had to bear large minutes of ice time his play suffered, he's a decent 6th defenseman but can be upgraded this offseason if Darcy Regier plays his cards right.
D-Pair 3- T.J Brennan and Brayden McNabb B
It is odd for any team to pair two "rookies" together on the blue line, but McNabb played well above his years and will likely find himself starting the season up in Buffalo next year. He's a hard physical player who can put the puck in the net, he along with Tyler Myers could become two of the major defenseman to build the Sabres around. Brennan needs more time to develop in the minors, but will likely stay in the 5th or 6th defensive spot in the Sabres lineup, he's not a long term option as he doesn't have the skill to be a top notch player. The Sabres are after skilled players not mediocre players.
Goalies B-
Ryan Miller B-
Miller had an extremely poor start to the year although he was able to recover after the all-star break, the bottom line is the Sabres failed to make the playoffs and that was the goal. And for the Sabres to win, Miller has to be better than just above average. A large part of the reason they were tied for 15th in the East was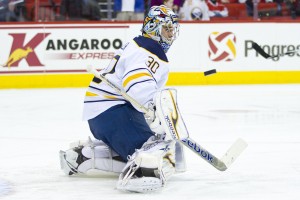 because of the way Miller had played, in all fairness to him he was not the same after the Lucic hit. Concussions are extremely dangerous especially for goalies, not to mention the fact no one on his team stepped up for him and that's got to feel pretty bad. No matter what the excuses were Miller had a rough season and he just wasn't good enough, he  is still one of the top 10 goalies in the league and the backbone of the Buffalo Sabres but will need to return to form next season to shake the critics.
Jhonas Enroth B-
It's hard to grade a backup goalie especially when they don't play a whole lot of games. But when Miller went down with his concussion Enroth was given the opportunity to take over the starting goalie job, he didn't do too well when all the pressure was on him and "dropped the ball" proving why at this point in his career he is still a backup goalie. It's a lot easier to play when the pressure is on the other guy in between the pipes. Right now and for the foreseeable future (Until Miller leaves or Enroth gets traded) Enroth will remain a backup goalie in Buffalo, but he will likely see increased playing time as the Sabres want to limit Miller's games so he is fresh for the playoffs.
Injured Players
These are some of the players who did not show up in the above categories mainly because they were hurt and weren't slated into lines.
Tyler Myers B-
It was a tough season for Myers who was riddled by injuries but it's obvious that the Sabres lack a part of their game when their main defensman is absent. He still messes up from time to time, but what young player doesn't? He is the core of the blue line and possibly a future captain, his game will improve as he plays more and gets used to the role he is being asked to fill. Myers could be a solid fit with Edmonton Oil King Mark Pysyk in the future, two solid, tall defenseman. The Sabres need Myers to stay healthy next season to help improve his game and help the team improve, without "the big easy" the transition game was lacking and as a result it was extremely difficult for the Sabres to exit out of their own end and maintain possession of the puck. Not to mention how effective he is when he rushes the puck and puts opponents back on their heels so he can open up the ice for the forwards as he's a threat to skate with the puck at any time.
Christian Ehrhoff A-
What was Ehrhoff brought in to do? Allow the Sabres to get more points from their blue line, although he didn't score as much as he has in previous seasons he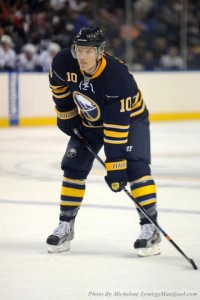 did help increase the points from the blue line, exactly what he was asked to do, hard to fault him for that! He was arguably one of the Sabres most consistent defenseman and held the fort down well in the absence of Myers. He could be a really solid reliable defenseman for years to come, if he and Myers were paired he could be the "stay at home defenseman" while Myers rushes the puck!
Nathan Gerbe C+
Gerbe all but disappeared this season for the Sabres, maybe overshadowed by Tyler Ennis, but whatever the reason he was not the same player who ignited the Sabres last season and helped them make the playoffs. He fits a third line role, but is really a copy of Ennis and could be expendable if the Sabres need to trade him. When Gerbe plays with energy he is at his best, he plays with heart and can spark his team with a hit or fight as he isn't afraid to mix it up with players much taller than him!
Jochen Hecht N/A
Hecht missed such a major part of the season due to injury and was unable to get slated in a proper position. Playing in only 22 games takes its toll on a player as they are constantly being replaced by call ups who have been given a chance to take the injured players spot. But Hecht is a solid forward for the Sabres he produces when he's needed to and plays a great defensive game. He was supposed to be one of the key players after Briere and Drury left but never lived up to the hype nor his salary, his time in Buffalo may be coming to an end this offseason.
Overall team grade- C-
When push comes to shove the Buffalo Sabres failure to qualify for the playoffs was a huge letdown and lead to a failed season. They were pegged to go all the way, Miller was supposed to win the Vezina and the Sabres were supposed to be one of the most dominant teams. But all those prognostications were made before the puck was even dropped, it's why you play the game, you never know what's going to happen.
If the Sabres are healthy next season they should have a bounce back season and be back near the top of the league!
Caitlin is a former goaltender who turned journalist after a few too many concussions. She's a Buffalo Sabres fan living in the hockey crazed market of Toronto. She's spent time writing with Chat Sports, Fansided and The Fourth Period. Her work has been featured on Puck Daddy, Bleacher Report, Sports Illustrated and Grantland among others.