Well, it finally happened. Fans of the Buffalo Sabres can now rest easy knowing that Sam Reinhart is under contract following a lengthy negotiation period that kept him out of the team's first two preseason contests.
From the moment the 22-year-old became a restricted free agent this summer, there was uncertainty surrounding whether or not he had shown enough to warrant a long-term deal. Clearly, the organization wanted to see more as the two sides officially agreed on a two-year bridge contract worth $3.65 million AAV, a significantly lower figure than most fans anticipated.
Reinhart's Growth
Though Reinhart has struggled with consistency at times, he has shown a marked improvement in each of his first three years at the NHL level. As a former second overall pick, he certainly hasn't come along as quickly as some fans would have liked, but ever since the team elected to transition him from center to right wing, his level of play has reached new heights. After a rough start to the 2017-18 season, he caught fire in the second half, posting 37 points in 38 games.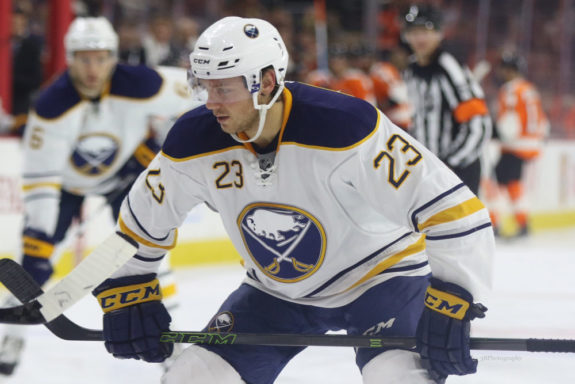 Initially, there was some suspicion that his success on the wing was a direct result of riding shotgun with Jack Eichel, but after the franchise center went down with an injury last season, Reinhart was able to continue thriving beside second line pivot, Ryan O'Reilly. He would finish the year with a career-high 50 points in 82 games.
At this point, the only question that remains about his long-term viability is his consistency. Despite a strong finish last season, Reinhart has been known to disappear for stretches. His ability to stay hot this year and next will be the ultimate determining factor in terms of what his next contract will look like. The progress is there, now he needs to start resembling a top line winger on a game-by-game basis. A half-season of elite play in a contract year simply wasn't enough to warrant a long-term commitment this time around.
Related: Sabres Forwards: What They'll Look Like for 2018-19
Bridge Deal Benefits
Despite the associated financial risk, the Sabres certainly benefit by retaining Reinhart on a short-term, inexpensive deal that will force him to prove his value over the next two seasons. With so many high-octane, young players in the system who are all due new contracts sometime in the next three years, the team simply wasn't in a position to lock up significant money and term on a player who has struggled with consistency.
The fact that he will still be listed as a restricted free agent when his new contract expires is another factor that swings this deal in the Sabres' favor. In a league where RFA offer-sheets are a rarity, Buffalo will essentially hold all of the cards again in the summer of 2020.
As previously stated, Reinhart's best hockey in a Sabres uniform came during the second half of the 2017-18 campaign as he approached free agent status. Whether or not his looming contract negotiation had an impact of his productivity during that stretch is unknown, but the Sabres' front office certainly intends to find out. It's now up to him to prove that his performance last year was more than an aberration.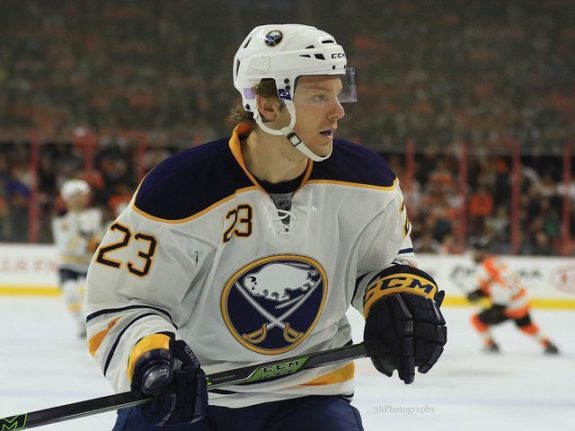 With this extension, Jason Botterill put the cherry on top of a masterfully executed offseason. He stayed patient and managed to negotiate a team friendly, "prove it" deal that doesn't have a significant impact on the salary cap over the next two years.
Things could get complicated if Reinhart sets the league on fire en route to a significantly higher price tag, but even if that's the case, Botterill will still have some financial flexibility as the Sabres' young core continues to take shape.
Related: Sabres Player Point Projections 2018-19
Sabres Salary Cap
Here's where things get interesting. It's no secret that the Sabres have a boatload of young, developing talent throughout the organization, particularly at forward. After signing Jack Eichel to a massive eight-year, $80 million extension last summer, Botterill will need to carefully navigate the salary cap as his remaining youngsters approach the end of their entry-level deals,
Two years from now, players like Casey Mittelstadt and Tage Thompson will be due new contracts along with Reinhart. The following summer, Rasmus Dahlin and Alex Nylander's current deals will expire as well. As high-potential former first-round picks, these deals aren't likely to be cheap (performance pending). It's just another reason why the Reinhart bridge-contract is so brilliant.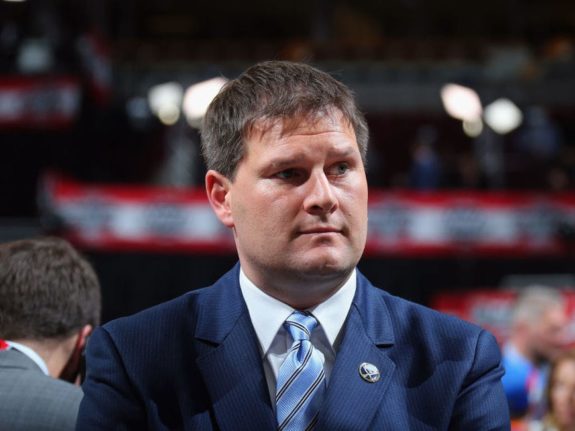 In the most basic sense, it gives Botterill options without a potential long-term albatross hanging over his head. He already has one of those in the form of Kyle Okposo's deal that doesn't expire until the end of the 2022-23 campaign. Fortunately, by the end of the 2020-21 season, the Sabres have a projected $50 million in cap space to re-sign their aforementioned young stars (including Reinhart), and that figure doesn't even account for a potential cap increase.
Over-priced veterans like Zach Bogosian, Jason Pominville, and Matt Hunwick will all be off the books by then and the only relevant unrestricted expiring contracts that he'll have to decide on in that timeframe belong to Jeff Skinner and Conor Sheary. It remains to be seen which current players will prove that they belong with the team long-term. Either way, when it comes down to negotiating future extensions with his franchise cornerstones, Botterill won't be strapped for cash.
At best, he will be able to retain all of his current forward talent should Reinhart hover around 50-60 points over the next two seasons. At worst, he may have to use the rights to one of his 2020-21 restricted free agent forwards as trade bait to improve another area of the team.
A passionate supporter and lifelong fan of the Buffalo Sabres. Former Admin and Staff Writer at buffalohockeycentral.com.