After nine seasons of little intrigue or optimism, the Buffalo Sabres are setting themselves up for one heck of an interesting campaign in 2020-21. On Sunday morning, the team finalized a one-year deal with Sam Reinhart for $5.2 million.
General manager Kevyn Adams has only been on the job for five months, but we are beginning to see how he wants to move forward with the team. Although the term of the deal may concern some fans, the deal is a good one for both sides, and one of the more interesting aspects of the signing came by way of the official announcement.
Reinhart a Centre?
The team announced the deal via Twitter as follows:
For most of his career, Reinhart has manned a top-six position on the right-wing. Originally drafted as a centre, fans have clamoured for him to man his own line from that position for years. The team announced his re-signing as a return to centre. Could this be an oversight? Possibly. Of all the teams in the league to make that error, the Sabres are a great candidate. However, there are reasons to believe that this could be the plan going forward.
After next season, Reinhart will still have one more year under team control remaining before he qualifies for unrestricted free agency. This season will go a long way to determining his future with the organization. Before making a long-term commitment, the team needs to know what Reinhart can accomplish since the price for a top-six centre vs. winger is vastly different. The Sabres have already committed significant salary to their wingers including Jeff Skinner ($9 million for seven more seasons) and Kyle Okposo ($6 million for three more seasons).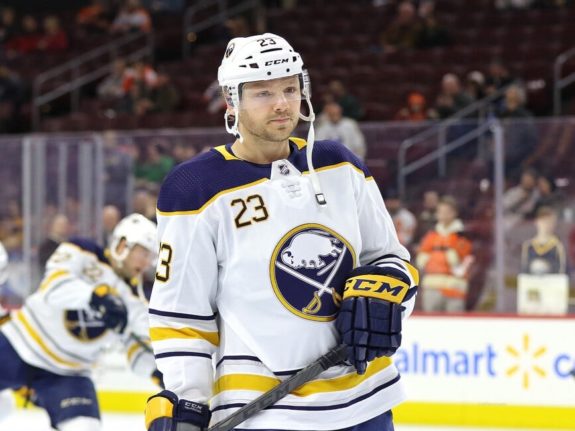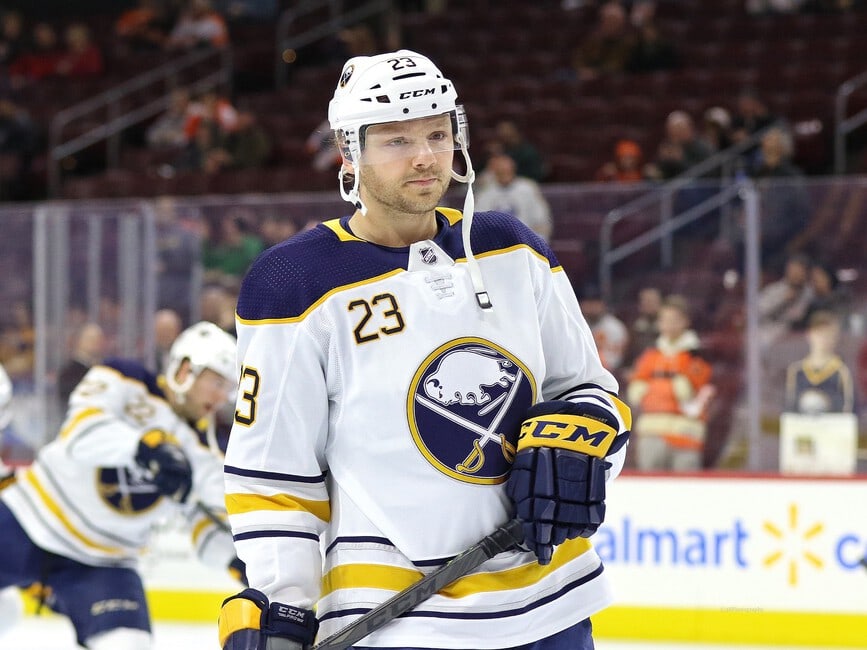 Taylor Hall adds another wrinkle to the equation. Although signed for just one season at $8 million, he could be a part of the team's long-term future. If he connects with the club and they find a fit beyond next season, upwards of $25 million could be directed towards three wingers in the organization.
If Reinhart remains a top-six winger, he could be an effective two-way player. But, mangement really needs to analyze how their dollars are being spent. With a flat salary cap, does it make sense to spend over $30 million dollars on four wingers?
Perhaps this is the perfect climate to see what Reinhart can do at centre. He has next season to prove himself at the position he grew up playing. If the experiment works, the Sabres can feel confident with Eichel, Reinhart and Cozens as their core going forward. If it doesn't work, they can go into the next round of negotiations with their eyes open, knowing exactly what they're getting into.
How Reinhart at Centre Would Affect the Lineup
While we may be enamoured with the idea of Reinhart playing pivot, here's a look at how that will affect the rest of the lineup next season. To begin, there would be a gap on the right side of the top line. Hall and Eichel are pencilled, nay, penned into the top line. Hall thrives on getting the puck into the offensive zone to create high-quality chances. Eichel plays a very similar style but is more dangerous at getting pucks to the net. As much as he was non-existent at five-on-five last season, Victor Olofsson and his wicked shot would be a nice compliment to their puck-moving skills.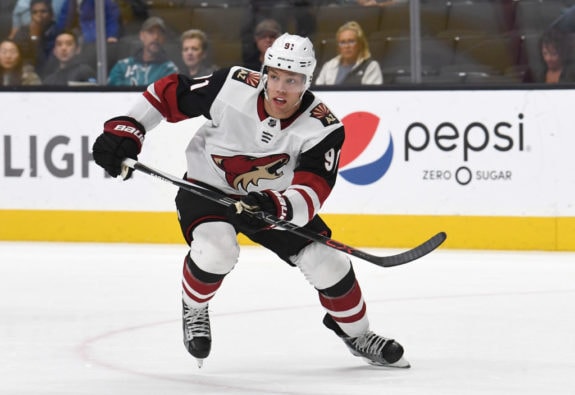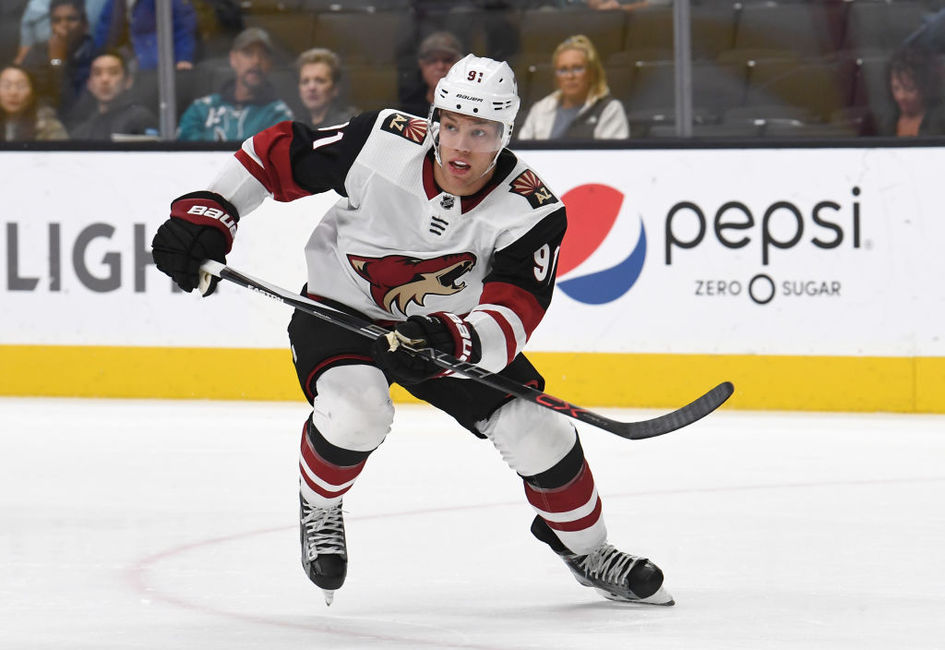 The second line would then be focused on Reinhart. He has been an excellent transitional winger, winning battles in the corners to get the puck out of his own zone and using his excellent shot to score. Skinner would be the perfect fit on the left side as a left-handed shot to receive passes from the right-handed Reinhart. Skinner does well at gaining the zone and creating high-quality chances. Dylan Cozens could be a good fit on the right side. His north-south game and speed would add a nice element to the line.
The third line would now be centred by newcomer Eric Staal. Never in his career has Staal been used on the third line. His complete-game alongside Tage Thompson's shot and perhaps someone like Atrtu Ruotsalainen could be the most dangerous third line the organization has seen in over a decade.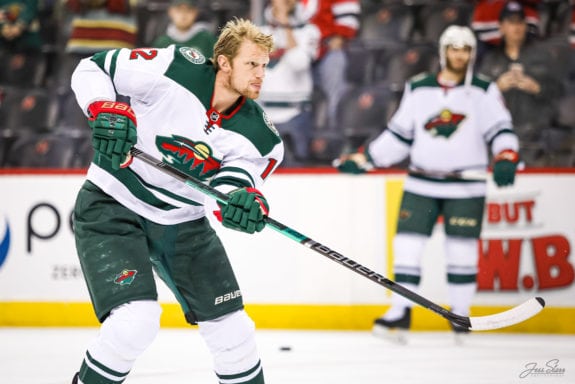 The fourth line would then see Zemgus Girgensons, Cody Eakin and Kyle Okposo. Don't expect a ton of offence from this line, but they can do well at winning puck battles and keeping the play in the offensive zone.
Playing Reinhart at centre helps balance the roster's depth. Eakin would be on the fourth line, and Curtis Lazar would be a healthy scratch, ready to step in should there be an injury. Lazar is a nice player, but the organization should be hoping they're in a position where they can't play him. Eakin should also be sheltered as much as possible to be effective. If even on a trial basis, playing Reinhart at centre makes sense for next season.
Reinhart Likely to Play Right Wing
Reinhart at centre would be an interesting experiment. However, he will likely remain somewhere on the right side. The addition of Hall will help to spread the offensive depth without playing Reinhart in the middle.
Reinhart is no longer a lock to play on the top line and this has nothing to do with his play. He has been a solid presence who has helped Eichel as much as Eichel has helped him. However, he can provide a boost down the lineup to help the Sabres build an attack that is focused on more than just one line.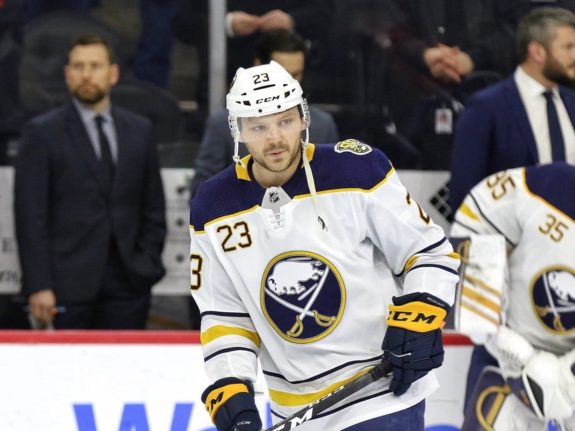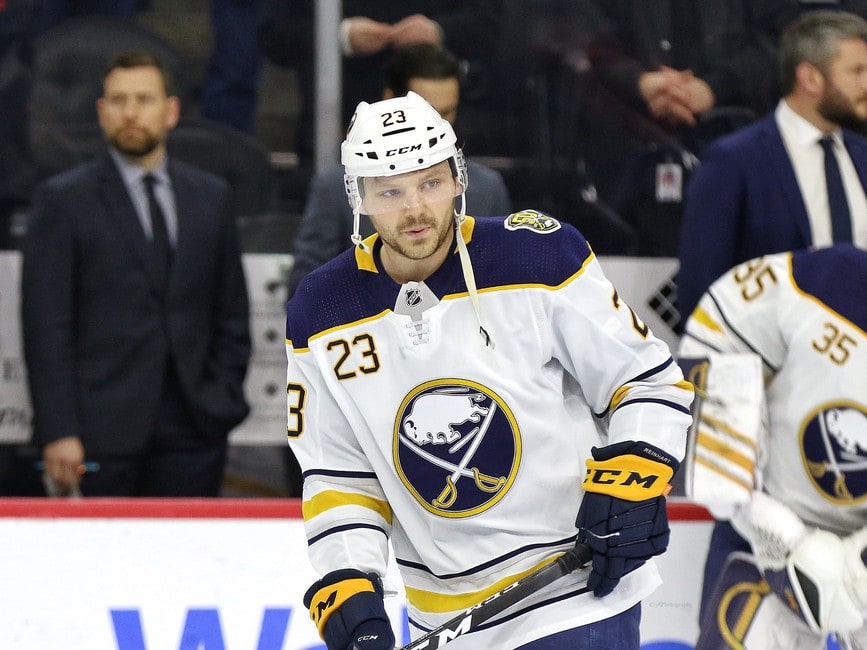 Reinhart's bridge deal benefits both parties. For the Sabres, they get another season out of a young core piece at a great rate given his production as Reinhart gets a significant raise from the $3.5 million he made each of the last two seasons while getting an opportunity to improve his stock and hopefully cash in when the market is stronger a year from now.
Wherever he plays, this will be a season like no other for him. His future with the Sabres could hinge on how this season goes. With a major chance to impress, it will be all on Reinhart to show what he's made of.
---
---