As Punxsutawney Phil sees his shadow in early February, the event's meaning varies regionally. In Pennsylvania, when he emerges from his burrow and sees his shadow, due to clear weather, he will retreat to his den and winter will persist for six more weeks. Roughly 100 miles north of the Penn. Line, it has come to mean that it is time for the Sabres to get their golf clubs out of the garage. In Buffalo, it is time to prep clubs for spring tee times.
The Downward Spiral
This will be the seventh consecutive year the Sabres have missed the playoffs. They have missed postseason play in nine of the last 11 years, often by a wide margin. In this span, Buffalo has had five different head coaches, three general managers, and two owners. Rosters have frequently featured more than 50 percent turnover from year to year.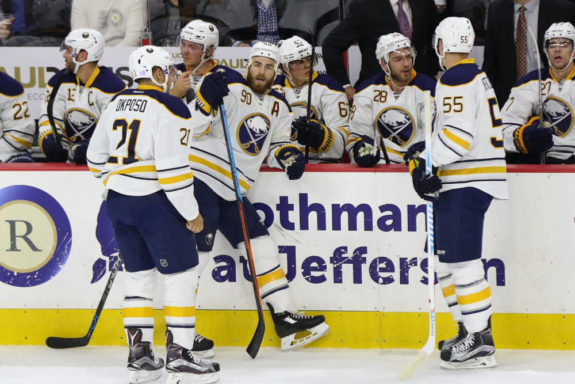 The most loyal and enthusiastic fans in the league have had enough of half-cocked plans, exotic playing schemes and rosters that have been full of has-beens, never-weres, and wannabes. Season-ticket holders have been mistreated, not only by ever-rising prices, but by terrible customer service. It's no wonder that hundreds of tickets per game can be purchased online or on the street for less than the cost of beer inside the arena.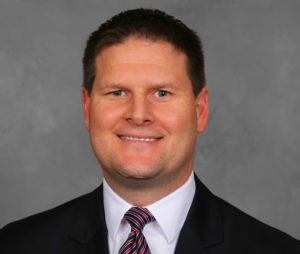 If the Sabres are ever to be competitive again, meaningful change has to rule the day. Current general manager Jason Botterill cannot have Western New York as a place where aging veterans go to hang on to fading careers and where a 'project' player tries to 'find his game' in another new environment. It's time for change at the DNA level that includes proven players who can bring consistency in play and professionalism in attitude.
Looking Ahead to 2018-19
The 2018-2019 version of the Sabres' depth chart is weak everywhere but perhaps up the middle. Jack Eichel, Ryan O'Reilly, and phenom from Minnesota, Casey Mittelstadt, fill up an elite center position. Unless the Sabres acquire a proven talent at center, there is but one open slot at center.
The biggest issue is also the most interesting: the blue line. Rasmus Ristolainen, despite negative local chatter, is a No. 1 defenseman who can skate, play with an edge, defend, and contribute offensively. When kept in the 23-24 minute range per game, he is consistently one of the most reliable in the game. Unfortunately for Blue & Gold fans, he's been on an ever-increasing roll of expanding ice time, now approaching 27 minutes per game.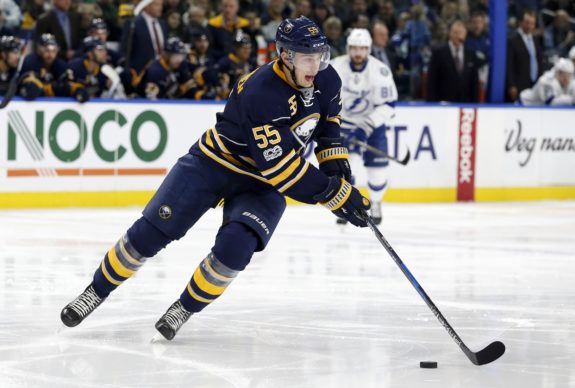 Former Minnesota Wild defenseman Marco Scandella has proven his worth as a reliable No. 3. The rest of the defense spots are anyone's guess. Twenty-five-year-old Casey Nelson may have begun to blossom. Victor Antipin, although commonly a healthy scratch, has played 35 games at nearly an even plus/minus, even while adjusting to life and language in North America. Justin Falk and Jake McCabe are third or fourth-pair material on a contending team. The good news is that Brendan Guhle has demonstrated that he's ready to play and play well. And, if Lady Luck ever pays her debts, No. 1 Swedish prospect Rasmus Dahlin will call Buffalo his new home.
Blockbuster Trade Targets
Here are five blockbuster trade suggestions for J-Botts to consider that would have immediate, intense, and lasting effects on the success of the organization. These admittedly pie-in-the-sky trades would certainly be challenging to complete and much more complicated than presented, yet the main points are valid, and therefore possible.
Erik Karlsson
The 27-year-old Swede has already won two Norris Trophies and arguably should have won two more. Sliced any way, Karlsson is one of the world's best hockey players. This season has been an aberration because he came back from offseason surgery months before he should have. He's on a seven-year contract that pays $6.5 million annually, and he will become an unrestricted free agent at the end of next year. The leadership, ice time, speed, offensive production, character in the room and influence on the community that he would bring would make him the answer to the Sabres' dreams. His presence would make every other Sabre better.
According to our friends at CapFriendly, the Sabres are projected to have $5.5 million available before making any trades, buyouts, waivers or outright releases. With the cap expected to continue to rise, the Sabres should have plenty of room, especially when getting Karlsson at a discount under his current contract.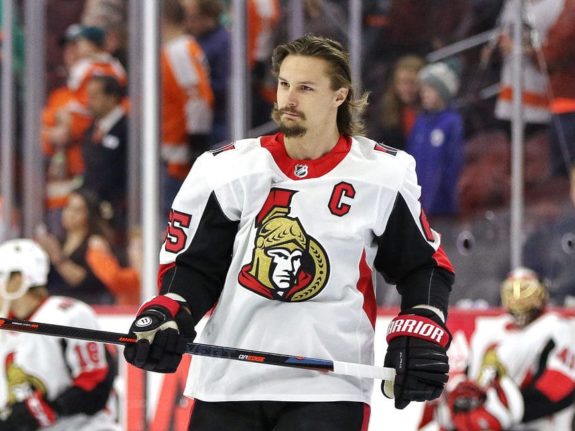 Ottawa is at a crossroads. They have to decide the future of their organization; contracts need to be re-upped, money is going into a new building that is three years away, and they cannot seem to win. The Sabres could swallow the Bobby Ryan contract that is handcuffing the situation in Ottawa as part of a deal. The Sabres could offer any combination of Kane, Lehner, Reinhart, prospects and high draft picks. For Karlsson, perhaps all of the above. Aside from giving up Eichel, Guhle, Mittelstadt and possibly Risto, every player in Buffalo and Rochester should be made available. Perhaps the biggest hurdle to his acquisition is that he has a 10-team no-trade clause that would have to omit Buffalo.
The leading candidate in the Karlsson derby is Tampa Bay. Karlsson has an ongoing friendship with Lightning ace blueliner Victor Hedman, and both sides have reported interest. In today's league in which the salary cap is dominant, trades for quality players mean giving up quality players. It's unlikely that Karlsson could go to Tampa Bay because either so many quality pieces would have to be headed to Canada's capital that Tampa doesn't actually get better, or the Lightning would have to purge four or more players on their roster making $4-6 million annually just to make the cap limit.
Justin Faulk or Ryan McDonagh
The Carolina Hurricanes captain, at almost 26 years old, is going to be a UFA when his contract expires in 2020-21. Right now, he has a cap hit of $4.83 million. The Rangers' captain, at 28 years old, is signed through 2018-19. Each plays a top-flight, high-quality game. Both could use a fresh start in a new home. And both are coming from underperforming teams, although in different circumstances. Carolina is already strong on defense but lacks public support. The Rangers need a rebuild; they have sent a letter to their season-ticket holders saying as much.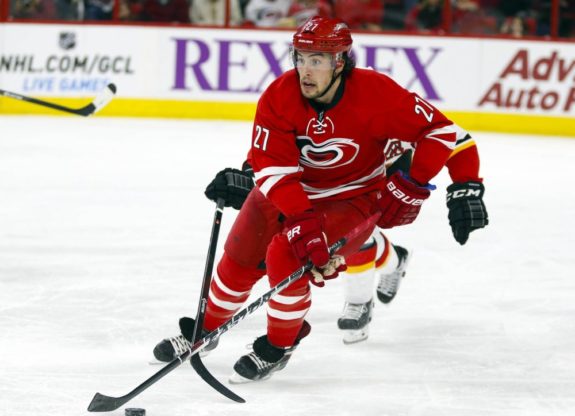 Either player would bring significant skills and leadership that would markedly improve the performance of all Sabres. Similar to the play for Karlsson, virtually every player and draft pick are available to complete the trade. McDonagh has already submitted his 10-team no-trade list.
Oliver Ekman-Larsson
The Arizona Coyotes are about to complete their sixth consecutive season without a playoff appearance. Aside from Oliver Ekman-Larsson ("OEL"), who is playing Norris-level hockey, the Coyotes have very little talent with which to bargain. They are dead last in goal scoring and their power play is terrible; they cannot spare any offense.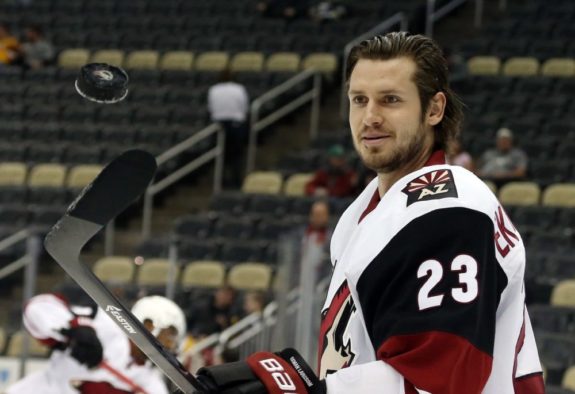 Aside from the inability to fill the net, the Coyotes haven't had a goalie play well enough or remain healthy enough to play over 55 games in a year for four years. Just this week they acquired rental goalie Darcy Kuemper in an attempt to cover the crease. It isn't clear whether they will try to re-sign him moving beyond this year. This situation may make the Desert Dogs an ideal trading partner for the Sabres. OEL is not yet 27 years old and is under contract at $5.5 million annually through 2019-20. The Sabres have Lehner to help solve their goalie issues and any number of forwards to help their scoring problems. A trade could help both organizations climb out of the NHL basement.
Extreme Blockbuster Trade Targets
The Sabres need leadership and consistency on defense first. These next two suggestions, while upsetting the entire league and thrilling Western New York, count on Ristolainen improving, Brendan Guhle achieving precocious and prodigious success, and Dahlin arriving through the draft. These trades are included as a demonstration of the creativity needed to re-engage fans and turbo-charge the effort to get back in the playoffs.
John Tavares
The Sabres could make a run at 27-year-old superstar center John Tavares. Finally, Jack Eichel would have someone on his level with whom to play. Instead of Jack making everyone tossed onto his line better, Tavares would take some of the pressure off Buffalo's top talent. If not placed on the same line, opponents would no longer be able to shut down the Sabres by throwing their top players at Eichel.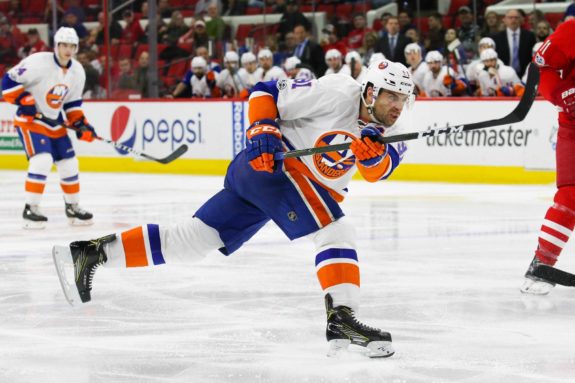 For a team that has enormous annual goal differentials, Tavares' production would be a godsend. And for a team that is getting younger, Tavares' quiet and honorable leadership would be invaluable. As mentioned earlier, the cap space shouldn't be an issue, even as the Islanders' current captain will certainly need a high number in both dollars and term.
The big stumbling block to this acquisition for the Sabres would be convincing Tavares that not only should Buffalo not be on his eight-team no-trade list, but that it should actually be his home. Perhaps he would be interested in playing just 80 minutes from where he grew up. Perhaps being out of the media frenzy of the big city would be a plus. Perhaps playing with Eichel on a team showing signs of improvement and commitment would interest him.
Patrick Kane AND Jonathon Toews
Oh, how the mighty have fallen. The days since the group that Chicago Blackhawks general manager Stan Bowman had assembled as a perennial Cup favorite are long since over. Their contracts are not. The cap-induced revolving door of pricey veterans moving out in favor of young, cheap talent was successful because of the foundation of Duncan Keith, Brent Seabrook, Niklas Hjalmarsson and Nick Leddy/Johnny Oduya/Dustin Byfuglien.
With Duncan Keith closing in on his 35th birthday, the slow-footed Seabrook unable to keep up with today's speed game, and the other defensemen all having been shipped to other teams, the Hawks can no longer compete. They need a shakeup as badly as the Sabres. The thing that prevents them taking meaningful action is the twin $10.5-million contracts of Patrick Kane and captain Jonathan Toews. Kane and Toews are signed at this gaudy number for each year through 2023-2024. Botterill should take advantage of this situation and the leverage that it supports.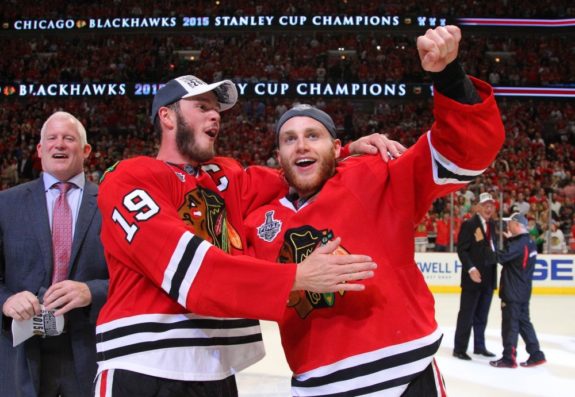 Kane, a Buffalo native, is still among the league's elite talented puck-handlers. Although Captain Serious is having a tough year, he's still good for 20-25 goals and 55-60 points (which would put him near or atop the Sabres' stats). Both have experience, leadership, and star power.
The possibility of a line featuring Jack Eichel and Patrick Kane challenging the production of Pat LaFontaine and Alexander Mogilny would make Sabres fans sprint to the ticket counter. Having Toews and Ryan O'Reilly together to jam opponents' top lines would take an integer off of Robin Lehner's (or Linus Ullmark's) goals-against average. If the Sabres can get Chicago to retain even one-quarter of their salaries, almost any package of players, prospects and picks would make this transaction a win-win for both organizations. Certainly, this would tie up a lot of money for a number of years, but what Western New York fan wouldn't be just fine with that if those years came with a Cup?
Jeff has been covering the NHL for over a decade for various sites. He's been with The Hockey Writers as a lead Sabres writer three years, while also writing a satire column called "Off the Crossbar."