The Saint John Sea Dogs are not the odds-on favourites to be the top team in the Quebec Major Junior Hockey League (QMJHL), as they are currently rebuilding after an exciting Memorial Cup win in 2022 on home ice. That rebuild means they have one a single roster player who has been invited to an NHL prospect camp, but what they do have is 16 recent former players who have been invited to 14 different NHL teams' prospect camps. Here is a breakdown of players you might recognize from their days with the blue and black.
Long-Term Sea Dogs
One of the joys of being invested in a QMJHL team is that you get to watch players grow and evolve their game with the eventual goal of watching them play in the NHL. While every Sea Dogs player is special to fans, these players may be a little more special as they are the long-term guys who helped push the team into a competitive window that resulted in a Memorial Cup win. These young players spent many seasons developing and growing into skilled players strong enough to raise the Sea Dogs to the top of the entire CHL. Players like Joshua Roy (Montreal Canadiens) and Maxim Cajokovic (Minnesota Wild) may have departed before the win, but they were instrumental in getting them there.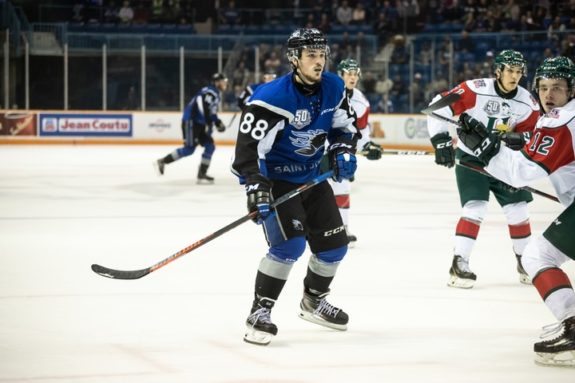 The most recognizable names belong to players like Cam MacDonald (Arizona Coyotes), Jeremie Poirier (Calgary Flames), William Villeneuve (Toronto Maple Leafs), Riley Bezeau (Florida Panthers), and Ryan Francis (Los Angeles Kings), who were around for not only the build-up but were instrumental in the win as well. Although none of them remain on the roster, anyone who followed the start of their careers and spent many hours watching them play at TD Station in Saint John will always have a connection to them.
Impacts from the 2022 Memorial Cup Run
When a hometown team is hosting an event as big as the Memorial Cup, they are almost obligated to go all in and be as competitive as they possibly can. The Sea Dogs did just that and came away with not only the Cup but became a stopping point for a large group of talented young player's careers. The strength and potential of that team are obvious now, as many of the former players have been invited to NHL prospect camps all over Canada and the United States.
Players like Yan Kuznetsov (Calgary Flames), William Dufour (New York Islanders), Vincent Sevigny (New York Islanders), Raivis Ansons (Pittsburgh Penguins), Philippe Daoust (Ottawa Senators), Ryan Francis (Los Angeles Kings) and Jonathan Lemieux (Vancouver Canucks) may not have been around the team for very long. But they were instrumental in either turning the team into a contender or playing an active role in winning the 2022 Memorial Cup. For that reason alone, I am sure most Sea Dogs fans will hold their names in high regard no matter where they play next.
Lone Roster Player in Mann
He hasn't even played a single game for the Sea Dogs yet, but one of the most recent additions to the Sea Dogs is the only current roster player who will represent the team at any NHL prospect camps. The massive shutdown defender Mateo Mann was drafted 199th overall by the Flyers in the 2023 entry draft and, as such, will be present for their prospect camp. He was acquired by the Sea Dogs back in August from the Chicoutimi Sagueneens for a pair of draft picks.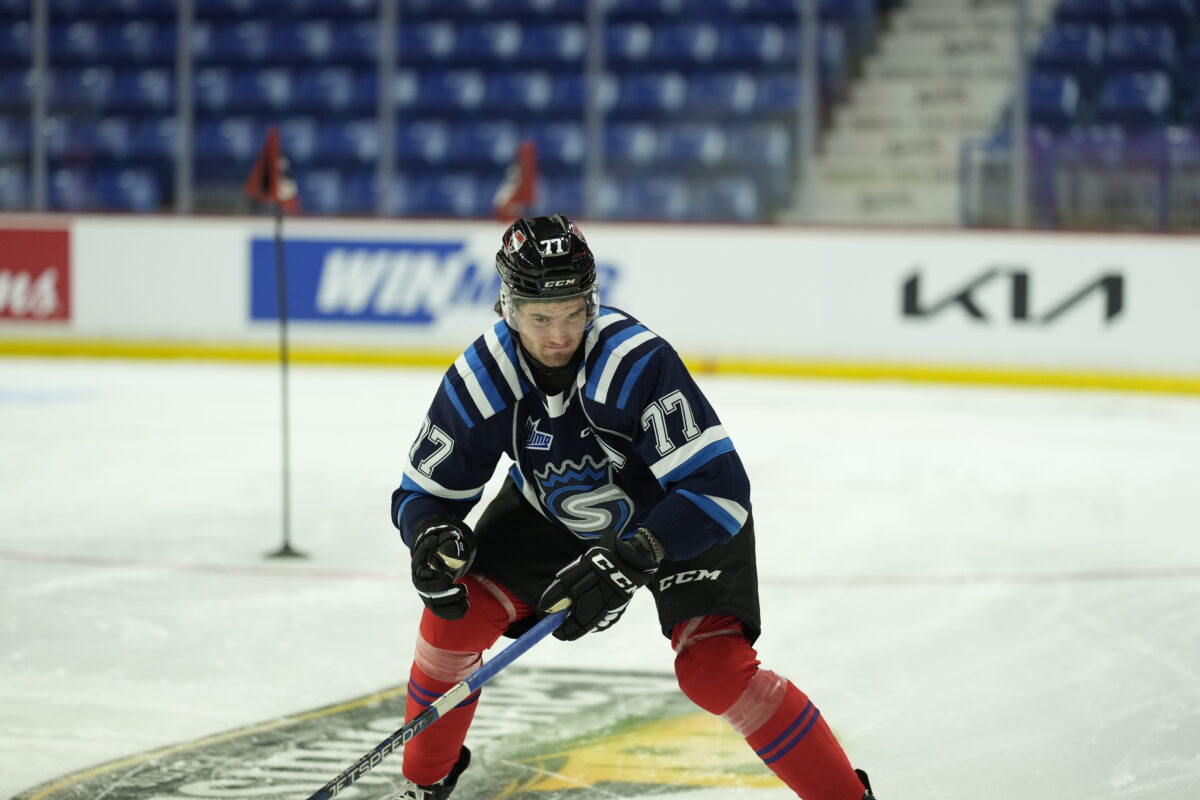 He is a long-term project for the Flyers, but will already be a big part of the Sea Dogs, as his physicality and shutdown defensive abilities will be critical this upcoming season. The 6-foot-6 Sackville, NB native is not afraid to throw his body at opponents or in front of pucks, but he also sees the game rather well and will hopefully return from camp more motivated than ever.
Remaining Trio Remembered Differently
A player that a lot of fans should remember is Cole Burbidge (Ottawa Senators). The youngster had 50 points last season as a member of the Sea Dogs but was traded this offseason to the Cape Breton Eagles as a way for the team to recover some of their draft picks for the coming years.
Related: 2023 NHL Entry Draft – Top 10 QMJHL Prospects
---
Latest News & Highlights
---
The complete opposite of Burbidge is Matthew Stienburg (Colorado Avalanche) and Fyodor Svechkov (Nashville Predators), who most fans likely don't remember. Both players were former draft picks or import draft picks who did not end up playing with the team at all for various reasons.
Plenty of Reasons to Be Optimistic
It can be a hard pill to swallow when you see the other teams in the QMJHL missing half their roster because they are all away at different training camps and the Sea Dogs are stuck looking backward at the players that have left them. The key thing to remember is that it takes a lot of commitment to win a Memorial Cup, and the payment is that the outlook for the next couple of seasons is usually pretty bleak. Fortunately, fans already have some fantastic young players to watch in Eriks Mateiko, Egan Beveridge, Pavel Simek, Chad Bellemare, and Jacob Beaulieu.
---
---