The San Jose Sharks and forward Evander Kane have agreed to terms on a seven-year contract worth $49 million. The deal comes with a cap hit of $7 million per season and was originally reported to be completed by Irfaan Gaffar on Tuesday before being confirmed by the Sharks on Thursday. Kane joined the Sharks at the trade deadline in February.
It's official: the #SJSharks re-sign @evanderkane_9 to a 7-year contract!

🦈: https://t.co/nTFWhIBjsL pic.twitter.com/6Mhtdg1eUc

— San Jose Sharks (@SanJoseSharks) May 24, 2018
"At only 26 years old, Evander has established himself as one of hockey's true power forwards and an impact player," said Sharks' general manager Tom Wilson. "We think his abilities mesh perfectly with our group of skilled, young players and veteran leaders. It's extremely heartening to have Evander join a trend of elite players who have chosen to remain in San Jose. It speaks volumes as to how players view this organization and further illustrates the continued commitment to our fans by our owner Hasso Plattner."
Due to a condition on this trade that hinged on Kane being re-signed by the Sharks, the Buffalo Sabres will receive San Jose's first-round selection in the 2018 NHL Draft.
Kane, a veteran of nine seasons in the NHL, scored 29 goals and 54 points in 2017-18 split between the Sharks and the Sabres. It was his highest goal, assist and point total since he scored 30 goals, 27 assists and 57 points in 74 games in 2011-12 with the Winnipeg Jets.
After a white-hot start to the season in Buffalo in 2017-18, Kane hit a wall for a few months before ultimately being sent as a deadline addition to the Sharks to bolster their lineup for a playoff race. Kane immediately looked like the player the Sharks wanted him to be when they acquired him and the rejuvenated veteran went on to score nine goals and 14 points in his 17 regular season games with the Sharks. He would add four goals and five points in nine playoff games as well.
Despite some of the trouble that Kane had gotten to off the ice with his two former clubs in Winnipeg and Buffalo, his new team in San Jose elected to give him a chance before casting any judgment on him early. It appeared to work as well as Kane was visibly better to end the season than he was for the last few months of his Sabres career.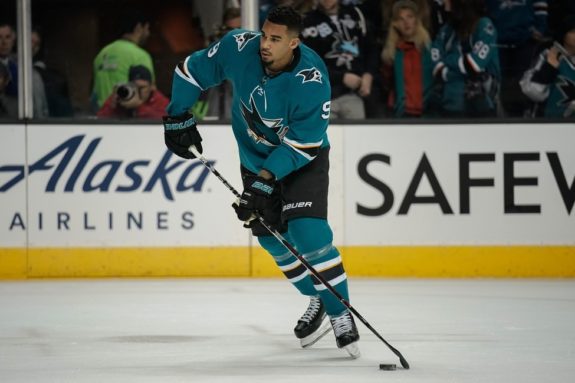 With this new deal, Kane is now the highest-paid forward under contract with the Sharks for the 2018-19 season and is tied for second on the team with defender Marc-Edouard Vlasic. The only player to exceed Kane in Vlasic in terms of annual cap hit is veteran blueliner Brent Burns, though Joe Thornton is coming off of a one-year, $8 million contract with the Sharks and his future with the team is still unknown at 38 years old.
Up and Down Career for Kane
At 26 years old, Kane has struggled to live up to his name as the fourth-overall pick in 2009, but he's had a fairly successful career all the same. With 186 goals and 354 points in 574 games, Kane is definitely worth having on a team when he's on his game.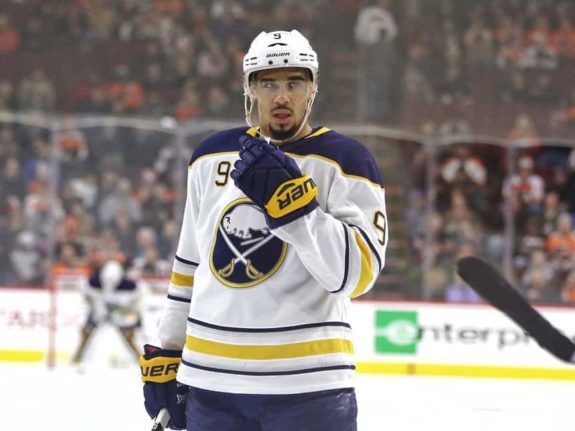 Something interesting to note about the Sharks newly-extended forward, however, is the fact that his nine playoff games with the Sharks are the only postseason games he's played in his entire career to date. Despite entering the league in 2009-10, the Vancouver-native failed to play in any meaningful games in his career prior to the trade this season due to some bad circumstances with Atlanta/Winnipeg and finally the Sabres.
Now that he's on the Sharks, a perennial playoff contender, Kane has a chance to feel good about his chances of playing hockey in May and potentially into June. It's all any hockey player can really ask for outside of a respectable market-value contract.
There will always be risk attached to Kane, but the Sharks ultimately felt that he was worth the gamble and appreciated what they saw from him in his brief showcase with the team. It's hard to argue with them either as he's still young and has the ability to be a big-time goal scorer at the NHL level while also using his physicality to help his team when necessary.