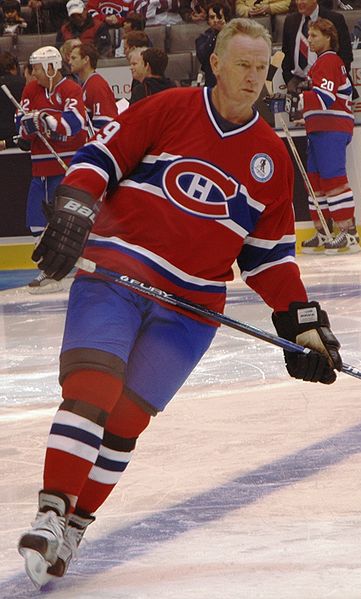 No doubt thoroughly disgusted with his team's anemic penalty killing statistics over the past two season, Sharks' General Manager Doug Wilson has tried adding defensive size, strength and speed, along with speedy and/or big two-way forwards to improve their special teams. Schemes have been tweaked and adjusted. In short, he's tried everything but turning the bag upside-down and shaking everything onto the ground.
On July 9, the bag was finally upturned, with key contents tossed out and replaced.
Long-time stalwart NHL defenseman and Stanley Cup-winning head coach Larry Robinson was hired as an associate coach to head coach Todd McLelland. In an off-season that has appeared quiet in comparison to the previous two campaigns, with some pundits even grading Wilson's work an F, overlooked by the get-Rick-Nash crowd is the coup the Sharks pulled by adding someone of Robinson's stature to their coaching staff.
"His resume speaks for itself, so I don't need to get into that," Doug Wilson commented via conference call shortly after Robinson was signed. "There's nobody in this business I respect more as a player, as a coach, and as a person than Larry. It's a very exciting day for our organization."
Indeed, it does. Robinson played 19 full seasons in the NHL, all but three with the Montreal Canadiens. He recorded 208 goals and 750 assists in 1384 games, topping out at 19 goals and 66 assists in 1976-77. That season he recorded a jaw-dropping +/- of +120, just four off Bobby Orr's league record. He played in 10 All Star games, winning two Norris trophies, one Conn Smythe and, most importantly, six Stanley Cups. He was inducted into the Hall of Fame in 1995.
As a head coach, his teams went to the finals twice, winning the Cup with New Jersey in 1999-00.
Robinson will have one primary, overriding mission in San Jose: dramatically improve the penalty kill. Discussing that goal, Robinson said, "I do have a few ideas and a few things that hopefully will help it move up the ranks. The league is a specialty league, so you can win and lose games with your power play and your penalty kill. There are definitely things that we can work on."
Asked to elaborate, he continued: "Positioning is a big thing in penalty killing. It's fine to be aggressive, but you have to be smart-aggressive. The biggest thing is, and I speak from some prior experience in other teams, is that we tend to sometimes lean on our best players as our penalty killers all the time. These guys get tired after awhile. It's good to have more than just two, three or four guys killing penalties."
How bad was San Jose on the penalty kill, you wonder? Glad you asked.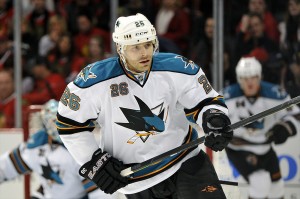 During the 2010-11 regular season, the Sharks ranked 24th in the NHL at 79.6%. Proving it not to be a fluke, they registered a paltry 76.3% during the playoffs, finishing 12th out of 16 teams — and yet, the Sharks managed to advance to the Western Conference finals. Despite significant personnel tinkering done after that season to add size and speed, they then went out and performed even worsein 2011-12, barely edging a wretched Columbus squad to finish 29th in the regular season (76.9%). In the playoffs, their 15th-place finish (67%) helped doom them to a quick exit at the hands of the St. Louis Blues.
On the surface, it would appear the move could portend storm clouds on the horizon for current head coach Todd McLellan, as Robinson would be fully capable of taking the reigns if the Sharks stumble early and management decides a change is in order. According to Robinson, however, that's just not the case. "That was the first thing I said when I came into the room: 'I don't want to be a head coach.' I'm not here to take Todd's job. I want to help in any way I can.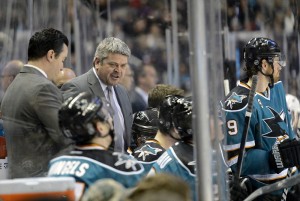 "I wouldn't want to be a head coach knowing there was somebody with a gun waiting behind me to shoot me whenever something went wrong. We will work out things when they're not going right, but you've got the best head coach here in the best position possible and I don't foresee any problems at all."
There is nowhere to go but up for San Jose's embattled penalty kill this season. The Sharks are in the unusual position of not being favored to win their division and nab a high seed in the playoffs — the Stanley Cup Champion Los Angeles Kings and their young, locked-in squad have to be the favorites — but they aren't far from being the team that knocked on the door of hockey's highest stage in both 2009-10 and 2010-11. Despite their advancing age (an issue which prompted me to write this), they likely have at least one more run in them with the existing core. At the very least, Robinson is likely to get them moving in the right direction on the penalty kill. See you later, Columbus. Hellllo, Toronto.
Walter McLaughlin is a Los Angeles Kings correspondent for The Hockey Writers. He is an avid sports fan, having followed the Kings since living in L.A. in the mid-1970's, as well as suffering through Seattle sports teams' general futility. He has a Bachelor's degree in Finance and has worked in community banking for over 25 years, specializing in SBA loans. He is married and has two daughters.