As the 2014-15 NHL season draws near, major questions remain regarding both the quality and consistency of the Ottawa Senators goaltending situation. Both Craig Anderson and Robin Lehner will return to the Senators crease this season, marking the beginning of their fifth seasons in the nations capital.
However, this season will be different than those in past years, as rather than returning from the success both goaltenders enjoyed in the 2012-13 season, Anderson and Lehner return following a 2013-14 season of disappointment. For Anderson, a rash of injuries not only held him from the lineup at times, but also impaired his play in net. Meanwhile, Lehner struggled in his first season receiving regular playing time, seeing action in 36 games, up from his previous career high of 12.
This begs the question; who (if either) deserves to begin the season as the Senators starting goalie?
Craig Anderson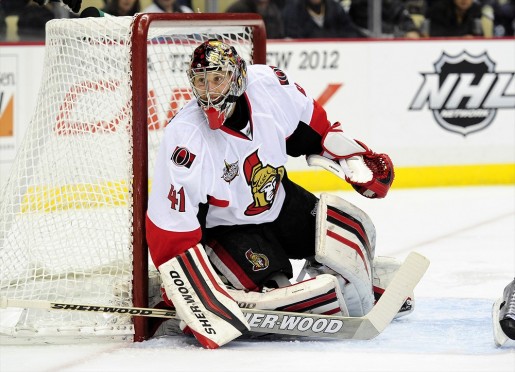 Craig Anderson will begin training camp as the favorite for the starting job, and it will be his position to lose. Anderson certainly has the potential to achieve success, demonstrated by his 2012-13 performance in which he posted a GAA of 1.69 and a save percentage of .941% and was considered an early Vezina trophy favorite. However, as is becoming the norm with Anderson, injuries struck, restricting him a mere 24 games in the past season. The list is long for the two-time All-star, whether it is an ankle, knee, groin, finger, head or "upper body" injury, Anderson has endured it, giving him the reputation as one of the most highly skilled, yet injury prone goaltenders in the NHL.
Necessary for Anderson to Start:
Health. Simply put. If Craig Anderson is able to stay healthy, he should no doubt regain his definitive role as the starting goalie for the Ottawa Senators. He has displayed his skills time after time, whether with the Colorado Avalanche or after joining the Senators in 2010, assuring Ottawa management that he does indeed have the potential to lead the Senators to the playoffs and beyond. Also, Anderson's contract status should play a factor in his determination to regain the starting role, as Craig's contract expires following this season, leading to free agent status while Robin Lehner remains signed through 2016.
Robin Lehner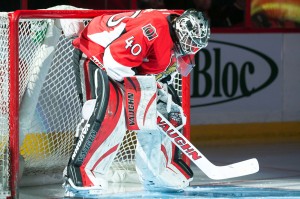 Robin Lehner has long been considered the Senators goaltender of the future, yet has failed to successfully establish himself as a top talent in the NHL. Having had has tremendous success at the AHL level, especially last season in which he posted a GAA of 2.12 and save percentage of .938, it appeared Lehner would oust Anderson for the starting goaltender position. However, when given the opportunity, particularly during an Anderson injury, Lehner faltered, stumbling to 3.06 GAA and 913% save percentage in 36 games despite some impressive patches of play. Lehner admitted one major problem in his NHL game was confidence, as he struggled to adapt to the starting role and quality of play.
Necessary for Lehner to Start:
Confidence. In more than simply his own game, but also in that he has the ability to outcompete Craig Anderson for the starting role. It may ultimately take an another Anderson injury, but if Lehner is able to overcome his  confidence issues as well as transition his AHL success to the NHL game, Lehner could be a major surprise this coming season. Given his 3 year contract extension this off-season, the Senators clearly believe Lehner can and will be their starting goaltender for years to come, it will ultimately be up to Robin to perform to his potential in order to provide the Ottawa Senators with stability in the crease.
Current Situation
It is clear that the Ottawa Senators currently possess two capable and highly skilled goaltenders. However due to injuries and under-performance, the Senators find themselves in a situation of instability, in which neither of the two goaltenders can currently be definitively entrusted with the role of starting goaltender for the franchise. Due to this situation, both Craig Anderson and Robin Lehner will have to overcome significant obstacles in order to (re)establish themselves high-quality NHL goaltenders. Despite all this one thing is certain, the Ottawa Senators require stability in the crease, and will be looking towards both Anderson and Lehner to resolve the situation.
 Agree, disagree or have an opinion on this topic? Leave a comment below!