There's a lot of excitement surrounding the 2023 NHL Draft. Not only will fans finally get to see Connor Bedard, who was just named the IIHF's Male Player of the Year, join the NHL, most likely as the first overall selection, but the next four picks are all projected to be franchise-changing. Adam Fantilli, Leo Carlsson, Will Smith, and Matvei Michkov are all generational talents in their own right, and had Bedard not been in their draft class, they all would have made a fantastic first choice. But the excitement doesn't end with the top five. Scouts and analysts have long touted the depth of this draft, with Sportsnet's Sam Cosentino suggesting that there was still top-end talent well into the second and third rounds.
The Ottawa Senators, however, don't select until the 108th pick, well into the fourth round, and currently own just five choices, which has left some fans feeling a bit left out. But there are plenty of reasons to still look forward to draft day. Thanks to its depth, several top prospects will fall into the middle of the draft, and the team's scouting department has shown that they know how to find diamonds in the rough. This year will force them to be more creative than usual, and that's something fans should be looking forward to. While predicting the players that could be available is practically impossible, here are five that Ottawa should try to target with their first pick.
Brady Cleveland
With a core of Jacob Chychrun, Thomas Chabot, Artem Zub, and Jake Sanderson all under 27 years old, the Senators don't need defencemen right now. They are also set up well if any of them go down, with Tyler Kleven, Jacob Bernard-Docker, Maxence Guenette, and Lassi Thomson all waiting in the minors for their big break. But beyond them, there isn't a lot of depth, especially after the team decided to walk away from prospects Ben Roger and Chandler Romeo. That leaves an opening to use their first pick on a defenceman, and there's no more Senators defender available than Brady Cleveland.
Cleveland doesn't have many offensive abilities – he finished with just nine assists in 74 games this season – but he doesn't need to have any. He's been a fantastic shutdown defender with the U18 National Development Team, using good positioning and defensive awareness to cut off every route for an oncoming opponent. He's also one of the most physical players in his draft class, refusing to back down from anyone. In an interview with The Score, he mentioned that he sees Brady Tkachuk as a bit of a role model, specifically in how he talks a big game and backs it up with big hits, which speaks well to his ability to integrate with the current core.
Related: 2023 NHL Draft Guide
---
Latest News & Highlights
---
The one problem, however, is that, given his size and swagger, it's unlikely that Cleveland lasts until the fourth round, as the Senators proved over the last few drafts. Kleven, Rogers, and Filip Nordberg, all of whom stand at least 6-foot-4, were selected in the second round despite popular rankings placing them in the third at the earliest.
Dylan MacKinnon
Another excellent defensive option that should be available in the fourth round is Dylan MacKinnon. Like Cleveland, MacKinnon is a defensive-minded player who thrives in shutdown roles and is a punishing hitter. At 6-foot-2, he's not quite as big, but he's just as hard to get around in his own end thanks to his incredible athleticism and work ethic. In 61 games with the Halifax Mooseheads this season, he recorded a team-high 75 penalty minutes.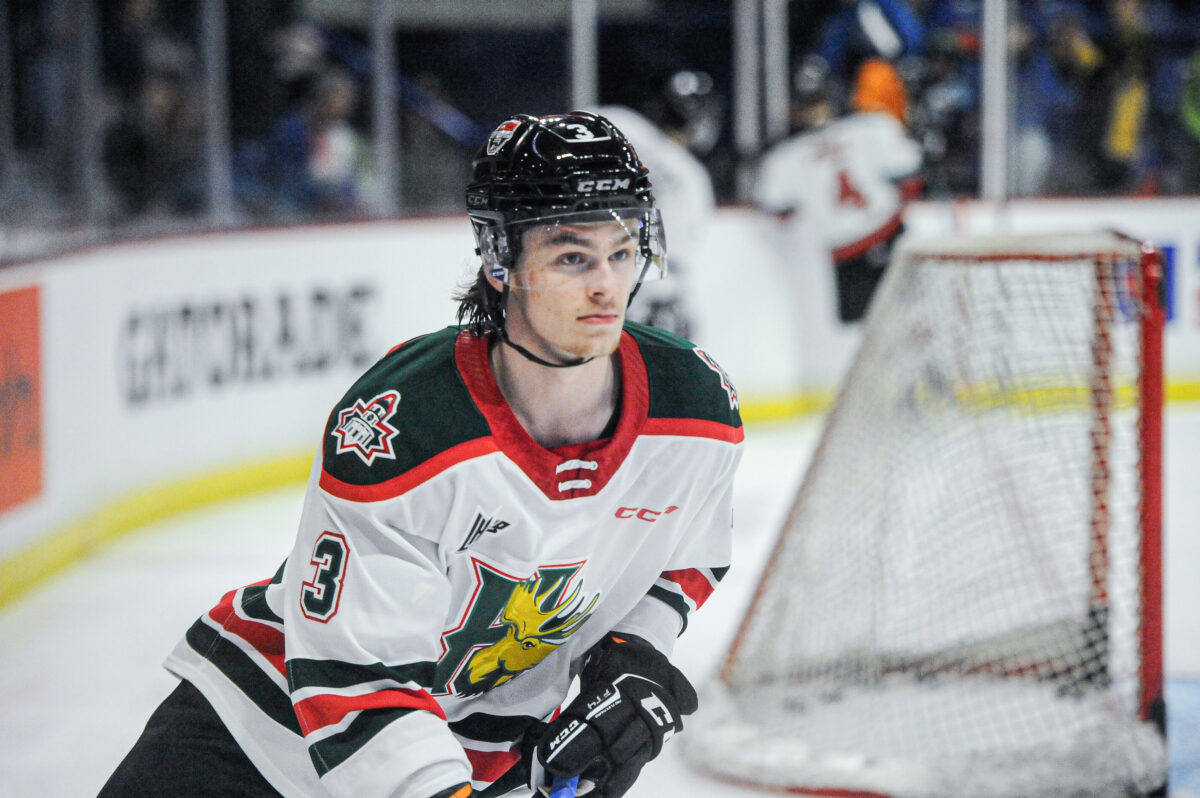 But what sets MacKinnon apart is his ability to chip in offensively. His point totals in the Quebec Major Junior Hockey League weren't anything special, but with six goals and 23 points, he demonstrated that he can put up points if given the chance. He finished third in goals and shots among Mooseheads' defencemen and thrived when his ice time increased, proving that, when called upon, he could be a quarterback and lead the breakout. He's the kind of player that can be trusted in any situation, and that's always a good player to have in one's system. Add in his right-handed shot, and you have the making of a potential mid-round steal.
Zachary Nehring
Defence isn't the only position that could use some additional depth. Up front, the Senators have few high-end right-wingers; Oskar Pettersson has shown some intriguing potential, as has Tyler Boucher, but they're far from sure things. That problem will only get worse if Ottawa can't reach an agreement with Alex DeBrincat. So, with their first pick, they should probably look at a skilled right-winger who can score, and Zachary Nehring certainly can do that. In 54 games with Shattuck St. Mary's, he scored 39 goals and finished the season with 85 points, the second-highest total on the team. That puts him in the same realm as Ryan Malone, who spent a season with the high school program and posted 41 goals in 50 games as an 18-year-old, and Derek Stepan, who scored 44 goals in 60 games as a 17-year-old.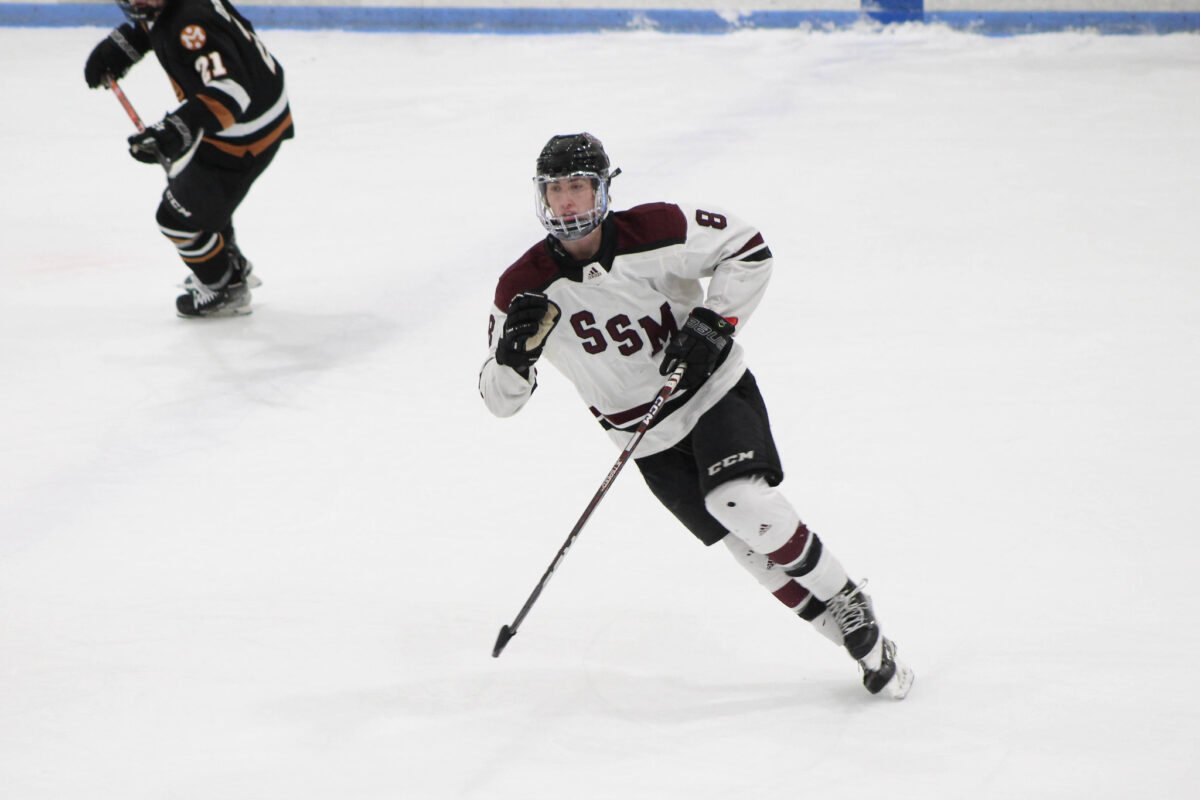 Not only is he gifted with the puck, but his size and physicality fit well with the organization's current model. At 6-foot-3, he often finds himself right in front of the net, using his size and strength to screen goalies and bash in loose rebounds. His 80 penalty minutes led Shattuck St. Mary's by a wide margin – the next highest total sat just at 58 minutes. There's a fearlessness to his game, and although he's still several years away from making the NHL, he has all the tools to make a big impact once he gets there.
Cam Squires
According to The Hockey Writers' Mark Scheig, "Goal scorers will always get the attention of NHL scouts." That has been the case for Cam Squires, who, after hitting 30 goals as a sophomore with the Cape Breton Eagles, has been one of the fastest risers of the 2023 NHL Draft. The right winger has a non-stop motor and although his skating needs a bit of work, he gives it his all on every shift. He crashes the net, chases pucks into the boards, and tries to create a scoring opportunity by any means possible. He also has a great set of hands that can maneuver well in tight spaces and fire off a strong, accurate shot.
The Senators have made a lot of progress in creating scoring opportunities and finishing shots, but they still have a lot of work to do. This season, they scored 261 goals, placing them right in the middle of the NHL, which was a big jump after finishing in the bottom six in 2021-22. But only the Winnipeg Jets and Minnesota finished with fewer goals and still got into the playoffs, while the Pittsburgh Penguins and Vancouver Canucks scored more without making it. Adding Squires would help boost that output for Ottawa, and he would likely make it to the NHL sooner than the aforementioned players.
Cole Knuble
The Senators love to draft overage prospects in the middle of the draft. It seems like every year, the team drafts at least one; in just the last four drafts, Ottawa has selected Stephen Halliday in 2022, Egor Sokolov in 2020, and Viktor Lodin and Mark Kastelic in 2019, all of whom were eligible for at least one draft before they were selected. Of them, only Sokolov was selected higher than the fourth round, so with their first pick in 2023, the Senators may want to grab Cole Knuble from the United States Hockey League's (USHL) Fargo Force.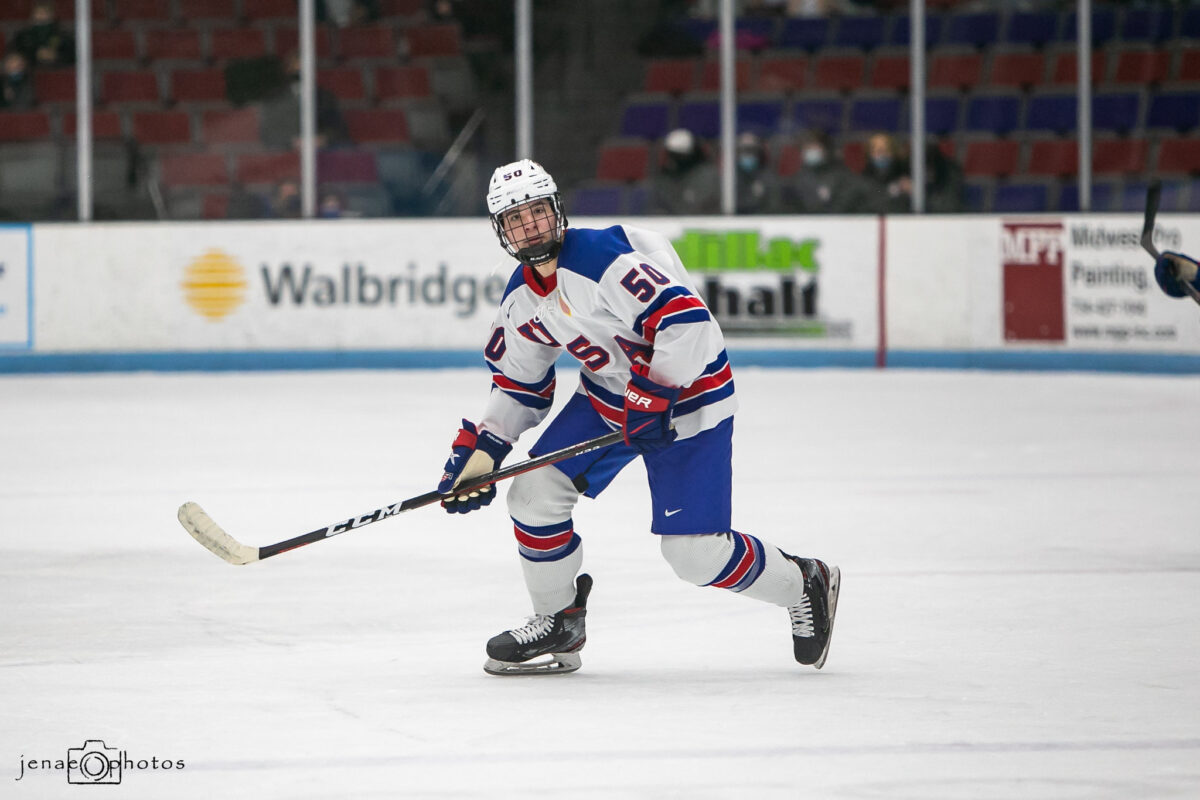 Knuble, son of long-time NHL player Mike Knuble, was ranked 84th by NHL Central Scouting last year but went undrafted despite finishing his first season with the Force with 20 goals and 59 points. This season, he's taken his game a step further, scoring 30 goals and finishing first in team scoring with 66 points in 57 games while also being the only player to finish above a point per game. His dominance on the score sheet was just one example of the intelligence and tenacity he displayed on the ice. Every shift, he was bringing his A-game, forcing those around him to reach his level and thus creating a better team around him.
Also a right-winger, Knuble will take some time to develop the other aspects of his game at the University of Notre Dame for at least a couple of seasons before he makes the transition to professional hockey. At just 5-foot-10, he'll need to add a bit more muscle, but he's already one of the most gifted goalscorers among re-entry prospects this year.
Plenty of Prospects to Choose From
There are dozens of prospects that I could have highlighted here. The lower rounds project to be filled with talented European prospects like Andrei Loshko and Yegor Rimashevsky, or if Ottawa wanted to grab a goalie, Thomas Suchanek and Carsen Musser would be excellent options in the fourth round. This year is a draft full of possibilities, and if you pay attention, you just might witness the Senators find a diamond in the rough.
---
---