There's no question the 2018 NHL Draft could be integral to the Ottawa Senators' rebuild.
Not only do they have the fourth overall pick, but also the 22nd overall pick, acquired as part of the Derrick Brassard trade to the Pittsburgh Penguins in February.
With the fourth pick, the Senators are going to get a top-end player who would ideally be a big part of their core moving forward. They could also get a solid prospect with the 22nd overall pick or trade down in the draft for a more enticing package of picks and/or talent.
With their second and third-round picks traded away, the Senators won't pick again until the fourth round (95th overall).
However, this is a franchise that has a good history of finding some of its most well-known players late in the draft. As an example, look no further than Daniel Alfredsson.
Better Late Than Never
Daniel Alfredsson
You can't say enough about what Daniel Alfredsson has done for the Senators.
He became a legend in Ottawa, but the recent IIHF Hall of Fame inductee wasn't drafted until the sixth round (133rd overall) in 1994, when he was 21.
It became clear the Senators had a special player on their hands when he won the 1995-96 Calder Trophy. A two-time Olympic medalist, Alfredsson played 18 seasons in the NHL, all but one of them with the Sens. He served as captain from 1999 to 2013 and stands as the franchise's all-time leader in goals (426), assists (682) and points (1,108).
Of course, he was a big part of Ottawa's run to the 2007 Stanley Cup Final.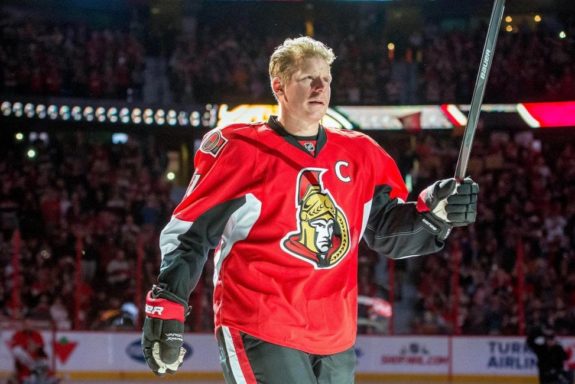 Chris Neil
Say what you will about him being a fighter and not much of a scorer, but there's no denying Neil's cult hero status in the nation's capital.
The 15-year Senator was as tough as they come and became one of the most feared fighters in his era.
He wasn't drafted until the sixth round (161st overall) of the 1998 draft.
Unsurprisingly, he owns the franchise record in all-time penalty minutes (2,522). He may have been well known as a tough guy, but he still carved out a very long career after the enforcer role became obsolete following with 2004-05 lockout. Neil is third in franchise history in games played with 1,026, a mark that trails only Alfredsson (1,178) and Chris Phillips (1,179).
Mike Hoffman
The Kitchener native couldn't cut it in the OHL, so he went out to Quebec for his junior career and didn't get drafted into the NHL the first year he was eligible. On his second go-around, the Senators picked him in the fifth round (130th overall) in 2009 and the club has never looked back.
Hoffman needed four years of seasoning in the minor leagues, but ever since the 2014-15 season, he has been one of their quickest forwards and most reliable point producers. Through four full seasons in Ottawa, the lowest amount of goals he has scored in a season is 22.
Mark Stone
A former Canadian World Junior team member, Stone was picked late in the 2010 draft (sixth round, 178th overall) and followed up with back-to-back seasons of more than 100 points before turning pro.
He shares a few parallels with Hoffman as both have been full-time players with the Senators since 2014 and consistently finish around the 60-point mark. Last season, Stone surpassed the point-per-game mark for the first time as an NHLer with 62 points in 58 games through an injury-shortened season.
He was also a plus-nine on a team that had a minus-70 goal differential.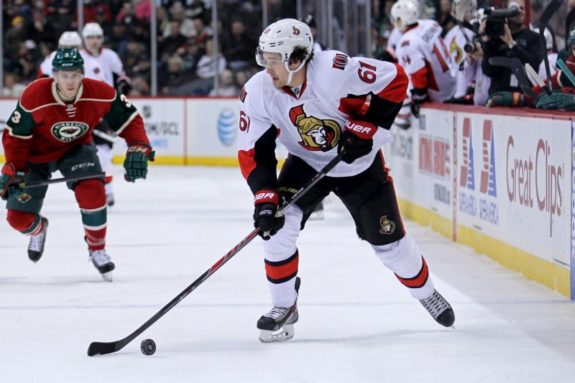 While the aforementioned names are some of the players who have been valuable to the franchise despite being drafted late, there are others who were picked late by Ottawa and excelled elsewhere after they were traded away.
For the most part, these players have had respectable careers, but one move that really stung the Senators was trading away Pavol Demitra, who became a star with the St. Louis Blues.
The Ones That Got Away
Pavol Demitra
Remember when the draft was longer than seven rounds? One of the best success stories from that era was Demitra, a ninth-round selection (227th overall) in 1993.
After playing parts of three seasons with the Senators, the club traded him to the Blues in 1996. With St. Louis, he was a three-time NHL All-Star, a Lady Byng winner and scored a career-high 93 points in 2002-03.
One of the victims in the tragic Lokomotiv Yaroslavl plane crash in 2011, Demitra played in 847 NHL games and made additional stops in Los Angeles, Minnesota and Vancouver.
Sami Salo
Another ninth-round selection (239th overall in 1996), Salo wasn't drafted until he was 22 and didn't start in the NHL until he was 24.
In his first of four seasons with the Senators, he was named to the NHL All-Rookie team. A steady presence on the blueline and three-time Olympian, Salo was traded to Vancouver in 2002 and played most of his 878 career games with the Canucks. He helped them reach the 2011 Stanley Cup Final.
Brian Elliott
Yet another ninth-round draft pick (291st overall in 2003), Elliott got his start between the pipes with the Senators in 2008 and put up promising numbers up until he was traded to the Colorado Avalanche in 2011.
Under contract with the Philadelphia Flyers for next season, Elliott was also successful in St. Louis, where he earned spots in two NHL All-Star Games and finished with the league's best save percentage twice.
Born and raised in Toronto, Iain has been a sports writer with the Mississauga News since 2010 and has been covering the OHL for Hockey Now Magazine since 2015. A graduate of the Centennial College Sports Journalism program, Iain has now signed on to provide Ottawa Senators coverage with The Hockey Writers.