On Sunday, the National Hockey League's Board of Governors approved the framework for the 2020-21 season. Hockey fans from coast to coast can begin the proverbial countdown.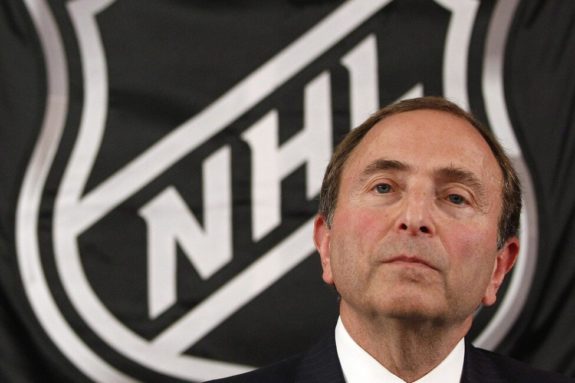 In a week's time, the Ottawa Senators will be holding training camp as they prepare for the season ahead in the NHL's North Division. Although much of the roster is certainly starting to round into form, there are indeed some intriguing jobs up for grabs in Canada's capital city. Without further ado, here's a comprehensive look at three Senators who will be fighting for roster spots when the puck drops on January 13.
Logan Brown, Center
First up is Raleigh, North Carolina native, and one of the Senators most impressive youngsters, Logan Brown. On a Senators' team stacked with game-changing prospects that includes the likes Tim Stutzle, Shane Pinto, Lassi Thomson, Jacob Bernard-Docker, Josh Norris, Jake Sanderson, and Erik Brannstrom (among others), Brown comes in as one of the club's most intriguing talents.
Selected in the first round, 11th overall, back at the 2016 NHL Draft, this is a player who is oozing with potential, but one who has also battled the dreaded injury bug, which has hampered his growth and ability to "prove-it" to Senators' head coach D.J. Smith. If he can stay healthy and play up to his potential, not only should he crack the Sens' opening day lineup, he can also be one of Ottawa's most impactful forwards.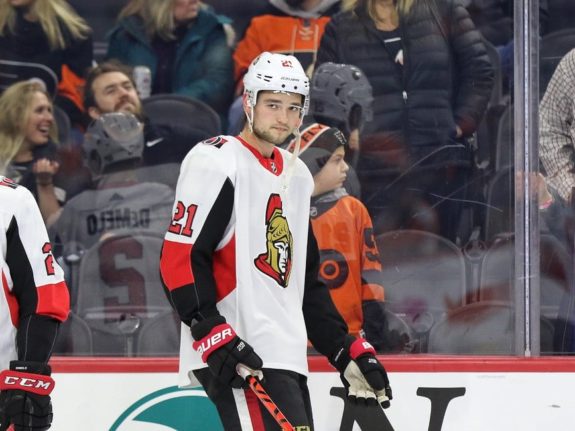 As a player, Brown is as unique a talent as they come. Standing at a whopping 6'6, 227 pounds, he is a physical force on the ice that just screams raw talent and power. A natural centerman, with the ability to play the wing, he'll be in a battle alongside players such as Norris, Drake Batherson, and Artem Anisimov, which will certainly be a tall order. In 28 games last season with Ottawa's AHL affiliate club, the Belleville Senators, Brown tallied seven goals and 28 points in 25 games. If he can get into a groove and stay in the lineup, he can easily be one of the biggest surprises in the NHL — this kid is that good. 
Alex Formenton, Left-Wing
Next up on the docket is speedy winger Alex Formenton. Entering the 2020-21 campaign, this is a player who will be in a key training camp battle, vying for a spot on the left side of Ottawa's forward group, competing with Alex Galchenyuk, Brady Tkachuk, Nick Paul, and German sensation Stutzle not only for a roster spot but for ice-time (and an opportunity) as well. 
After scoring at a near point-per-game pace last season in Belleville (53 points in 61 games played), the time is certainly now for Formenton to secure his place in the Sens' lineup. At 21 years of age, he's a real hard-nosed competitor who loves to get in on the forecheck. His speed is elite, and his scoring touch has improved leaped and bounds in "The A," tallying 27 goals a season ago. Drafted by the Senators in the second round, 47th overall back at the 2017 NHL Entry Draft, I believe he's a real find for an up-and-coming Ottawa team.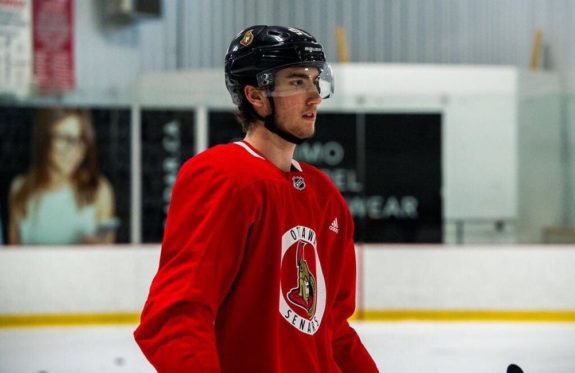 Formenton will also look to follow in the footsteps of teammate Batherson. The two won a gold medal with Team Canada at the 2018 World Junior Hockey Championships in Buffalo, New York, and also played together in Belleville. If he can crack the lineup and retain a spot on a regular basis, look for him to be a formidable presence in Ottawa's top-nine for the foreseeable future.
Christian Wolanin, Defenseman
Last, but certainly not least, is Quebec City, Quebec-native Christian Wolanin. If you look up the term "serviceable defenseman" in the dictionary, you'll likely see Wolanin's name there. After suffering a decimating shoulder injury prior to the start of training camp last season, he played much of the year in Belleville of the American Hockey League and was limited to just three games in an Ottawa uniform. This time around, he's determined to crack Ottawa's top-six on the blue line alongside Thomas Chabot, Mike Rielly, and Brannstrom. 
Still just 25 years of age, Wolanin is a very underrated piece on a vastly improving, physical, and tall defense core in Ottawa. Listed at 6'2, 185 pounds, he's an intelligent player who can move the puck effectively and is a wonderful teammate. He works hard, is strong down low, can log big minutes, and can be relied upon (when healthy) by the Senators' coaching staff.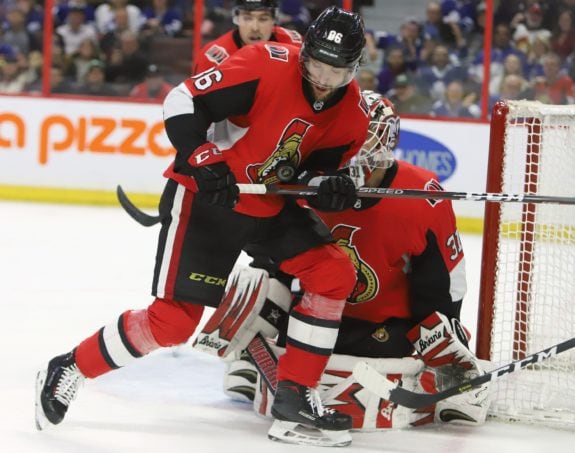 From a statistical standpoint, he has 43 NHL games with five goals and 15 points to go along with 16:44 worth of ice-time. Not too shabby for a guy making $900,000, wouldn't you say? For a team on the rise like the Senators and for a few roster sports certainly up for grabs, I'll take my chance with a player like Wolanin. Senators fans will just have to wait and see how it all plays out when they open training camp in a week's time. 
Lots of Reason for Optimism in Canada's Capital City
After the league and its players' union "signed off" on the 2020-21 season, the Senators found themselves (to the surprise of no one) in the North Division with the other six Canadian teams.
Although a spot in the North's top-four is unlikely this year, perhaps unlike any other will be one on player development and team improvement. Roster spot battles and the privilege of ice-time will be paramount in Canada's capital city this season, not only for Brown, Formenton, and Wolanin but for plenty of others as well. I think the Senators are shaping up to be a real tough out this season under Smith, their second-year head coach. One thing we do know for certain is that it will be fascinating to see how it all unfolds.
---
---
My name is Domenic Lunardo, and I cover all things Blue Jackets here at The Hockey Writers. I am an avid Toronto Maple Leafs fan living in Toronto, with an unmatched passion for the beautiful sport of hockey.