The Hockey Writers and the NHL Alumni Association have teamed up on a new series here at the site – Ask the Alumni. It provides us with the opportunity to shine a spotlight on the business ventures and great charitable work done by the NHL Alumni members, and it gives our readers the opportunity to be a part of the interviews. Each month, a different NHL Alumni member will join us here at The Hockey Writers for an interview and you provide some of the questions!
We have had a great response for our first guest, Lanny McDonald, and that interview will be happening soon; with your answers posted here at The Hockey Writers. You could call our next guest one of the heavyweight champions of the NHL, and the environment. He is very active with several charities and has some exciting new business ventures to discuss.
The Hockey Writers is pleased to announce that our next NHL Alumni guest is Georges Laraque.
We cannot promise that we will be able to use every question submitted, but if you have a question for Georges Laraque – please send it to thwnhlalumni@gmail.com
Georges Laraque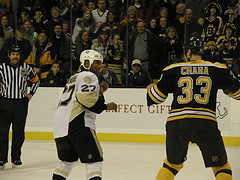 A second round selection by the Edmonton Oilers in 1995 Draft (31st overall), Laraque played 695 NHL games with the Edmonton Oilers, Phoenix Coyotes, Pittsburgh Penguins, and Montreal Canadiens, scoring 53 goals and adding 100 assists during his career. While he may be best remembered as one of the greatest enforcers in the history of the league, it is his charitable work off the ice that teaches us all the importance of giving back to our communities and those in need.
Raised in Montreal, Laraque's family is from Haiti, and after the devastating earthquake in 2010, he took a very active role in helping to raise funds for the relief effort. This video reminds us that the people of Haiti still need our help; working with World Vision and the NHLPA, Laraque is doing all that he can to help rebuild the country.
A member of Canada's Green Party, it was announced in July that he would be taking on a new challenge, becoming the Deputy Leader of the organization. Laraque also supports better treatment of our animal friends and became a vegan in July of 2009.
He is also involved with several exciting ventures with his business partners:
Super Glide North – A company that manufactures synthetic ice surfaces (playing hockey all year – is there anything better?).
Terrasphere Systems – This company has a very innovative approach to help solve environmental issues and worldwide food shortages – vertical farming. Food is grown indoors on vertical racks, which limits the amount of land needed, and it uses limited amounts of power, making the process a perfect fit for countries like Haiti.
Crudessence – With three locations in Montreal, Crudessence is a vegan restaurant that not only serves great food; its goal is to help raise awareness of healthy lifestyle choices. They also have over 300 classes per year, teaching people how to cook and incorporate becoming vegan into their lives.
As you can see, when it comes to Georges Laraque, there is much more to him then hockey fights. He is known as "Big Georges Laraque", but the "big" may in fact refer to the size of his heart.
Visit Laraque's website to learn more about his career, his charitable work, and business ventures, and then send us your question for the next instalment of "Ask the Alumni".
We will be taking questions until November 28th, 2010 at thwnhlalumni@gmail.com
Andrew Rodger is an independent sports columnist and member of the Canadian Association of Journalists. Along with operating The Voice of Sport, he covers the Ottawa Senators and writes the "Ask the Alumni" series here at The Hockey Writers. He is the resident writer for the NHL Alumni Association and a contributor on CBC News Now.