During his playing days, Brendan Shanahan was a no nonsense player. He came to work, did his job, and expected others to do the same. He was as tough as nails on the ice and took no bull from anyone.  As player rep for the NHLPA, Shanahan expected fair and honest treatment from the owners and represented the players to the best of his ability. He was respected by both the players' union and the ownership group for his union work.
It looks like he is taking his new job just as seriously.
Shanahan took over as the NHL's Senior Vice President of Player Safety, a title that puts him in charge of levying suspensions against players. It is quite the change from his previous position, which allowed him to use his creative side to come up with ideas to improve the game.
Shanahan has proven he is more than capable of handling the seriousness of his position, as he handed out five suspensions in the first eight days of the preseason – including four that extend into the regular season.
Columbus defenseman James Wisniewski was the hardest hit. Shanahan sent the Blue Jackets' newest defenseman to the press box for the rest of the preseason as well as the first eight games of the regular season for Wisniewski's elbow to the head of Cal Clutterbuck after the horn had sounded to end the game.
With the Wisniewski suspension, Shanahan sent a clear message: hits to the head will not be tolerated and repeat offenders with face serious consequences. Prior to the most recent incident, Wisniewski had been suspended four previous times – including for eight games in March of 2010. He clearly has an issue with on-ice violence and deserved the suspension, which also will cost Wisniewski over $500,000 in pay.
More important to Columbus fans, the Blue Jackets will miss their big free agent signing for most of the month of October, including seven conference games and two division games (vs. Nashville and at Detroit). He will return to the lineup on October 25 when Columbus hosts the Red Wings.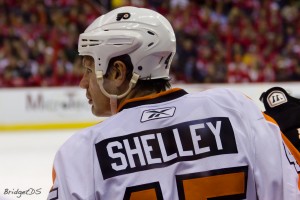 Wisniewski's suspension came on the heels of three other suspensions –Philadelphia's Jody Shelley (another repeat offender) for five regular season games, Minnesota's Brad Staubitz for four regular season games, and Buffalo's Brad Boyes for two preseason games. The message to players should have been loud and clear.
Apparently, the four suspensions (three fairly significant) were not loud enough to reach California, as Anahem's Jean-Francois Jacques left the bench (during a legal line change it should be noted) and skated directly to Vancouver's Mike Duco to start a fight. He received a minor for instigating, a major for fighting, a 10-minute misconduct and an automatic one-game suspension for instigating an altercation in the last five minutes of a game – something that is rarely called.
Included in the five-game ban are Anaheim's games in Helsinki, Finland (against Buffalo) and Stockholm, Sweden (against the New York Rangers). He will lose $17,567.55 in salary.
Through eight days, it certainly appears Shanahan is the right guy to be doling out justice for dirty play on the ice. To give some perspective, only one player (Nick Boynton) was suspended during the preseason in 2010, and that was for one-game for a throat-slashing gesture. Shanahan's quick and decisive actions have sent a clear message to all players, but particularly to past offenders.
In other words, guys like Matt Cooke, Sean Avery, Raffi Torres, Trevor Gillies, Shane O'Brien, and Daniel Carcillo had better be on their best behavior.
Time will tell if Shanahan will continue to hit as hard with suspensions as players are on the ice. If he keeps it up, the NHL may become the first league to really eliminate head shots and Shanahan would be a Hall-of-Famer for more than his play on the ice.
***
Thanks for reading. Steve Kendall is a freelance writer based in Massachusetts. He has covered hockey at all levels for over 20 years and writes a weekly NHL Power Rankings column for The Hockey Writers. You can follow Steve on Twitter at http://twitter.com/#!/skendallhockey.
Please feel free to leave comments and make suggestions for future article topics.
Steve has been a writer for 20 years, and has covered the NHL, NCAA, and amateur hockey for the likes of the Worcester Telegram & Gazette, the Boston Herald, and New England Hockey Journal. Follow me on twitter @stevekendallthw