The San Jose Sharks are a team without a very deep prospect pool, so often times during the World Junior Championship (WJC), they are without much representation. However, this season the team has four players playing for three different nations.
Unfortunately, recent 38th-overall pick Thomas Bordeleau will miss this year's tournament due to COVID-19's close proximity. However, the team does have some high potential skaters playing in this year's tournament. With two forwards and two defensemen playing this year, a good portion of the Sharks' future will be on full display.
D Artemi Kniazev
In the 2019 Draft, the Sharks used their first pick to select Artemi Kniazev at 48th overall. So far, this pick looks to be a great one. He had a 13 goal and 34 point 2018-19 season for the Chicoutimi Sagueneens in 55 games ahead of the draft. He built upon that and put up 11 goals and 43 points in 51 games in the most recent Quebec Major Junior Hockey League (QMJHL) season.
This season he has returned to his native country of Russia, and had an injury-riddled season. He had four points in five games in the Russian junior league with Bars Kazan. With Irbis Kazan in the second division he had a goal in two games.
His skating is his greatest asset, as Chris Legg of DobberProspects wrote following his selection by the Sharks, he's "a smooth skating defenseman, he fits the mold of the modern NHL puck moving defenseman. If he can work on his instincts and make better decisions on when to rush up ice and when to stay home, he could become a solid top four defender one day."
Russia lacks defensive depth heading into this WJC, and it is likely Kniazev plays as a top-four defenseman role. This is absolutely key, and he must produce for the Russians for them to succeed, and indicate he is a future top-four defenseman in the NHL.
C/LW Yegor Spiridonov
Unfortunately for Yegor Spiridonov, the Russian junior team is loaded with forwards. However, his defensive reliability, and flexibility to cover multiple positions makes him a valuable player.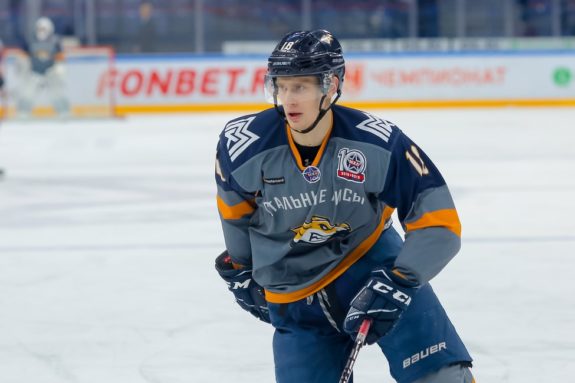 His selection is not shocking, after playing three games already this season with Russia. He unfortunately did not produce any points. In a recent article on Spiridonov, I emphasized that he needed to produce more offensively at the MHL and VHL levels. In the MHL, the Russian junior league, he has two goals and six assists in seven games with SKA-1946 St. Petersburg team. At the VHL level, the second division of Russian hockey, he had two goals and an assist in three games. He did not have any point production in two KHL games.
Unfortunately, between national team games and required quarantining, Spiridonov has not played as much as one would want, but his near point-per-game production in Russia is nice. It is not the towering point total seen from top prospects, but that is not who he is. He is a solid and defensively reliable forward that excels on the penalty kill. His versatility in playing both winger and center is excellent as well.
Given the Russian's forward depth, it is likely Spiridonov only plays on the fourth line, and probably time on the penalty kill. He will play in a role which he excels, and has a chance to leave his mark on the international stage.
D Santeri Hatakka
Santeri Hatakka was drafted with the Sharks' final pick in the 2019 NHL Draft, 184th overall. He's a Finnish defenseman on a solid squad that has some quality pieces. Hatakka is likely to be the second pairing left defenseman, behind Winnipeg Jets' prospect Ville Heinola.
Obviously, a recent sixth-round pick is not all that head-turning, but the Sharks should be excited to see him at the tournament. Hatakka currently plays for Ilves Tampere of the top Finnish professional league, the SM-Liiga. The club is currently tied for first in the league, and as the youngest defenseman on the team, Hatakka is a consistent second-pairing defender. Although scoring is not a huge part of his game, in a fully healthy 19 games so far, he has one goal and three points.
Hatakka is a two-way defenseman who excels in transition and joining the offensive rush. His biggest need is to improve his general puck-moving and puck-handling ability in order to be an offensive presence. He is defensively reliable and an excellent skater.
For the Sharks, Hatakka could possibly be the most defensively reliable prospect they have. Considering the team's most recent draft class was all forwards, and the team does not have many defensive defenseman in its prospect pool, it is important that Hatakka succeeds. Defensive reliability against top junior forwards would indicate he is the defensive prospect the Sharks could need in the future.
LW/RW Adam Raska
Adam Raska was an intriguing pick in the 2020 Draft, and will be the only 2020 Sharks pick at the WJC. Raska played his first ever season in North America in 2019-20, after spending every other season in the Czech Republic.
Given the Czech's lack of forward depth, Raska could find find himself in the top-six forward group. In the QMJHL with Rimouski Oceanic, he had 13 goals and 21 points in 35 games. He also played five games in last year's WJC, but recorded no points. This season with the Czech U20 team he has three points in three games.
Raska is quite similar to Spiridonov, in that his best quality is his defensive ability. He is also an aggressive player, and always brings physicality. He lacks elite skill, but definitely makes up for it in grit and determination. Central Scouting had him ranked 112th among North American skaters in the 2020 Draft, but THW's rankings had him much higher.
Raska is in an intriguing spot currently. His play style lends itself to being more of a role-player who needs to be solid defensively. However, his team's lack of forwards puts him in a spot to get lots of ice time, and potentially playing with a quality player like Jan Mysak. Overall, Raska projects to be more of a depth player, but scoring upside would prove he is a great two-way player.
What to Look For
I think the two defensemen for the Sharks will be intriguing to watch. Hatakka has played quite well for a quality Finnish league team, so assessing him against the top talent in his age group will be indicative of his development. If Kniazev slots into a top-four defenseman role for Russia, that would be key to revealing if he has ability to defend against top talents.
The forwards are mainly defense-first guys, which is perfect to supplement the incredible offensive class the Sharks had in 2020. Overall the Sharks should be eager to see how their prospects stack up against the future of professional hockey.
---
---
Josh is a young writer from the Bay Area, who now studies journalism at San Diego State University. In addition to covering the Sharks and Gulls for THW, Josh is a crossover scout at FCHockey and covers his school's hockey team at TheDailyAztec. When not obsessing over hockey, Josh loves blasting music with friends, theatre, and playing with his dog. Follow Josh on Twitter for his latest takes on the Sharks, Gulls, and NHL Draft!