Markus Nutivaara has been suffering from a hip injury and as a result, he missed the entirety of the 2022-23 season, which would've been his first with the San Jose Sharks. In a tweet on Sunday morning, Curtis Pashelka of the Bay Area News Group stated that it sounds like the Finnish defenseman's career may be reaching a premature end. As a seventh-round pick in the 2015 NHL Entry Draft, the odds were stacked against him however he made it to the NHL very quickly and became a legitimate contributor at the highest level of hockey. While he hasn't been a household name, Nutivaara has had a career that he should undoubtedly be proud of.
His Beginning in Columbus
Nutivaara was a seventh-round draft pick of the Columbus Blue Jackets in 2015. Oftentimes a player in that position takes many years to reach the NHL if they ever do at all. He was able to make it to the league quickly though, making his debut against the Boston Bruins on Oct. 13, 2016. As a bottom-pairing defenseman, he didn't make a major impact in his rookie season however he solidified himself as a player who certainly belonged at that level.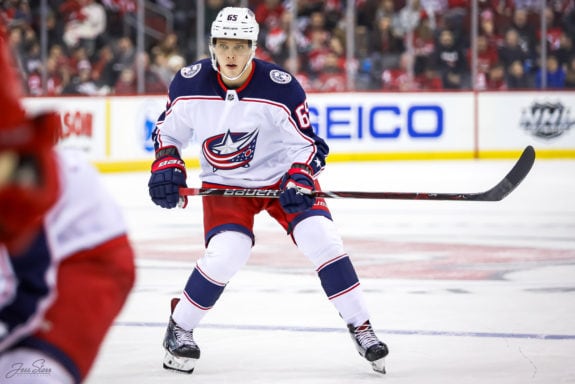 In his second and third seasons in the NHL, the Oulu, Finland native started showing the offensive side of his game; putting up a total of 44 points over those two seasons. After his sophomore season, he was rewarded with a four-year contract extension with an average annual value of $2.7 million. He would only spend two of those four seasons with the Blue Jackets though. Unfortunately, his health continued to be a storyline of his career, as he only played more than 66 games once which was when he played 80 during the 2018-19 season.
---
Latest News & Highlights
---
Joining the Panthers and Sharks
Following the 2019-20 season, the Blue Jackets needed to make some moves and as a result, Nutivaara was traded to the Florida Panthers for forward Cliff Pu. Pu played a few games in the American Hockey League for the Cleveland Monsters before ultimately signing with Kunlun Red Star of the Kontinental Hockey League for the 2021-22 season. Nutivaara on the other hand, seemed like a strong addition for the Panthers however health remained an issue. He spent two seasons with the organization, however, he was only able to play a total of 31 games during his time in Florida. Although he did have 11 points in that period of time, a player is only useful if he's able to play, so as a result the Panthers didn't renew his contract and he entered unrestricted free agency. 
Related: 3 Teams for Sharks Fans to Cheer for in the 2023 Playoffs
During the 2022 offseason, Nutivaara signed a one-year contract with the San Jose Sharks and was looking to show that he still had more left in the tank. Unfortunately, an injury in training camp cut his season short, and he was never able to make an appearance in a teal uniform. It's far from certain that his NHL career will be ended by this injury, but it's definitely going be a difficult return to the league if it is in fact possible. Nutivaara has overcome the odds already in his short career though, so there seems to be an opportunity for him to do it again. Players make it to the NHL through hard work and determination, and as a former seventh-round pick he had to show tenacity and a strong work ethic to get even a small chance. If there's any opportunity that he can return to the league, his previous track record shows that it seems like he's going to do what it takes to make it a reality.