The National Hockey League turns 100 this season, and the only player who's played longer than that looks set to stay in the league as it enters its second century of operation. Yes, rumour has it that Jaromir Jagr is in negotiations with the Florida Panthers to return for another season in the Sunshine State.
I've been told Panthers are indeed in ongoing contract talks with Jaromir Jagr/agent as @PierreVLeBrun first reported. #flapanthers

— Harvey Fialkov (@hfialkov) June 7, 2017
Why the Panthers Should Re-Sign Jaromir Jagr
And who could blame him? At 45 years of age, Jagr finished fourth in team scoring this season, playing all 82 games along the way. His 46 points aren't exactly mind-boggling, but he, along with the rest of the Panthers, were snake-bitten offensively all season long. Against a league average of about 9 percent, the Panthers shot 7.76 percent this season (all situations). Likewise, Jagr, a 13.8 percent shooter heading into 2016-17, scored on a career-low 8.8 percent of his shots. So Jagr, much like the Panthers, likely had much more to give.
Jagr More Than a Passenger
Some might say that Jagr has only posted such incredible numbers at his age because he is being dragged along by his teammates. It is hard to disagree, particularly when you consider Jonathan Huberdeau and Aleksander Barkov are his most common linemates – even despite Huberdeau missing 51 games due to injury. Jonathan Marchessault, he of 30 goals, took Huberdeau's spot on Jagr's line throughout much of Huberdeau's absence, so it's not as though there was a huge drop-off in the speedy young talent Jagr was playing with.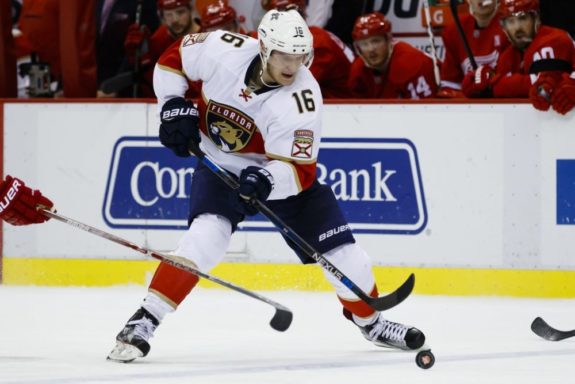 And yet, even spending most of his time alongside three of Florida's top four offensive threats (although leading scorer Vincent Trocheck was not exactly a stranger on Jagr's line), Jagr's numbers place him amongst his team's top players. Of Jagr's 30 helpers in 2016-17, 20 were primary assists, second on the team behind linemate Barkov.
Wondering if he's just a power play specialist? Almost three-quarters of Jagr's 46 points came at five-on-five, including 17 primary assists (five clear of the next-closest Panther).
Don't Miss – Jaromir Jagr In Quotes
Jagr a Modern Man
Moreover, on a team with only marginally positive possession numbers, Jagr posted very healthy 53.9 Fenwick For and 54.9 Corsi For percentages. Of all goals scored when Jagr was on the ice, Florida tallied 55.8 percent of them, a spectacular showing for any player, let alone an offensive forward on a team that couldn't score (23rd in Goals For, despite averaging the third-most shots per game), couldn't defend (20th in Goals Against, despite a decent team Save Percentage) and which had the NHL's 23rd-ranked Goal Differential (minus-27).
On the psychological side of things, Jagr is a man who has expressed a desire to play until 50 (or is it 60?). His commitment to fitness is the stuff of legends (he lost 20 pounds last summer, redesigning his body to make himself even more competitive) and this work ethic, combined with his unparalleled breadth of experience playing in every situation imaginable, can be nothing but beneficial for the stable of young talent the Panthers have so painstakingly developed.
So go ahead, try and talk Florida out of re-signing him.
Why the Panthers Should Not Re-Sign Jaromir Jagr
Here, let me help:
Jagr Holding Leadership Torch
It's no secret Jagr has blossomed as a leader in South Florida. Not only is he still a very effective NHL player, his personability and work ethic has undoubtedly been beneficial for the Panthers' young core have amassed. The experience and leadership he provides is doubly important, given the constant tumult surround the Panthers organisation.
However, at some point, the torch will have to be passed on to the youngsters; at some point, they will have to set out on their own. Not to mention the fact everyone instinctively identifying Jagr as the de facto leader of the Panthers is a giant middle finger to Derek MacKenzie, the 36-year-old journeyman whose drive and determination to make and stay in the NHL, while being a mentor for younger players, led the Panthers to name him team captain.
And it was a similar story with Willie Mitchell, who was captain before MacKenzie. Sure, they have the letters, but Jagr has undoubtedly been the face of the franchise since his arrival in 2014-15. So when, exactly, will someone else, let alone a young player like Ekblad, finally be handed the reins?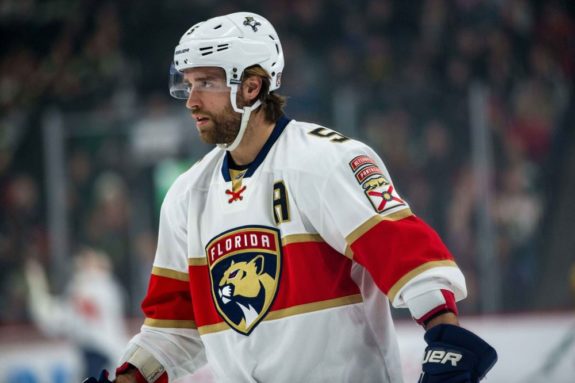 Not that Jagr's leadership qualities are a bad thing. One just has to question the wisdom of relying so heavily on a player that could sign elsewhere at any time, having shown little hesitation in being a mercenary during his career. Even if he stays with the Cats, is he really part of their long-term plan?
Panthers Salary Cap Considerations
The expensive, long-term deals of Aaron Ekblad, Jonathan Huberdeau, and Reilly Smith kick in this fall, joining Keith Yandle, Aleksander Barkov, Vincent Trocheck, Roberto Luongo, Jason Demers, Nick Bjugstad and Jussi Jokinen as Panthers players making more that $4 million dollars against the cap.
Additionally, this offseason, Florida needs to either re-sign or replace free agents Alex Petrovic and Mark Pysyk, who were both pleasant surprises on the back end. And as for next summer, the Panthers will have to pony up to re-sign projected stalwart defenseman Michael Matheson, whose entry-level deal pays him $925,000, not to mention 30-goal scorer Jonathan Marchessault, who current makes a paltry $750,000.
I would suspect some of the Panthers' salary cap mess will get sorted out in the upcoming expansion draft, but I cannot imagine Florida being overly enthusiastic to give Jagr anywhere close to the $4 million, performance bonus-laden contract he had this past season, especially if he wants more than one year (contracts signed when a player is 35 years or older cannot be buried or bought out).
Simply put, if the Panthers are smart, Jagr will get a better offer from elsewhere.
What Style Will Panthers Play?
It's no secret Jagr's skating isn't what it used to be. At 45 years old and hauling around a 6-foot-3, 230-pound frame, Jagr's footspeed is suspect. That said, his possession numbers suggest that, paired with the right linemates, he can still have a significantly positive impact on his team. And good luck getting the puck off him if he puts his big behind into you.
However, the Florida Panthers have shown the past year or so that they are unafraid of aggressively pursuing progressive, experimental lines of thinking, even at the expense of proven coaches and general managers. So when they see teams like the Pittsburgh Penguins and Nashville Predators – teams that are fast above all else – having success, one has to wonder if the Panthers see Jagr as a liability, especially considering that the rest of the Panthers forward corps is quite fleet of foot.
The Panthers will have a new head coach for 2017-18, so attempting to predict Florida's style of play in 2017-18 is nothing more than guesswork. But if the organisation's young blood, who are wholly unbeholden to the hockey establishment, gets its way, I would imagine Jagr will find himself on the outside looking in.
Potential Landing Spots for Jagr
On the other had, Jagr's offensive skills and short career horizon might suit other teams quite well.
Take the San Jose Sharks, for instance. The Sharks are an older team on the front end (assuming they bring back one or both of Joe Thornton and Patrick Marleau, both unrestricted free agents), whose promising young talent (players like Tomas Hertl and Joonas Donskoi) has not panned out offensively. Thus, already a defensively sound team, the Sharks, who play a slower, cycle-heavy game, could use a temporary jolt of offense to stay competitive while their next wave develops.
Another option is the Vegas Golden Knights. The charismatic Jagr would be an instant hit in Las Vegas, and would be as good a marketing tool for the NHL's newest market as the league could ever hope for. Add to that the fact that he would likely be one of the top offensive threats on the first-year squad, and the fact said squad will have few expectations to live up to, and Jagr, a UFA this summer, might relish the opportunity to go to a brand-new market and just have fun.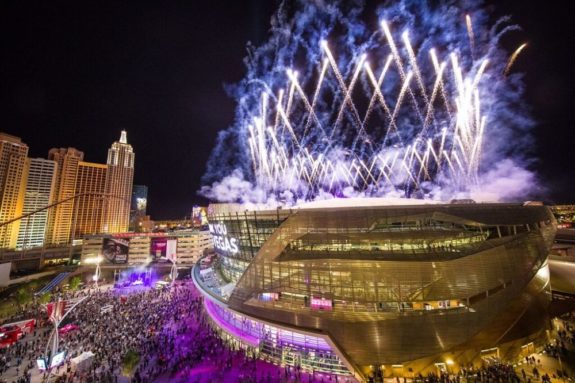 It should also be noted that Nevada, like Florida, has no state income tax, making it an even more attractive destination for Jagr. On the other hand, it is also a major centre for gambling, something Jagr, given his history, might be keen to avoid.
Jagr Decision Too Close to Call
I'll be honest: I was horrified when I heard the news that the Panthers were in talks to re-sign Jaromir Jagr. His age, footspeed and decline in production were too much of a gamble, in my book. But the more I looked at the numbers, the harder it became to argue against at least trying to keep the living legend around.
Despite his advanced age, he hasn't played fewer than 73 games in a full season since 2001-02 (he played 45 of 48 games in lockout-shortened 2012-13). If Jagr had a career-average shooting percentage this year, he would have had 25 goals, rather than 16. If his teammates had had average conversion rates themselves, his point totals would have been very similar to the 66 he led the Panthers with in 2015-16. And he is arguably even more impressive on the analytics side of things.
So is it wise for the Panthers to ask Jagr back? Sure, why not. Would he be a good fit in some other locales? Absolutely. Wherever he ends up, he'll bring not only his skills on the ice, but his jovial demeanour – and exemplary work ethic – off it. He is both a gate attraction for fans and a magnet for the media. And he just might break 2,000 points before it's all said and done.
But will he do so in South Florida? The Jaromir Jagr sweepstakes are too close to call.
(All advanced stats are thanks to Puckalytics. All metrics are at five-on-five unless otherwise specified. All line combination information is courtesy Left Wing Lock. All contract information is courtesy CapFriendly.)