The Toronto Maple Leafs have 19 players with contracts expiring this summer. Now obviously most of the UFA players will be let go while most of the RFA players will be signed. Out of all the players that have expiring contracts only Peter Holland gave me pause. How much should the Leafs re-sign Holland for? Where would he even fit in the lineup? Do the Leafs even need him?
How Much Would Peter Holland Sign For?
Contracts are generally based on a few factors: age, season stats, position, potential to improve, and how long a team wants the player. Peter Holland currently sits in the middle for each factor. He's only 25 years old, so he's neither young or old. He finished the season with 27 points in 65 games while mostly playing a third line role, so he doesn't fit in the top six or bottom three of the lineup. As for potential, does anyone really see Holland becoming a top six player for the Leafs? Last season he finished with 25 points in 62 games which seems to show that he's hit his peak potential.
So from this it can be assumed that Holland will just have a role in the Leafs' bottom six and will continue to have seasons similar to this year. The next stage is finding players that are comparable to Holland and see what type of contracts they received to then have an estimate on Holland's possible contract. Two players that stuck out as being very similar Holland were Darren Helm and Lars Eller. Now each of them plays differently, but each plays a third line role on their respective teams.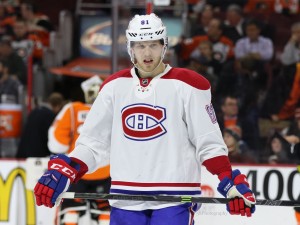 Eller is 26 years old and has posted similarly consistent seasons as Holland. This season Eller finished with 26 points and 27 points in 2014/15. Now Eller is two years into a four-year deal that has an annual value of $3.5 million. Players in bottom six roles are often used on the penalty kill or in the defensive zone, but $3.5 a year is still an over payment.
So the next best comparable would be Helm. He is in the last year of a contract he signed at about the same age that Holland is now. A contract length of four years and an annual value of $2.125 makes it a very cheap deal when compared to one like Eller's. Helm has also posted similar numbers to both Eller and Holland, with 26 points this season and 33 points in 2014/15.
So the best case for the Leafs would be signing Holland to a four-year deal with an annual value around $2 million.
 But Do The Leafs Even Need Him?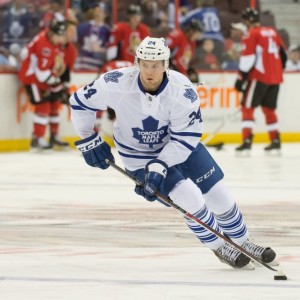 Signing Peter Holland to a cheap contract around $2 million annually isn't the issue, but rather the length. With all the talent that the Leafs have on the Toronto Marlies, would Holland even last four years before being pushed out of the lineup? It seems unlikely considering players like William Nylander, Zach Hyman, and Nikita Soshnikov have already shown that they deserve to be in the Leafs' lineup next season. That's not even including players that could very easily make the team out of training camp.
The other issue is that there is already no room at center for Holland. The Leafs already have Nazem Kadri, Tyler Bozak, and Nylander at center. Then there is Brooks Laich and Byron Froese that will compete over centering the fourth line. So there's the option to just move Holland to the wing permanently, but there is still the same issue of having multiple players competing over the same spot in the lineup.
Holland has unfortunately shown that he is replaceable in the role he plays. The Leafs have so many players with the Marlies that will be working hard to make the Leafs' lineup next season, so it might be in everyone's best interest to move Holland at the 2016 NHL draft and give him a chance with another team.
Toronto Maple Leafs contributor for The Hockey Writers.
I've been a fan of the Toronto Maple Leafs since I was a kid and have always had an interest in writing. At The Hockey Writers, I get to enjoy both of my passions as well as writing about small convoluted details in player contracts and stats.