Free agency has come and gone, training camps are about to open and summer is almost over. Somehow, Jaromir Jagr still hasn't been signed by a team.
The legendary winger has remained a free agent since July 1, when the Florida Panthers let him walk. It's amazing that not a single team in the NHL believes he has enough left in the tank to contribute to their season. That's a shame, because despite being 45 years old, Jagr can still contribute. The future Hall of Famer scored 16 goals and 30 assists in 82 games last season. While obviously not elite totals, those numbers are solid enough to earn him an NHL roster spot. According to CapFriendly, he was on a 1-year, $5,515,000 contract last season.
A Storied History
Since being drafted fifth overall in 1990 by the Pittsburgh Penguins, Jagr has built a long and impressive resume. Some of his biggest achievements are playing for eight different teams, winning the Stanley Cup twice, collecting five Art Ross Trophies, earning the Ted Lindsay Award three times, and being named to the all-star team eight times. He's also posted five 100-plus point seasons.  Currently, Jagr sits number two on the all-time scoring list behind only Wayne Gretzky. With all these accolades, it's crazy that nobody's signed the winger.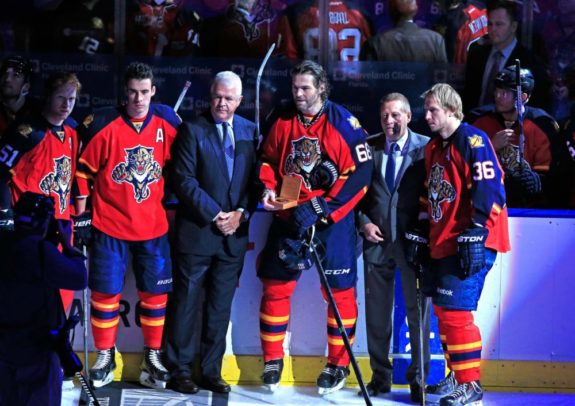 That's where teams are making a mistake. They're missing out on a solid veteran who can still put up points on a cheap contract. Although Jagr wants a long-term deal, the best he'll get is probably a one-year contract. The reason is Jagr's age; he's definitely slowed down, and while his point totals indicate he can still play, it's only downhill from here.
Although he works extremely hard and keeps himself in great shape, it's fair to be concerned over his performance with every passing year he chooses to stay in the league. He won't light up the league anymore, but he can definitely be a role-player, an excellent mentor for younger players and a solid contributor on the scoresheet. As a result of his lack of speed, he may not be suited for a top-six role anymore either, but considering how much he just wants to play, he would probably be happy in a middle or even bottom-six role.
Extending Jagr's Career
This is where the Minnesota Wild come in. This offseason, one of GM Chuck Fletcher's biggest concerns was boosting his bottom-six depth. He tried to address this by bringing in Marcus Foligno and Tyler Ennis, but that was more of a lateral move. Jagr is unquestionably an upgrade over anyone in the Wild's bottom- six, providing a bigger offensive punch. He can also slot in on the Wild's second power play unit and make it deadlier- his eight power play goals last season led the Panthers.
In a third-line role, if used effectively, Jagr can still score and won't need to skate heavy minutes. Setting him up with linemates such as Mikko Koivu and Marcus Foligno (potentially bumping Tyler Ennis down to the fourth line) would still allow him to produce and give him the opportunity to rest his legs. More rest could increase his longevity and keep him fresh for a deep postseason run.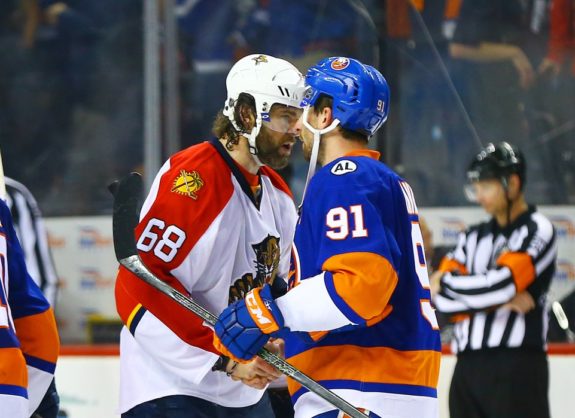 Of course, there's the question of whether Jagr would even want that role. Unfortunately, the Wild's top two lines have been set in stone. As much as he wants to play, Jagr is pragmatic. The chances that he would accept a reduced role are high, especially since no current GM is willing to sign him long-term. If he wants another NHL job, he'll be forced to settle for less.
There's also the benefit of a true veteran presence that signing Jagr would provide; he's a proven winner. For a team with plenty of young players that hasn't made it deep into the postseason, Jagr could help immensely. He's been through every possible situation during his career, and his experience is second to none. He can mentor the young  players, and his positive locker room presence is always a bonus.
Less is More
If Jagr is willing to settle for a lesser role and the Wild can sign him for cheap, he can be an invaluable asset. He boosts their bottom six and eliminates a huge problem with their depth scoring. He also adds experience and can help take the team to new heights in the postseason. Working under a great coach in Bruce Boudreau, Jagr would have the opportunity to still be an important part of a team. The Wild aren't slouches either; they've made the playoffs every season since 2013. They just haven't been able to go deep, and Jagr can help them do that.
Jagr has been in the playoffs only twice since coming back from the KHL in 2012, and his stats aren't eye-popping. In 2012-13 with the Boston Bruins, he played in 22 playoff games and only scored 10 assists. His next trip to the postseason came with the Panthers last season. He played in all six of Florida's games, earning just two assists as the Panthers were eliminated by the New York Islanders.
Although these numbers are concerning, it's fair to wonder how much fatigue was involved in Jagr's poor play. He played in a top-six role in both Boston and Florida, and it's very likely that the grind of a long season wore him down. By taking on a reduced role, he would be much fresher for the playoffs, and able to contribute more effectively. He could also play a much more flexible role in the lineup, moving up to a top-six spot in the event of an injury to supplement Minnesota's offense.
Jagr Knows Best
At the end of the day, it's really an unknown in terms of what exactly Jagr wants for his career. Although he's said he wants a long-term deal, it wouldn't be the best thing for him or any potential suitors. A short-term deal with the Wild is a move that makes sense. Signing with the Wild benefits both parties-the Wild immediately add depth and get a scoring threat, while Jagr gets to play for a good team that can contend in the playoffs.
Even if he doesn't end up signing with the Wild, hopefully Jagr will sign somewhere soon. Nobody wants to see the star winger left out in the cold.