The Washington Capitals may have lost key players to free agency this offseason, but they believe the pieces they already have can help carry them closer to the Stanley Cup.
Coming into this season, Washington will be relying on their roster, as well as their prospects, to step up and fill the holes in order to keep their playoff aspirations alive. In turn, many of the Capitals' young assets will be looking to make an impact and make their way up the lineup.
Tom Wilson is just one up-and-coming winger who is eyeing more ice time this season. He finished 2016-17 with a bang, boasting an outstanding performance through the Capitals' short-lived postseason. However, what will it take for him to earn a promotion?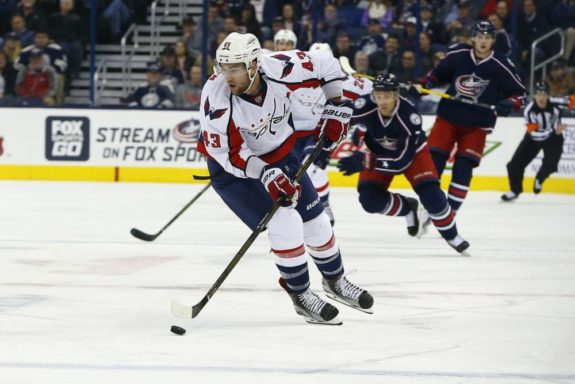 The Evolution of Tom Wilson
Wilson first broke onto the scene playing Midget Hockey in Toronto, where he had 44 goals and 105 points through 73 games with Toronto's Jr. Canadian AAA team. His breakout season, as well as his physicality, size and work ethic, led him to the OHL, where he suited up with the Plymouth Whalers.
In his pre-draft season, the 6-foot-4, 217-pound forward racked up nine goals, 27 points and 141 penalty minutes in 49 regular season games. However, it was his postseason performance that caught the eye of many, as he had seven goals and 13 points in just 13 playoff games with Plymouth.
When Washington took him 16th overall in the 2012 NHL Entry Draft, they were more focused on his physicality and hard-hitting game than his scoring. Still, he showed an offensive flare and the ability to produce, and that was enough for the Capitals to sign him to an entry-level contract less than a month later.
He returned to junior the following season, putting up 58 points in 48 games, and finally, he cracked the NHL roster to kick off the 2013-14 season. Despite his lack of offensive production at the NHL level, he proved to be a huge physical asset and a solid defensive forward.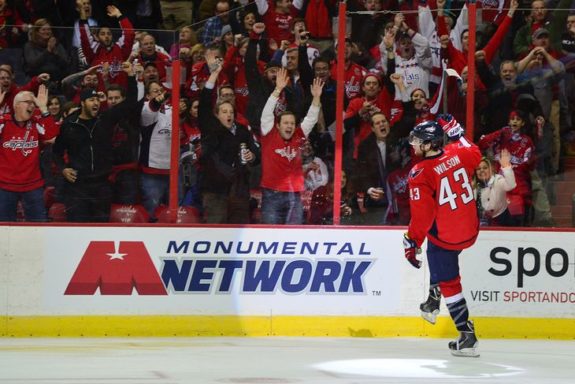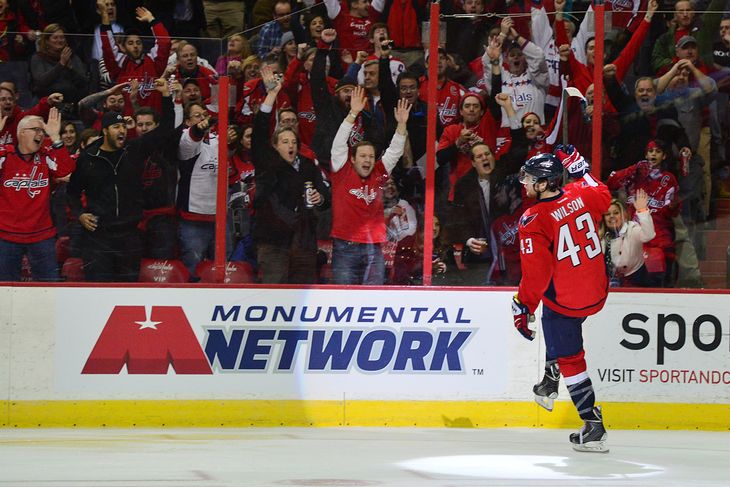 Wilson's highest-scoring season with Washington came in 2015-16, where he had seven goals and 23 points through 82 games. Despite the fact that he doesn't contribute much offensively, he throws plenty of hits and adds a lot of toughness to the Capitals' lineup. In addition, his two-way style helps him backcheck effectively, and he is not afraid to drop the gloves or engage in battles for the puck.
Overall, through his short NHL career so far, the 23-year-old winger has become an asset among the bottom-six. He is a physical, solid two-way player who plays a rough-and-tumble game and can bail his team out, and he is still growing. However, how can he elevate his game?
Moving On Up
When it comes down to is, Wilson must add more offensive edge to his game to get more ice time. While he can get by playing a physical game and dropping the gloves, he must also do more to stand out. In order for any kind of player to earn top-six minutes, they must be able to score goals and create offensive opportunities.
For a player of his caliber, adding offense can be as simple using his size to his advantage. He possesses the perfect NHL frame and should work on being a more solid presence in front of the net. This will not only help him act as a screen, which in turn leads to scoring chances, but he can pick up deflections and rebounds, and be an asset on the forecheck.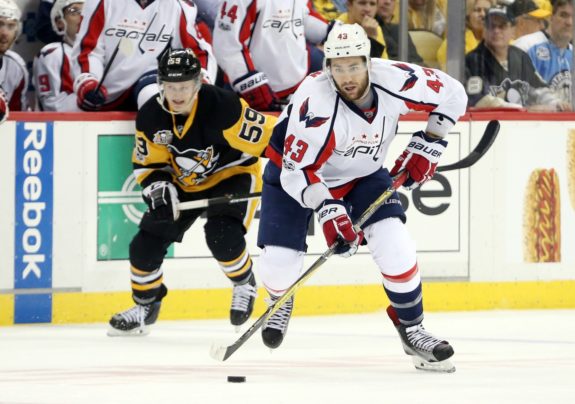 While he doesn't average enough ice time to increase his impact, he should be shooting the puck every chance he gets. He takes very good care of the puck, rarely turning it over, and with his ability to take control of the play and maintain possession, he should be carrying it up ice and getting shots on goal.
Additionally, he must work on his skating. Though he is still able to backcheck effectively, and though his physicality and defensive play compensate for his flaws, the Toronto native would be a much better player and be more adept at jumping into the play to carry the puck if he can build on his skating ability.
Lastly, he will have to compete with Andre Burakovsky and Jakub Vrana for more minutes. There are many vacancies on the Capitals' forward lines this season, including two spots on the second line. While Wilson may not have enough fire power to start the year in the top six, he could slot into a spot on the third line and work up from there.
Bottom Line
There are many ways that Wilson can emerge as a more prominent member of the Capitals' forward lines, but he will have to get more involved offensively and add an edge to his forecheck. Right now, he is a solid physical asset but that makes him more of a utility player and will not win him more ice time. If he wants a promotion, he will have to prove his worth and show that he can take advantage of more ice time.
Sammi Silber covers the Capitals beat for The Hockey Writers and is an NHL contributor with Sporting News. She has also contributed to USA TODAY College, Huffington Post, FanSided and the Nation Network. Silber has written four books and recently worked on graphics for the film, The California Golden Seals Movie.