Though they enter the 2017-18 campaign without a lot of their old pieces, the Washington Capitals are still ready to prove they are Cup contenders. However, a huge part of their success this season will depend on the performance of their up-and-comers and prospects, who are expected to fill the holes.
One of the players they will be watching closely is Andre Burakovsky. The 22-year-old, who spent the majority of his time in the bottom-six over the last three seasons, is prepping for his fourth season in the NHL. Coming off his entry-level deal in 2017-18, Burakovsky will have to take on more responsibility and live up to the Capitals' expectations.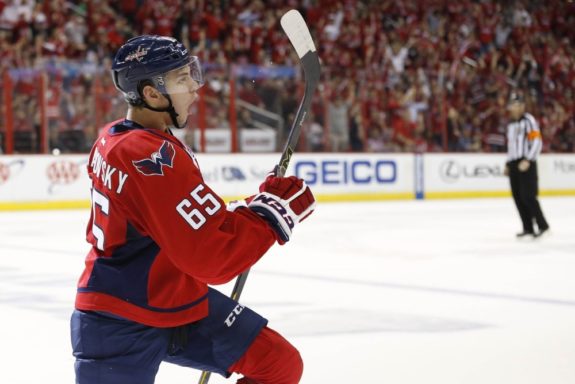 This year, he is expected to make the jump to the top-six, considering second-line contributors Marcus Johansson and Justin Williams are no longer with the team. With the promotion, the Austrian-born Swede will have to start putting up higher totals to prove he is a top-six winger. Given his skill set and growth over the years, as well as his new contract, the Burakovsky should be ready for a breakout year.
Burakovsky Living Up to Potential
Playing his pre-draft seasons in Sweden, Burakovsky put up outstanding numbers and averaged over a point per game. Thanks to his speed, stickhandling ability, and offensive acumen, the Capitals drafted Burakovsky 23rd overall in the 2013 NHL Entry Draft. But back then, Washington didn't recognize what a steal he would be later on.
Following the draft, as well as a strong showing at development camp, the Caps signed Burakovsky to a three-year, entry-level contract, and general manager George McPhee encouraged him to play in North America with the OHL's Erie Otters. While management hoped this would help him transition to the North American style of hockey, he exceeded their expectations and had a standout campaign in 2013-14, posting 41 goals and 87 points in 57 games with the Otters.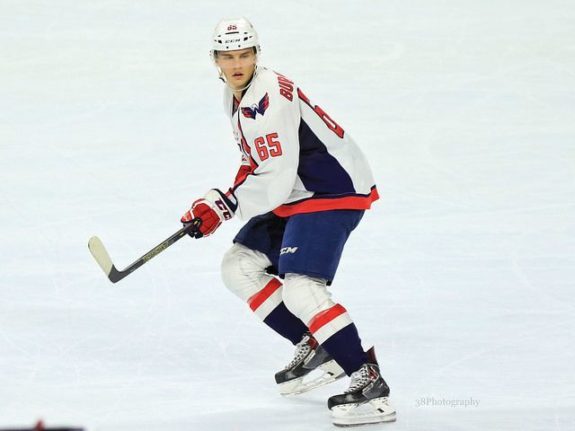 His remarkable production and tremendous strengths would carry over to the next season, and he cracked the Caps' opening night roster without having to develop in the AHL. Burakovsky suited up for 53 games with the Capitals in 2014-15, registering nine goals and 22 points.
Since then, Burakovsky has become an important part of Washington's bottom-six, providing depth and stability. This past season, he was limited to 64 games due to a wrist injury and managed 12 goals and 35 points. As he prepares to take on more ice time and a bigger role with the organization, he is bound to put up higher numbers and again exceed expectations.
Making the Top-Six Jump
When it comes to Burakovsky's skill set, he has great hands and can work magic with the puck, and is able to play on either wing. In addition, he can unleash a rocket of a shot, and that should help him in the goal-scoring department.
Not only is the 6-foot-3, 205-pound winger a force on the forecheck, but he is able to perform well at both ends of the rink. He takes great care of the puck and uses his size to his advantage, and he is well-adept at withstanding the rough-and-tumble NHL environment and matching up with the opposition.
However, there is room for him to grow. First off, he is not the most physical player and could stand to throw his weight around a bit more. This will not only add to his value but help him win more puck battles. In addition, he needs to put up more consistent totals, as he is streaky.
Still, given his talent, Burakovsky will transition well to the top-six and pull his weight on the second line. First off, he is a hard worker who has proven his worth and ability to grow at all levels of hockey. Not only that, he has exceptional talent, and with more ice time, he will thrive and get to show off more of his offensive ability. In turn, more minutes will increase his confidence.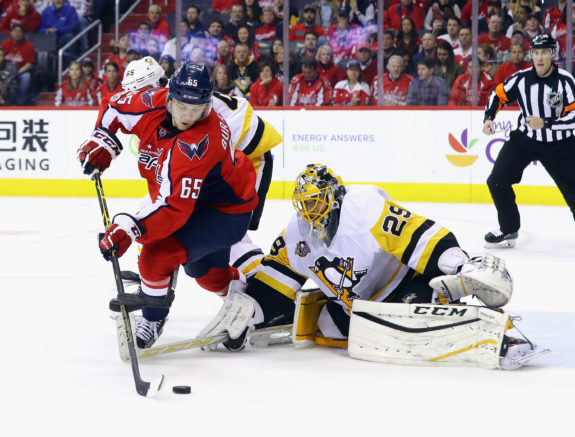 Furthermore, he will be playing with Evgeny Kuznetsov as his centerman and the two of them should have pretty solid chemistry. They are both up-and-coming talents who are expected to be the future stars of the organization. Both of them are also good playmakers with strong stickhandling ability and hockey sense, and they are bound to work well together and bring out the best in one another.
However, given that Jakub Vrana is also likely to join the second line, the Capitals will have a relatively young trio as one of their top scoring lines. Still, while they are young and still have a lot to show for themselves, they should develop well together.
Burakovsky's is on a two-year bridge deal, meaning that he has two seasons to prove himself so he can earn a long-term deal with the Caps and earn a big pay raise. The deal should be incentive to improve, as he will have to put up top-six numbers and give his full effort on a game-to-game basis to earn a better deal in the future.
Overall, Burakovsky is still young and adapting to the NHL, but he has transitioned well in the past and is able to make an impact and adapt to any role. Given his versatility, his confident mentality, overall strengths and will to win, he is ready for a breakout year, and he is ready to contribute top-six numbers.
Sammi Silber covers the Capitals beat for The Hockey Writers and is an NHL contributor with Sporting News. She has also contributed to USA TODAY College, Huffington Post, FanSided and the Nation Network. Silber has written four books and recently worked on graphics for the film, The California Golden Seals Movie.