Latvia and Slovakia played each other on Friday night. In one of the most sparsely attended games of the tournament so far, the two countries fought for the right to move on to the Quarter-finals. The loser would be forced to go to the relegation round, where defending-Champion Finland will be waiting after Switzerland won earlier in the day.
Latvia got off to their fastest start of the tournament as Karlis Cukste got them on the board only 3:40 into the first period. Having faced off against the US, Russia and Canada already, this was their first lead of the tournament. Unfortunately, it would not last very long. Filip Lestan tied the game up at the 8:13 mark and the game stayed that way until the end of the first period.
A Penalty-Filled Affair
The second period saw penalties called left and right. There was barely a five-minute span when no penalty was called as there was a total of 14:05 min in penalties in the stanza if you include the final five seconds of a Latvian penalty in the first. However, no one was able to take advantage of the man-advantage.
Slovakia managed to score at the 18:11 mark as Milos Roman scored to make it 2-1.
A Fight to the End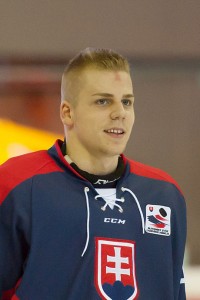 The third period had two parts: the Slovaks pulling away and then the Latvians' desperate fight to tie the game. Slovakia extended the lead to 3-1 as Andrej Hatala scored only 41 seconds into the third period. Marek Sloboda then made it 4-1 at the 5:01 mark.
Now down by three goals, Latvia had their work cut out for them. Of course, they hadn't been able to score three goals in a game so far, let alone five. Yet they did everything they could to tie the game. Their cause was helped by Slovaks Marian Studenic and Miroslav Struska who took penalties 1:06 apart, giving them a 54 second 5-on-3. Latvia called their timeout to devise a plan.
Obviously, it worked as Filips Buncis was able to cut the lead to 4-2. With 4:01 left in the third, Latvia wanted another timeout. Of course, they didn't have one so they switched their goalies for the third game in a row. Marek Mitens was out, Gustav Grigals was in. At least this time there was some strategy to the move. A minute or so later, they put Mitens back in. Sadly, it was not enough as the Slovaks won 4-2.
Joy in Victory & Agony in Defeat
Studenic spoke to me after the game.
On coming back quickly after the Latvian's first goal.
They scored the first goal. We told ourselves we must still play our game and focus on it. We scored the next goal and we won the game.
On moving on to the Quarters and possible opponent Sweden
We need a good rest. We need to rest our minds and tomorrow we play Russia and we want to win. I think Sweden is a better opponent for us than Canada or the USA because it's a European-style of hockey and it will be better for us.
Martins Dzierkals spoke on Latvia's loss.
On going to relegation.
I don't know. We just need to forget about this loss right now. It's tough. We have to forget about everything. We have to focus on our next relegation games and that's our chance to rise. We have no more options.
On taking advantage of Finland's underachievement so far.
Every team can win in this tournament. No matter who is against us, we have to play our game like we can because we have a lot of good guys, a lot of skilled and fast guys. We can win against any team.
On the opposite end of the spectrum, Latvian goalie Mareks Mitens was understandably dejected and seemed hopeless, saying this,
It doesn't matter. We're going to get relegated.
The win puts Slovakia into the Quarter-finals. They will probably face the powerhouse Swedes unless they manage to upset Russia on New Year's Eve. Latvia will face Finland in the relegation round for the right to play in next year's World Junior tournament in Buffalo.
Toronto Maple Leafs Writer At The Hockey Writers.