One of the newest names to come out of the 2018 World Junior Championships in Buffalo is a Slovakian defender. While you may not have heard of David Matejovic previously, you certainly could not miss him any time he has been on the ice. That is because Matejovic is one of the largest players are this tournament. At 6-feet-6-inches and 240 pounds, he is a physically imposing player.
Slovakia has the luxury of having not one but two giants on their back end. Fellow defender Vojtech Zelenak is 6-foot-5 and over the 220-pound mark. Having both Matejovic and Zelenak, Slovakia has a combo that we will refer to as "The Two Towers". Now, as the tournament has moved along, Matejovic and Zelenak have not been teamed up as partners. Matejovic has seen some time with variety of companions including Martin Bodak, Samuel Fereta, and Martin Fehérváry. Better to spread the wealth of size around, so that opposing shooters always confront a formidable challenge.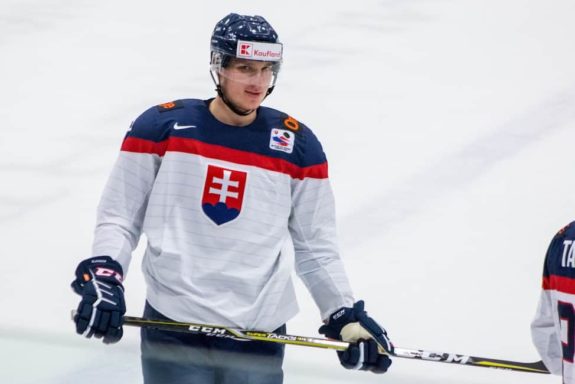 THW spoke with Matejovic after one of Slovakia's games at the KeyBank Center. We talked about his aspirations to play in North America, and modeling his game after a fellow countryman and fellow big man. Asked who his hockey hero is, Matejovic got a bit of a playful smile on his face and answered, "Zdeno Chara."
The Upset Over the United States
Not surprisingly, the finest aspect of Matejovic's game is in fact his physicality. Through Slovakia's four preliminary games at the tournament, he has averaged over 11 minutes of ice time. The Slovakian squad is one of only three teams at the tournament to have gone with eight defenders. Matejovic has been mostly utilized in the bottom two pairs for his team.
When asked what his biggest challenge has been at this tournament thus far, Matejovic responded, "Playing against USA and Canada."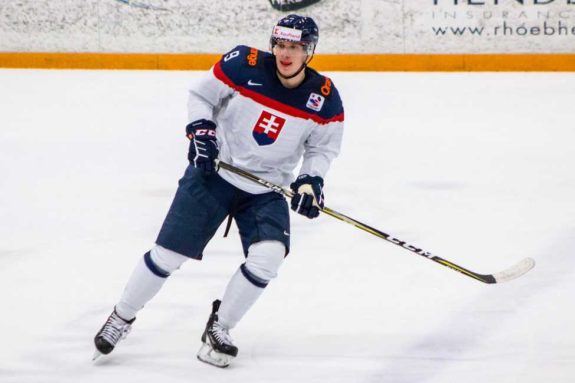 Slovakia lost to Canada in their first game of the tournament by a score of 6-0. They pulled off the unthinkable by defeating the highly-favored United States 3-2 off of a Samuel Bucek wraparound. After the upset, Matejovic's teammate Bucek explained to THW what led to the unexpected victory.
"Our mindset was that we knew that they had lots of skill players, so we were trying to play in our structure. Keep them in the distance, and definitely play good in the neutral zone. That is what we did. That was probably the main reason we won tonight because we didn't give them too much space."
Physical Play From Matejovic Has Been Key
Matejovic was instrumental in Slovakia being able to keep close to the USA and force them to the outside. Any time the USA was able to get down low on Slovakia's goalie, Roman Durny, a defender like Matejovic quickly came to his aid. Any American player who took an additional stab at the puck once Durny grabbed it was met by the giant-sized defender, who either got his arms around the player or stepped in between. Durny also stood on his head during the game and turned aside 43 of 45 shots. Having Matejovic there and the other defense corps to prevent rebound opportunities was essential to the win.
Slovakia upsets U.S. with late go-ahead goal at World Juniors.https://t.co/J8SNXTRVHT pic.twitter.com/QLKHoRUB02

— Sportsnet (@Sportsnet) December 29, 2017
The wingspan of Matejovic is truly remarkable. Opposing skaters may have greater speed, but he certainly has the reach. As players like Joey Anderson (USA), Sam Steel (Canada), and Kailer Yamamoto (USA) have swooped in towards Slovakia's goal mouth, Matejovic has at times been literally a step ahead and has been able to steer them off, where they pose a minimal threat.
This is done much in the same way that Zdeno Chara has done for Boston over the years as an elite shutdown defender. Matejovic uses this similar physical trait and his sheer strength to emulate his hero and get the job done.
When THW asked him if he endeavors to be that same physical presence as Chara, Matejovic smiled once more and said, "I try to."
Win Over the USA Is a Major Triumph
Not surprisingly, in the two most challenging games—Canada and USA—Matejovic played his most ice time. In the 6-0 loss to the Canadians, he played his tournament-high (thus far) of 13:20. Against the Americans, he played a total of 12:15. Slovakia head coach Ernest Bokros has utilized Matejovic most wisely in that respect. Recognizing that Canada and the USA typically play a more robust style, having such a physical force as Matejovic can neutralize potential onslaughts from more talented teams.
In the case of the game against the USA, more ice time for Matejovic paid major dividends. The 3-2 win over the host-nation Americans will be considered one of the more historic upsets in World Juniors competition for years to come. Obviously, it was elation for Matejovic and his teammates. Social media was strewn with images after the game of Matejovic leading the cheers in a jubilant Team Slovakia locker room.
CHECK THIS OUT: Team Slovakia celebrate their incredible win over Team USA (@usahockey) with one of the best chants we've ever heard.

Put the sound on for this one. #WorldJuniors pic.twitter.com/QCxp9f0k3t

— IIHF (@IIHFHockey) December 29, 2017
Asked about the feeling after the victory, Matejovic told THW, "It was a great feeling. We were happy that it could be here. It's amazing."
Playing at Home in Slovakia
Through the four WJC prelim games, the Slovakian big man has four shots on goal. Back home, Matejovic plays for HK Orange 20 in the Slovak Extraliga. He told THW a bit more about this team and this league.
"We play in the best league in Slovakia. It's like a pro league. We have 35 games from August until Christmas."
Back in 2009, the IIHF ranked the Slovak Extraliga as the fifth-strongest league in European hockey. Additionally, others feel that it ranks shortly after the NHL, KHL, and the top leagues in Sweden, Finland, and the Czech Republic.
What is particularly interesting about HK Orange 20 is that it is a team comprised of the best junior players from throughout Slovakia. Recognizing that previous Slovakian U20 teams had performed poorly at World Junior Championships, the training and preparation were vastly ramped up by enveloping these top junior players and having them readily compete against players that, some of whom, are either twice their age or even had substantial careers in the NHL.
Some of the more recognizable NHL names currently playing in Slovak Extraliga include Tomas Surovy, Branko Radivojevic, Ladislav Nagy, Marcel Hossa, and goaltenders Nathan Lawson and Matt Hackett.
Opportunity to Play in North America?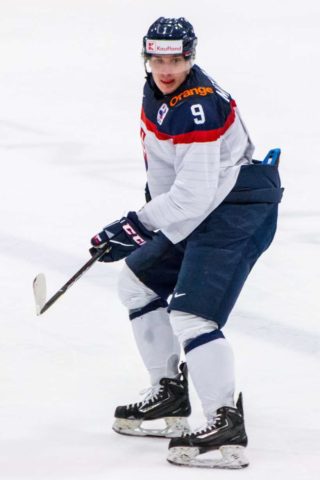 An abundance of NHL scouts has been in attendance all tournament long. Certainly at least a couple must have taken notice of the grizzly-bear-sized Matejovic. Though he emulates Chara, he is likely not of the same pedigree, but that does not mean a team should not take Matejovic with at least a late-round pick. This blueliner certainly would welcome an opportunity to play in North America.
Asked if intends to continue playing solely in Slovakia for his career or branch out elsewhere, Matejovic smiled once more and said, "No, no. I will be very happy if I play in America. So we will see."
If selected, Matejovic could even be a bit of a late bloomer. Chara certainly was himself after his years on Long Island. An NHL team should at least give this young man a look-see and take a stab at selecting him. It may end up being a steal.
One aspect of David Matejovic that would be endearing to any team that he plays for is that he is instantly likable. Despite his great size, Matejovic is a softer-spoken person and is still mastering the English language. Perhaps even a little shy, he is very friendly and polite. He possesses the intangibles that make him a coachable athlete.
The 2018 World Juniors quarterfinal matchups are all set. Matejovic and Slovakia have the formidable task of facing Sweden. With Slovakia being in Group A and Sweden in B, neither team has met at this tournament until now. Slovakia coming out on top against the USA is proof that they can slay a powerhouse. Having a sizable defender like Matejovic can help Slovakia quell Tre Kronor.