Family lore holds that Sonny Milano was on the ice with a stick in his hands at 18 months, and put his first puck in the net before his second birthday. Perhaps that's why his offensive hockey sense is so well-developed already — he got a very early start. It is those offensive instincts, along with his high-end skating and excellent puck skills, that make Milano an excellent choice for the Predators to take with their first pick (11th overall) in this year's draft.
Offensive Payoff
It's not a stretch to suggest that Milano could have a high offensive ceiling. He averaged just over a point per game in his career with the US National Team Development Program, and in international competitions with the US National U17 and U18 teams has an average of around a point-and-a-half per game. He needs to work more on scoring goals himself — Milano currently tends to position himself as the playmaker rather than the goalscorer — but the way that he constantly works to be the setup man for his linemates is a valuable skill.
Corey Pronman of ESPN.com says that Milano "sees the ice and distributes at a high level". He's not selfish with the puck, and that could make him valuable on the wing with players like Craig Smith and Patric Hornqvist. Incidentally, Hornqvist and Smith are the only Predators players drafted by the team to score 20 goals in a season since 2005. If the Predators want to become a contending team, that has to change. Drafting offensive skill is a good way to start.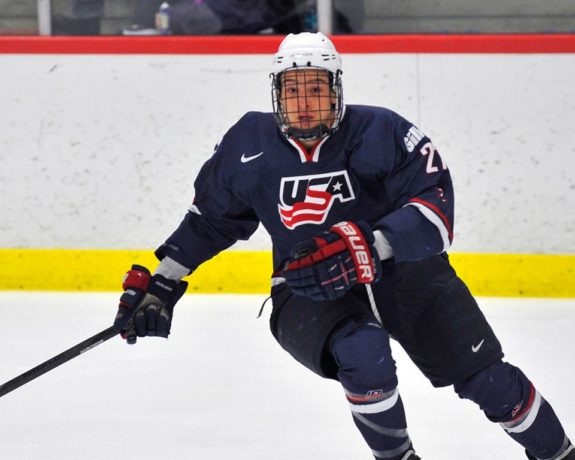 Smooth Skating
Pronman also describes Milano as a "good if not excellent skater with high-end acceleration". That acceleration could make him attractive to the Predators, given that the organization likes its wingers speedy. He's been described as hard for defenders to contain, as well, thanks to that speed and acceleration. New head coach Peter Laviolette will be happy to hear that, should the Predators draft Milano, because his aggressive system needs forwards who can get in on the attack and create opportunities.
Milano's high panic threshold may not necessarily translate to the NHL immediately, but it's a reassuring quality to see in a player and something that would be beneficial in time to the play of Milano and his linemates. And there is always the chance that his panic threshold will carry over from his juniors play. Look at guys like Seth Jones or Olli Maatta. Both are defensemen rather than forwards, of course, but I could count the number of times I saw each of them visibly break a sweat this season on one hand.
While defensive play is one of Milano's weaker areas, he has shown a fair amount of improvement over the past year, even getting penalty kill time with the US NTDP. He makes too many flashy plays that end up as turnovers, but that's something that can be fixed with experience. If the Predators draft him, Milano could get that experience at Boston College, where he is committed to play next season, and in the end his strengths far outweigh those weaknesses when it comes to considering him as a potential pick.