Lack of Letter Hints Habs Wants More From Gomez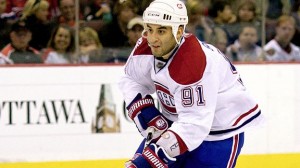 For as much flack as the Montreal Canadiens $7 million dollar man has caught, there is still no question that without the acquisition of Scott Gomez in the summer of 2009, the Habs would not have been able to pull off their most intricate roster overhaul in franchise history.
Thanks to that brazen move, the Habs were finally able to attract a couple big name free agents in Michael Cammalleri and Scott's former linemate on the New Jersey Devils, Brian Gionta, a feat that Montreal had otherwise struggled with in recent years.
These moves, coupled with many other off-season changes in 2009 quickly transformed the roster and altered the course and direction of the Canadiens.
Although met with both scepticism and encouragement, the many alterations left the fan-base in a state of shock, allowing the newly rebuilt club to escape severe criticism.
But that did not last long.
As the months crept by, worry over making the playoffs and the oft stagnant performances from key elements of the lineup eventually re-awakened the sharp yet beguiling wit of the Canadiens faithful. Having adjusted to all the new faces by January of 2010, the honeymoon was over.
Despite their jagged and sometimes crude regular season play, the new-look Habs managed to surprise us all by doggedly fighting their way to the Eastern Conference Finals, an achievement few ever believed possible for a team that entered the post-season as the lowest ranked seed.
The results of their Cinderella story quickly restored faith in the masses and has ultimately re-ignited a hope that Montreal may not be as far away from contending as many thought but one year ago.
Last year aside, with a new season come new expectations, and, for some players, that means that the coaches and management will be paying special attention to them, expecting even greater performances this time around.
At the top of that list is none other than Scott Gomez.
Given recent events(the Montreal Canadiens finally deciding to elect and announce their new captain and leadership core), it would appear to be a matter of recognition-by-omission.
Albeit expected, as news of the decision had leaked weeks prior to the announcement, Brian Gionta was named as the team's 28th captain, instantly becoming the smallest captain in the history of the NHL.
Small in stature but not in heart, Gionta's emergence as the Canadiens true leader became evident over the course of last season, notably during their playoff run when Brian was not only the team's voice of reason but also their inspiration both on and off the ice. His work ethic, dedication and desire set perfect examples for the rest of the roster and, considering the results from last spring, was clearly an easy choice as the Montreal's next captain.
Ironically, it was this time last year that most of the fans and media believed that Scott Gomez was going to be named as Canadiens captain. Scott, an ideal role model as he began his career in Montreal, said all the right things and made concerted efforts to get to know his new city and surroundings, not to mention his earnest efforts to learn French. At the time, it appeared as though all the signs were pointing towards Gomez becoming the team's leader for the 2009-10 season, yet as the decision to name a captain was constantly delayed, it slowly became clear that coaching and management were going to need to see more from Scott and the rest of the team before awarding anyone the captaincy.
Finally, following a year of deliberation, the Canadiens announced their new leadership core, led by new captain Brian Gionta and his two assistants; Andrei Markov and Hal Gill.
The selection of Andrei Markov was, like the Gionta decision, a no-brainer. As the longest serving and most talented member of the club, the only thing holding Markov back from becoming the team's captain was his natural shyness and overcoming the language barrier. Even though Andrei has been in Montreal for over a decade, he still has not managed to develop a fondness for the camera and, beyond the need for the team's captain to also serve as the PR representative, it's evident that Andrei's leadership skills are better served on the ice than rather than off of it as he sets a standard on the Habs blue line that is met by few other defenders across the NHL.
Contrary to Markov's selection, Hal Gill's "A" was one that clearly came about thanks to his positive effect on the dressing room during the latter half of last season. He's the prime example of a player who will sacrifice his body for his team, as his monster shot-blocking abilities will demonstrate, but also as a player who will drop everything to defend and stick up for his team-mates. These qualities, not to mention Hal's polar opposite personality from Markov's(ie. Camera friendly), are the exact reasons why the coaching staff elected to make Gill their 2nd assistant.
But where does that leave the rest of the team's leaders?
More importantly, what does this say about Scott Gomez and his role on the Montreal Canadiens?
Being left out of the leadership core may not necessarily be an insult to Scott, but it most certainly sends a message to the two-time Stanley Cup winning center; he needs to be better this year.
And by better, the Canadiens mean that he has to bring a more vigorous energy to his game.
A recognized set-up man, Gomez does have the ability to score goals and that is exactly what the Canadiens need out of him this winter. Only 5 years removed from a 33 goal campaign, it's simply a matter of finding the right way to light a fire under the 30 year-old who is entering his 10th season in the NHL.
Regarded as the team's number one center, and remitted as such, there is an extraordinarily different level of expectations for a player such as Scott Gomez. As one of the highest paid players in all of the NHL, it is almost necessary in this day and age for Scott to continually exceed expectations.
It's not necessarily his fault, nor that of the Canadiens, that he is rewarded in the manner which he is, there's always Glen Sather to thank for that, but that will never exempt Scott from the mandatory expectations that come along with such a hefty salary.
So, in regards to being left aside as a member of the Habs leadership core, it's not so much a slight as a wake-up call.
Gomez is going to be here for a few more years and plays a vital role in the franchise's hope for a Stanley Cup, therefore, despite the team never admitting so, there are definite expectations of winning in the near future.
Though the statement may never be made outright, there is a safe bet that the Canadiens chose not to place Scott under an even brighter spotlight by giving him a letter. Never once has Gomez been called out for his lack of leadership in the room, rather it has been the at-times lacklustre on-ice performances which cause concern. Considering the desire and demand for Gomez to produce more, alleviating him of extra duties such as mandatory media sessions and the other many responsibilities that come along with having a letter sewn on your jersey may simply be a way for the Habs to provide Scott with the time and space needed to re-focus his game.
That said, with Gomez' decision to wear former captain Saku Koivu's old #11 as he enters his second year in a Habs jersey, it won't be easy for him to escape the comparisons or criticisms.
Having recorded at least 58 points in each of his last 4 seasons, it's not as though Montreal's highest paid centerman isn't a valuable or elite member of the roster, rather it's the fact that there is a price to pay for the price he is paid.
It's never easy to equate dollars to production, but given Scott's salary, it's safe to say that he is paid not only for his production but also other intangibles which make him a key, if not necessary, element of a winning team.
Yet, if Gomez' salary is as high as it is because he is paid for more than just his production, what exactly are those other intangibles?
It's a question that must be asked.
If the Canadiens themselves have chosen not emphasize his role on the team, if not a leader, than what other than offensive production does Gomez bring to the Canadiens?
These are difficult questions #11 must face, yet ones he will no doubt be forced to confront this upcoming season.
His track record speaks of his success but serves only as a barometer of what his new team and fan base expect of him.
There is a cruel irony to this entire situation as injuries to the Canadiens roster likely cost Gomez and his team-mates some of their potential production from last season, yet health is a factor that no one man or team can ever predict or escape therefore excusing lowered production totals as a result of injuries to team-mates tends to hold a tinge of inexcusability.
And so the story goes.
Scott Gomez is and has been a terrific addition to the Montreal Canadiens. He has not under-performed nor exceeded expectations. His presence has broadened Montreal's lure and bolstered their talent level, yet as year 2 of his tenure in La Belle Province slowly approaches, the veil of shock that enveloped the city during 2009-10 has been pulled away.
Now, all that is left are the bare-bones of what is to be expected out of Scott Gomez as the Montreal Canadiens #1 center.
The Habs set the bar quite low during the regular season but raised it beyond all expectations during the post-season, so, as this club shakes off its initial "expansion-like" first year together, it is going to be up to guys like Scott Gomez to push this team to the next level.
Although not a part of the acknowledged leadership core of the Montreal Canadiens, there may be no bigger spotlight in the Habs dressing room this season than the one being cast on the expectations of Scott Gomez.
Hit or miss, hidden or not, the newest #11 on the Montreal Canadiens is in store for one of the most scrutinized years of his career.
Steven Hindle