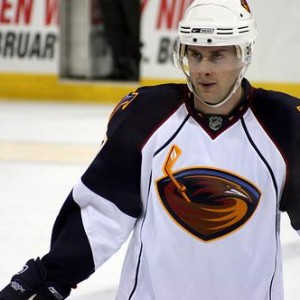 When the Atlanta Thrashers put in a claim for Forward Rich Peverley in the 2008-09 season, it was business as usual for then General Manager Don Waddell. Claim players off waivers, promote players from their AHL affiliate Chicago Wolves, whatever seemed to be the solution at that particular time, it more then likely got done. The best part about the waiver wire though, is sometimes the low risk, potentially high reward.
A trip to the Milwaukee Admirals of the American Hockey League was originally in the cards for the Guelph, Ontario native. However, after having been sent down from the parent Nashville Predators, Rich Peverley was shortly thereafter in route to Atlanta for another chance to latch on to an NHL club. A challenge was nothing new though, for the talented young forward, as his journey to the National Hockey League in general, started with a major challenge in itself.
Having been undrafted after a solid 4 year career at St. Lawrence University, Peverley made his professional debut, signing as a free agent with the South Carolina Stingray's of the East Coast Hockey League. From there, several trips through Portland and Reading eventually landed him in Milwaukee, which became his ticket in with General Manager David Poile in Nashville. Several Cups of coffee with Nashville from 2007 to 2009, it became a numbers game, and at the end of the day, the question was raised. Who exactly is Rich Peverley?
Rich Peverly Begins NHL Career in Atlanta
Welcome to Atlanta, where a change of scenery was in store for the 6'0 200lbs Center/Right Wing.  Rich Peverley had an immediate impact on the Thrashers club, scoring 13 goals and netting 22 helpers in 35 regular season games.  Let's not kid ourselves here; this was an impressive beginning in Atlanta, when question marks were at a high, especially pertaining to the depth chart. All eyes were on Peverley, and you couldn't help but to notice, the change in the flow of the Thrashers overall game. Players around him were playing better; the positive energy was there, and with 5 game winning goals to show for, management and coaching at the time, knew they potentially had something special.
Peverley played his first full 82 game season in 2009-10, netting 55 points, 16 of them on the Power Play, and 7 of them, game winning goals. General Manager Rick Dudley acted fast, and inked Peverley to a 2 year extension with an annual cap hit of 1.3 million.
Over the course of the next two years, Rick Dudley will find out exactly what he has in Rich Peverley, as potentially becoming a long term fit.  Until then, the Thrashers without question, have him at a bargain rate. It's safe to say, the waiver acquisition of #47 is a job well done by former Management.
Darren is the Washington Capitals correspondent. He spent the 2010-11 season covering the Atlanta Thrashers and the 2011-12 season covering the Columbus Blue Jackets. Feel free to contact him @ DKoz256@yahoo.com. You can also follow him on Twitter. DarrenCoslov