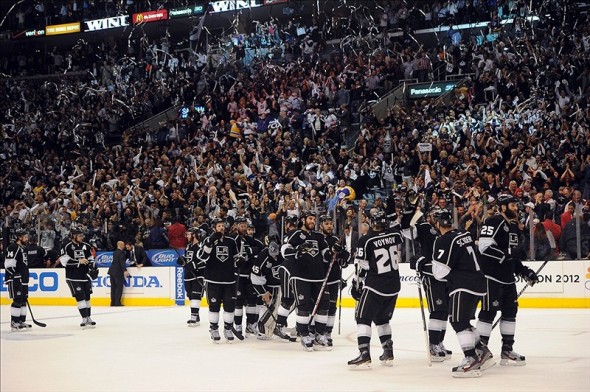 The series is all tied up at 2 and the Blues killer instinct just hasn't been there. It's fairly obvious and needs to change starting with tonight's Game 5.
Since squandering a 2-0 series lead, the Blues seem to have given all the momentum they created on home ice right back to the Kings for this crucial Game 5.
If the Blues want to have any chance of winning tonight's game, and more importantly, the series, the Blues must clean up certain areas of their game.
So what needs to be "fixed"?
Ladies and Gentlemen, for your viewing pleasure, here is my first mini rant as a member of thehockeywriters.
1. The mental mistakes.
They just need to stop. Period.
The Blues cannot be shooting themselves in the foot against this high-powered offense that the Kings sport 5 v 5.
In game 4, the Blues were caught out of position in their own zone, in the neutral zone, and in the offensive zone.
Jeff Carter's 4 v 4 goal is really just embarrassing:
First of all, T.J. Oshie should not be the first guy back on this play. It's bad enough that Roman Polak got caught staring at the puck and not his man (and he should be very aware of his assignment considering 4 v 4 is played man to man rather than a zone type scheme).
But come on Roman. This is the playoffs. Put on the after burners. Stop gliding back on defense.
You need to get back on an essential 2 on 0/2 on 1, especially when those 2 guys are Jeff Carter and Mike Richards (who I pegged as a key player the Blues needed to shut down…and they haven't).
And don't even get me started on the Dustin Penner goal.
You know what; too late. It's such an awful mental mistake that it needs to be ranted about:
Does Leopold not clearly see from his position in the neutral zone that he has all three of his forwards down deep, and that there is no possible way that they can catch up to the play on the back-check if he misses that pinch along the boards?
Does he not see Oshie's initial failed pinch along the boards?!
You know what you do there Jordan? STAY BACK WITH YOUR OTHER DEFENSEMAN!
Shattenkirk makes the right play, patiently waiting at the blue line to see who gains possession from Oshie's pinch along the boards.
And Leopold? Well, he doesn't.
Mental mistakes lose games; just ask Marc Andre Fleury how he thinks their Game 4 v. the New York Islanders would have ended if he hadn't made mental mistake after mental mistake.
I'll answer for him; they probably would have won and so too would the Blues in this past game had they played a mentally sound game.
2. Chris Stewart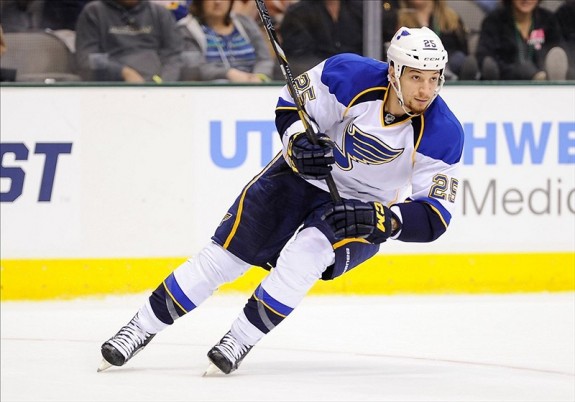 Where are you?
Seriously though, you're the leading scorer on this team; the Blues perennial X-factor.
The fact that your production is on par with the likes of Alex Pietrangelo and Jay Bouwmeester is abysmal.
Did you know that out of all the teams in the Western Conference Playoffs that are either tied or leading their series, their top scorer during the regular season is in the top 3 scorers for their team during the postseason?
Even Anze Kopitar is in his team's top 5 in scoring and Kings fans have been screaming for him to step up all series!
Some might say it's enough that you're trying, Chris.
I've got news for you: it isn't enough.
You need to produce and you need to do it starting tonight or next week you'll be more concerned with your golf swing than your next opponent.
3. The "Power Play"
It has been anything but powerful.
I said it in my series preview: if the Blues want to win games, their power play needs to be clicking at 20%.
The Blues power play is currently 2/15, which means it's clicking at 13%.
That won't win games. That's not capitalizing on opportunities. You must capitalize on opportunities against the Kings.
The Blues finally connected on their power play in Game 4 on a very nice point shot that got through traffic, finding T.J. Oshie in the slot for a perfect redirect.
I've got news for you: a redirect is probably the only way to beat Quick right now.
The guy is stopping everything he sees. Some rebounds have been there lately, but the Blues just haven't cashed in on them.
So what advice do I have for the Blues power play? Keep it simple stupid.
Get the puck in the zone quickly and setup.
Work it to the point and send the puck side to side to get the Kings moving and thus, open up shooting lanes from the point.
Forwards need to be crashing the net on every point shot and should be looking for a redirect, a loose puck in the slot from a blocked shot, or a rebound from Quick.
Again, you will not beat Quick on an initial shot (90% of the time). Second chance opportunities must be created and must be capitalized on.
Now some Notes' (hehe):
I said it on my twitter (@BBSuns…nice plug-in, ay?) during the game. I had a small problem with Coach Hitchcock putting Tarasenko in for Cracknell. The Blues 4th line has been their most dominant line all series and has created energy and momentum almost every time they're on the ice.
That wasn't my big issue though. It was the fact that Tarasenko, a guy with plenty of offensive skill and talent, played for a mere 5 minutes all game.
Not only that, but his shifts were short and his line mates weren't ideal.
If you're going to put Tarasenko in, a guy like McDonald who has been invisible all series should have been the one to sit.
Not a player from the 4th line. Fix it Hitch.
-I love this quote from Troy Brouwer and I think it applies to this Blues v. Kings series:
Caps' Troy Brouwer: "When we do score three goals [against Lundqvist] we have to be able to get a win out of it. Goals are hard to come by"

— Mike Morreale (@mikemorrealeNHL) May 7, 2013
When you go up 2-0 on Jonathan Quick, you can't take your foot off the gas. The Blues did in Game 4 and it cost them big time.
Scoring 3 goals against Quick is also an anomaly in the playoffs.
When it happens, the Blues need to find a way to win that game.
Doesn't matter how pretty or ugly their play is, the Blues need to win a game in which they score 3 goals.
My Game 5 prediction: it has to be the Blues, right?
I have them winning in 7 and I don't think they can win in Los Angeles.
I'm currently 3/4 in predictions for this series…if you're a Blues fan I'm sure you're hoping I go 4/5 after tonight.
The crowd should be electric tonight and I think the Blues ride that wave and get the win.
Hello hockey fans; my name is Bill Sunshine. I am currently working to obtain my B.A. and Journalism Certificate as a student of the University at Buffalo. I first started writing about hockey after repeated attempts to educate my friends about the ins and outs of hockey, only to read those same ideas I shared with them in newspapers. My knowledge about the game of hockey derives from my experience as a player of the game and a die-hard fan of the sport. For updates on my latest posts, give me a follow on Twitter @BBSuns.