Since the NHL became a salary capped league back in 2005 (following the lockout canceled 2004-05 season), there have been only two Stanley Cup Championship teams whose foundation was built without at least one top-5 draft pick. Those teams were the 2008 Detroit Red Wings and the 2011 Boston Bruins. For every other Cup-winning team, it took multiple seasons of missing the playoffs to draft and develop the kind of high-end talent needed to be competitive long enough to survive the failures that often precede Cup wins.
In just the latest example, Alexander Ovechkin was drafted by the once flailing Washington Capitals prior to the lockout lost season that preceded the NHL salary cap. It took over a decade and multiple heartbreaking game-7 losses before No. 8 was finally able to hoist Lord Stanley's Cup over his head and skate a lap around the Las Vegas Golden Knights' arena. Ovechkin hasn't yet stopped celebrating, and other teams would like to follow his lead.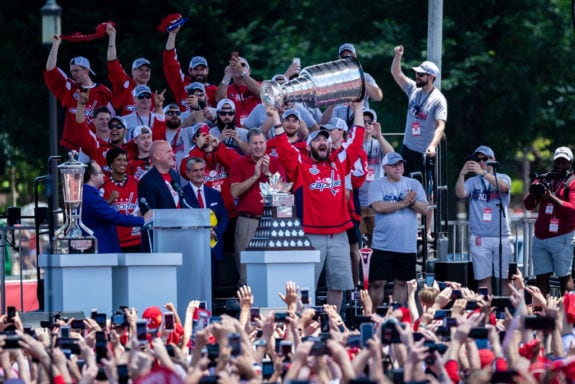 There is a pretty clear formula for success in the NHL. Despite the two exceptions, 11 of the past 13 Cup-winning teams required years of futility to rebuild their franchises either through high draft picks or by moving the prospects selected after losing seasons to add key members to their core. Make no mistake, plenty of other things go into building an NHL champion. In addition to drafting top-end talent, teams need general managers who can make key signings and trades, good scouting to find talent later in the draft, and the right coaching staff to bring it all together.
That said, losing for multiple seasons is one of the most predictable ways to build towards a championship.
The Boston Bruins Asterisk
First, a little clarity on one of the two teams that bucked this trend. While the Bruins traded Joe Thornton, a former first overall pick, and Phil Kessel a fifth overall selection, prior to their championship in 2011, the only return from those trades that played on the championship roster was Tyler Seguin. He was a second overall pick in 2010, but as a rookie, he wasn't instrumental in their championship.
While some of the players that were vital to their Cup win were drafted, they came in later rounds following seasons in which the Bruins were terrible. For example, Milan Lucic (50th) and Brad Marchand (71st) were chosen back in 2006, the same year they selected Kessel. These players were a result of good drafting and not by selecting elite talent at the top of the draft. So, while technically they had a top-5 pick in Seguin on their Cup-winning team, they weren't built in quite the same way as the following teams.
Here is how the rest of the Stanely Cup winners acquired key players:
The Washington Capitals – 2018
While it took Ovechkin and company a long time after he was selected first overall in the 2004 NHL Entry draft to finally win it all, it was not just by selecting the Russian that led the Caps to the Cup. Ovechkin's partner in crime, Nicklas Backstrom, was selected fourth overall in 2006, and the since-departed Karl Alzner was taken fifth overall in 2007. The team also mistakenly traded Filip Forsberg (selected with the 11th pick in 2012) for the Nashville Predator's Martin Erat as a rental for a failed attempt at a championship in 2013.
While the Capitals' long run of relative success makes their team building effort in the mid-2000's seem like a distant memory, it was still the selection of a generational talent first overall, who would turn into a playoff MVP over a decade later, that helped will the team to the franchise's first Stanley Cup championship.
Pittsburgh Penguins – 2009, 2016, 2017
Many look at the 2005 selection of Sidney Crosby as the start of the Penguins' reign as one of the winningest teams since the lockout. Their actual rebuild started years earlier. Back in 2002, they picked Ryan Whitney fifth overall and the following season drafted Marc-Andre Fleury with the first overall selection.
While the lockout was canceling the 2004-05 season, the Penguins were stocking up for the next decade. In 2004, they added Evgeni Malkin second overall, Sidney Crosby with the first pick in 2005 and then Jordan Staal with the second overall selection in 2006. While other Cup winners have added an elite draft pick or two along with a few other star players, the Penguins executed to a tee the strategy of not being very good for years.
In addition to their three Cup wins over the past decade, they made it to a fourth Cup Final in 2008, where they lost to the one pure post-lockout exception to this championship building theory, the Detroit Red Wings.
Chicago Blackhawks – 2010, 2013 & 2015
The Penguins organization isn't the only poster child for ripping a team down to the studs in order to rebuild it into a contender — the Blackhawks were right there with them. Back in 1997, Chicago had tried an honest approach to being terrible. They selected 13th that season, then eighth in 1998, 10th in 2000 and ninth in 2001.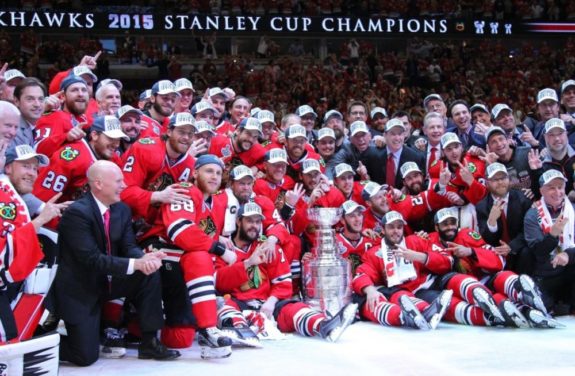 That level of failure wasn't strong enough to warrant a top-end draft pick, and starting in 2004 they really bought into losing. That year, they selected Cam Barker 3rd overall, then Jack Skille with the 7th overall pick in 2005 before they kicked being terrible up a notch. In 2006, they pick Jonathan Toews with the 3rd pick and then Patrick Kane 1st overall in 2007. Three years later, they won their first of three Stanley Cups over a five-year span.
Los Angeles Kings – 2012, 2014
Not the Kings too! Yes, the Kings too. Our last of the repeat Cup winners had a number of top-5 picks along with some key selections that came just outside of the top-10 but were still the reward for missing the playoffs. Beginning in 2003 with the selection of Dustin Brown 13th overall, they also added Anze Kopitar with the 11th selection in 2005, followed by Jonathan Bernier, picked 11th the following season. In 2007 they were more serious, adding Thomas Hickey at fourth overall followed by their biggest strike, selecting Drew Doughty second overall in 2008. For good measure, they added Brayden Schenn with the fifth overall selection in 2009.
You won't remember all of those names being added to the Stanley Cup in 2012. Some, like Hickey, never panned out. The Kings used others as assets to acquire players that would become instrumental in their winning seasons. Schenn, for instance, was moved along with Wayne Simmonds to acquire Mike Richards from the Philadelphia Flyers.
Anaheim Ducks – 2007
The Ducks are a particularly interesting case of using the draft to secure a championship team. Their most important players were not drafted by them. Instead, they used many of their top draft picks earned through failing seasons to trade for some of the core members of their Cup-winning roster. Though that futility spanned two different stretches, it was no less important in securing a victory.
In 1993, the Mighty Ducks of Anaheim selected future Hall of Famer Paul Kariya. That began the first stretch of playoff-less seasons where they would select Oleg Tverdovsky second overall in 1994, Chad Kilger fourth overall in 1995, Ruslan Salei ninth in 1996 and Vitaly Vishnevsky fifth overall in 1998. They were back at it again in 2001, with Stanislav Chistov selected fifth overall, Joffrey Lupul selected seventh in 2002, Ladislav Smid ninth in 2004 and finally Bobby Ryan second overall in 2005.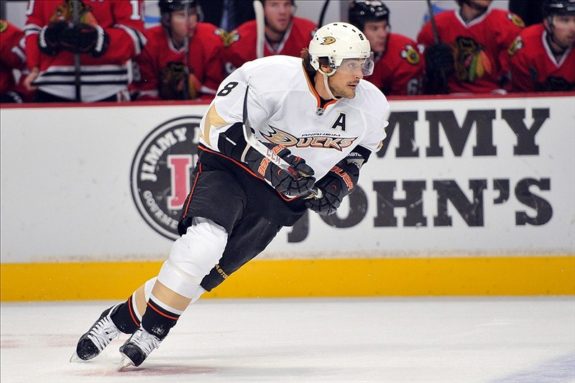 In February 1996, the Ducks completed a trade that brought in Teemu Selanne for Kilger and Tverdovsky. Like Ovechkin, Selanne would have to wait for his turn to lift the Cup, though. He would be traded to the San Jose Sharks, but later return as a free agent prior to winning the Cup with Anaheim.
The second major deal the Ducks completed using the players selected at the top end of the draft to acquire a key component of their Cup run was when they moved Lupul, Smid and a number of draft picks to bring in Chris Pronger in 2006. What made these young players and picks expendable to the Ducks was their 2005 selection of Ryan. While Ryan would not make his NHL debut until the 2007-08 season, knowing they had a blue-chip prospect waiting in the wings likely made pulling the trigger on the Pronger deal significantly easier.
Carolina Hurricanes – 2006
The first team to win the Stanley Cup after the 2005 collective bargaining agreement instituted a salary cap was the Hurricanes. In 2003, with the second overall selection, they drafted center Eric Staal, who would become the cornerstone of the franchise. They also selected Andrew Ladd fourth overall in 2004 and Jack Johnson third overall in 2005.
Johnson would never play for the Hurricanes, and Ladd's role in their 2006 championship was marginal. Staal would not become the captain of the Hurricanes for another few years, but as a 21-year-old, he scored 100 points during the regular season and added another 28 points in 25 playoff games.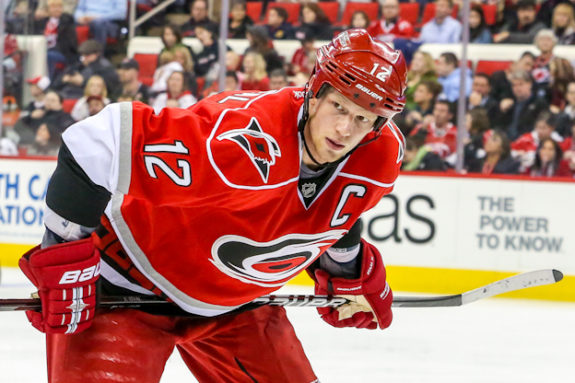 While no franchise wins a Stanley Cup just by being terrible, as the Edmonton Oilers and Buffalo Sabres can attest to, it is significantly easier to begin building a contender that way. The Oilers and Sabres may still prove that their sacrificial seasons without a playoff appearance was worth it, and they may be joined by teams like the Toronto Maple Leafs and Winnipeg Jets, who are finally improving after a number of terrible seasons.
For those teams to succeed they will need to find talent later in the draft, sign the right free agents, make trades to fill necessary roles, and have a bit of luck. What they will all have in common though, is top-end talent that they acquired by being terrible for multiple years, the one key building block that has become typical for NHL teams that win it all.